Calls to delay electoral college vote on Trump presidency as 70 members demand Russia hack details
Don Beyer of Virginia said the electors must receive 'all the relevant information'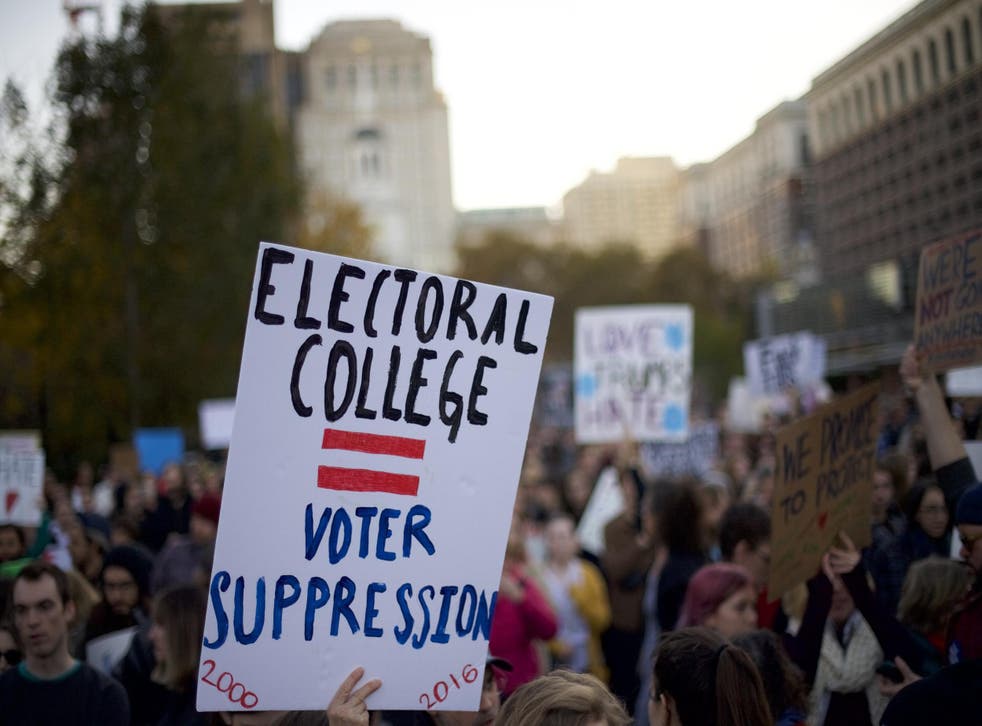 A congressman has called for the electoral college vote to be delayed so electors can receive an intelligence briefing on the extent of Russia's involvement before they vote for the president. His call joins dozens of electoral members who are demanding a briefing, just three days before they vote for the next president.
Virginia's Democratic representative Don Beyer said the 538 electors must be briefed to make an informed decision.
"Recent, credible intelligence reports suggest a concerted effort by a foreign power to interfere in the outcome" of the election, Mr Beyer said on twitter.
"I believe that Electors should be given all information relevant to this interference before they make their decisions and before they cast their votes.
"Congress must take whatever action is necessary to protect the integrity of our democracy. I call on the leaders of Congress to delay the date of the vote for the Electoral College until an intelligence briefing has been given to each Elector."
His call adds to a growing number of electoral voters - 70 and counting - who want to receive a briefing. None of them have security clearances which means their request to receive classified information is unlikely to be granted.
World reaction to President Trump: In pictures

Show all 29
An open letter, addressed to James Clapper, the director of national intelligence, and signed by 70 electoral college voters, demanded to know from intelligence sources about the ties between the incoming president and his allies to Russia.
"The Electors require to know from the intelligence community whether there are ongoing investigations into ties between Donald Trump, his campaign or associates, and Russian government interference in the election, the scope of those investigations, how far those investigations may have reached, and who was involved in those investigations," the open letter reads.
"We further require a briefing on all investigative findings, as these matters directly impact the core factors in our deliberations of whether Mr. Trump is fit to serve as President of the United States."
The first signature is Christine Pelosi, the daughter of Nancy Pelosi, the minority leader of the house of representatives.
Hans Noel, associate professor of politics at Georgetown University, told The Independent that it was "technically possible" to delay the electoral college decision. He said it was unlikely, however.
Women go on strike against Donald Trump

Show all 7
"Congress would have to act to delay the vote. A majority is needed, and Congress is led by Republicans," he said. "It's unlikely Republicans would go through all that work to possibly end up not electing their candidate."
As for the 70 college members who signed the letter, most of them are Democrat and have pledged to vote for Hillary Clinton, so if they broke ranks, Ms Clinton would simply end up with fewer electoral votes than before. Mr Trump, who has 306 votes, is likely to lose just one from Texas.
"It's still possible some Republicans are keeping quiet, but I don't see a lot of evidence they will change their minds," said Mr Noel.
The news comes as president Barack Obama has vowed to take retaliatory action against Russian president Vladimir Putin for allegedly personally authorising the hack of the Democratic National Committee emails over the summer and giving the information to WikiLeaks.
Barack Obama: US will act on election hacking by Russia
Mr Obama said some of the measures would be explicit and publicised, while some of it would be subtle. He did not give any more details to National Public Radio or say when the measures would start.
The CIA concluded that Russians had acted to help Mr Trump win, while the FBI was accused of sitting on top of "explosive" information regarding Russian interference.
Neither intelligence agencies nor Mr Obama have shared concrete proof of the hack in public, which has emboldened the majority of Republicans to stay silent and for their leader to dismiss the news.
Mr Trump called the claims "ridiculous" and the Kremlin has flatly denied the accusations of undermining the US democracy.
Hillary Clinton has now won more than 2.8 million votes in the popular count over her rival Mr Trump, according to the Cook Political Report, prompting California senator Barbara Boxer to file a bill to scrap the electoral college system which she described as "outdated" and "undemocratic".
A small group of faithless electors, called the Hamilton Electors, have vowed to break ranks and stage a protest vote by choosing another, more moderate, Republican. Only one Republican elector from Texas, Chris Surprun, said he would not vote for Mr Trump.
Out of the 538 electors - a majority of 270 is needed - the action of a small group is unlikely to swing the tide of the election. Mr Trump's victory would only come into question once at least 37 electors break their pledge.
If Mr Trump gets less than 270 votes, the final result is decided by the House, which is also led by Republicans.
The final steps to Mr Trump entering the White House come on Monday when the electoral college voters convene to rubber stamp his appointment, and on 20 January, on inauguration day.
Join our new commenting forum
Join thought-provoking conversations, follow other Independent readers and see their replies