Ellen DeGeneres raises money to save elephants after Donald Trump ends trophy ban
African animals 'show compassion, sympathy, self-awareness — all the things I have yet to see in this president', says comedian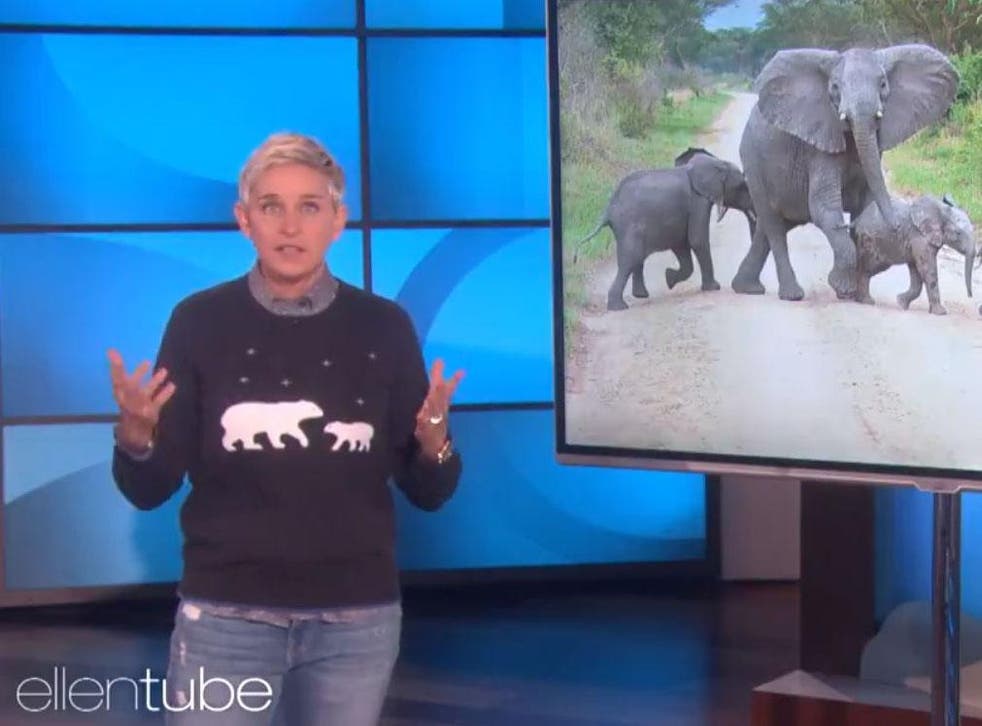 American TV host Ellen DeGeneres has announced a campaign to raise money for elephant conservation after Donald Trump loosened restrictions on importing elephant trophies from two African nations.
This means US citizens will be able to bring home parts of animals shot on hunts in Zimbabwe and Zambia.
Ms DeGeneres told an audience the move "got to" her.
"I love elephants. And if you take the time to learn about elephants, you would love them too," Ms DeGeneres said.
"Elephants show compassion, sympathy, social intelligence, self-awareness. They're excellent at learning abilities — all the things I have yet to see in this president," she added.
The presenter and comedian posted an illustration of an elephant's head on her Twitter and Instagram pages, saying for every like and retweet she received she would make a donation to the David Sheldrick Wildlife Trust.
The foundation, which was set up in 1977, works to rescue and rehabilitate orphaned elephants in Nairobi National Park, Kenya. It described Mr Trump's decision to end the ban as a "backwards step for ethical conservation" of the animals.
The administration said on Wednesday it was going to lift the Obama-era ban on imports of animal body parts from Zimbabwe and Zambia.
World news in pictures

Show all 50
The US Fish and Wildlife Service said: "Legal, well-regulated sport hunting as part of a sound management program can benefit the conservation of certain species by providing incentives to local communities to conserve the species and by putting much-needed revenue back into conservation."
Conservationists have warned elephant numbers are sharply declining due to poaching and to people encroaching on their territory. Critics say trophy hunting fuels demand for wild animal products.
Join our new commenting forum
Join thought-provoking conversations, follow other Independent readers and see their replies