Embassy attacks cast shadow over Barack Obama's re-election hopes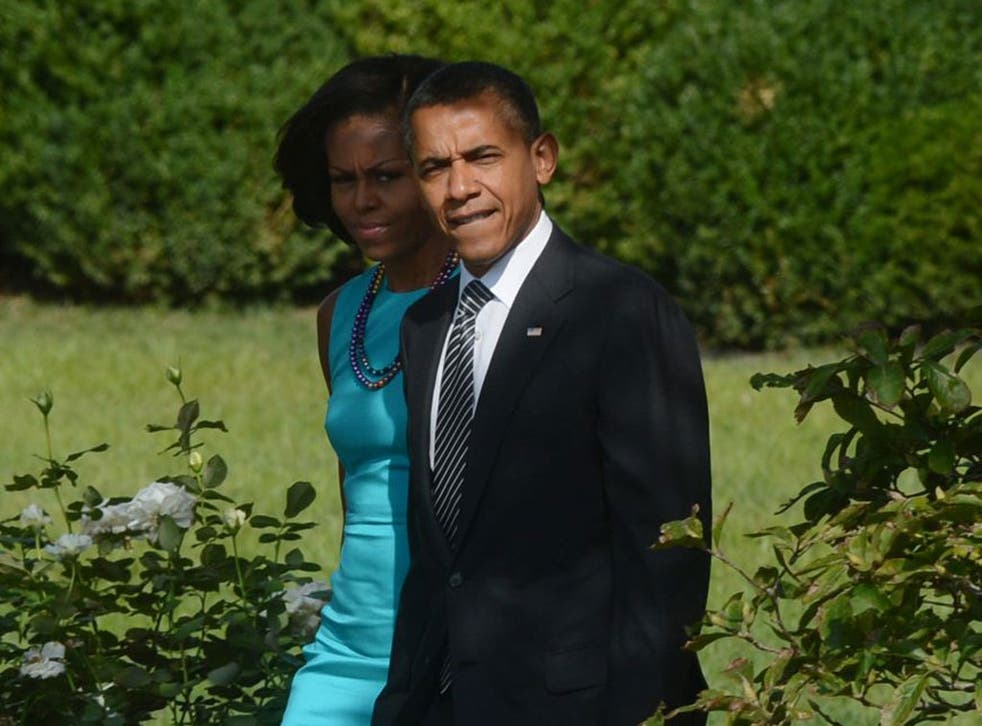 The smooth running of Barack Obama's re-election machine looked under some strain last night as images of smoke rising from US embassies across the Arab world dominated news bulletins at home, capping a grim foreign policy week that saw four Americans killed in Libya including Ambassador Christopher Stevens.
The escalation in anti-American violence, sparked by a promotional video for a film shot in California ridiculing the Muslim faith, and its spread to more Arab capitals yesterday helped to embolden Republicans, who claim that Mr Obama's broader approach to foreign policy and to the managing of the Arab Spring in particular had fallen apart.
"Look across that region today, and what do we see?" Republican running mate Paul Ryan asked a conservative conference in Washington, offering a withering Obama foreign affairs scorecard. "The slaughter of brave dissidents in Syria. Mobs storming American embassies and consulates. Iran four years closer to gaining a nuclear weapon. Israel, our best ally in the region, treated with indifference bordering on contempt by the Obama administration."
Accompanied by Secretary of State Hillary Clinton, the president went to Andrews Air Force Base in Maryland to receive the bodies of Ambassador Stevens and the other three victims of the Libyan attack. Meanwhile the Pentagon revealed that an elite unit of Marines was being sent to Yemen which has seen some of the worst unrest.
The White House meanwhile last night denied that the US had had any knowledge prior knowledge of the assault on the US consular complex in Benghazi, Libya, before it happened. It added however that Mr Obama had ordered a security review for all US diplomatic facilities worldwide.
Mr Obama may yet prove immune to the Republican assaults, however, particularly if after yesterday's Friday prayer protests in countries as far apart as Tunisia and Pakistan, the violence begins to ebb. He has hitherto enjoyed a very wide lead over his opponent Mitt Romney when pollsters ask voters to rate them on foreign affairs. A trump card no one can take away: the killing of Osama bin Laden last year.
His campaign may also see something of a turning point in a new NBC-Wall Street Journal poll showing the president opening a significant 50- to 43-point lead over Mr Romney in Ohio and holding on to five-point advantages in Virginia and Florida. The numbers suggest an important post-convention bump for the president. Mr Romney needs to snag two of those battleground states in November to have a decent chance of winning the White House.
And Mr Obama continues to benefit from an opponent who, when he sees an open window, manages to break panes while passing through it. Seemingly knee-jerk criticism of the president at the start of this week's unrest and before the killing of Ambassador Stevens continues to earn Mr Romney opprobrium, including from on the right.
Some circling of the wagons around Mr Romney is under way, however, for example by Washington Post conservative commentator Charles Krauthammer. "What we are seeing on the screen is the meltdown, the collapse of the Obama policy on the Muslim world," he told Fox News, adding: "What we're seeing now is 'al-Qaidastan' developing in Libya, the meltdown of our relations with Egypt."
The top foreign policy advisor to the Republican campaign, Richard Williams, suggested yesterday meanwhile that Mr Romney, he were president, would not have let this week's events happen. "A Romney administration would be there, would be more active trying to work with civil society, with reformer movements, so we would be partners in this evolution, not running behind," he contended.
Register for free to continue reading
Registration is a free and easy way to support our truly independent journalism
By registering, you will also enjoy limited access to Premium articles, exclusive newsletters, commenting, and virtual events with our leading journalists
Already have an account? sign in
Register for free to continue reading
Registration is a free and easy way to support our truly independent journalism
By registering, you will also enjoy limited access to Premium articles, exclusive newsletters, commenting, and virtual events with our leading journalists
Already have an account? sign in
Join our new commenting forum
Join thought-provoking conversations, follow other Independent readers and see their replies