US environmental agency staff 'openly mocking Trump administration,' outgoing employee claims
'Criticising the organisation you lead is not the type of leadership that will produce results,' says Michael Cox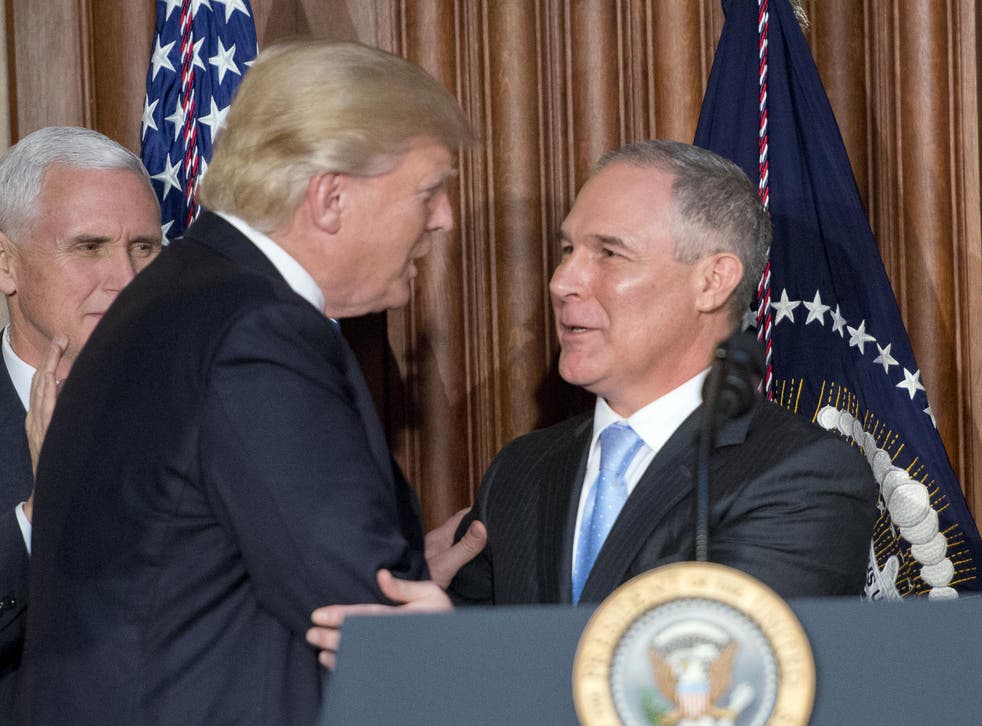 Staff at the US Environmental Protection Agency are "openly dismissing and mocking the environmental policies" of Donald Trump's administration, according to a former employee's scathing resignation letter to its director Scott Pruitt.
Michael Cox, a 25-year veteran of the agency, accused Mr Pruitt of demonising and insulting staff, while showing a "lack of understanding" about what the organisation does.
Along with many of his former colleagues, he said he had become "increasingly alarmed" about the agency's direction under the former Attorney General of Oklahoma. Staff morale was at its lowest since he started in 1987, said the 60-year-old.
But he added that his former colleagues were "openly dismissing and mocking the environmental policies" of Donald Trump's administration "and by extension you, the individual selected to implement the policies."
Mr Trump has previously called global warming a concept that "was created by and for the Chinese in order to make US manufacturing non-competitive."
Before his appointment to the role Mr Pruitt was a known climate change sceptic and he sued the EPA to block the implementation of President Obama's clean power plan.
In a 2016 editorial, he called the debate on climate change "far from settled" and accused environmentalists of pushing a "climate-change agenda".
He was recently criticised after he claimed in an interview that carbon dioxide is not a "primary contributor" to global warming, a statement that prompted the American Meteorological Society to write him a letter correcting him about the assertion.
Mr Cox wrote that "it was surprising, no shocking, when you stated on national television that carbon dioxide is not a primary contributor to climate change."
He added: "This is settled science and we have too many other important scientific issues to investigate related to climate change to waste our time debating this issue."
He also demanded an explanation for recent budget cuts to the agency, which has seen its funding cut by 31 per cent and a quarter of its jobs cut under Mr Trump's administration.
Mr Cox said this meant cuts to funding for Alaskan Native villages, the restoration of the Puget Sound ecosystem, and programs to retrofit school buses to reduce diesel emissions.
Mr Pruitt had been complicit in the budget cuts, or not powerful enough to stop them, Mr Cox wrote.
He also accused the director of not having done his homework on the Paris Climate Agreement, which Mr Pruitt once called a "bad deal" for the US.
"While not perfect, was a huge step forward in battling climate change and moving the world in the direction of newer cleaner energy," Mr Cox said.
Finally, Mr Cox warned Mr Pruitt will "alienate" himself from his staff if he continues in the same trajectory.
"Criticising the organisation you lead is not the type of leadership that will produce results," Mr Cox wrote. "As a leader, you need to motivate and inspire your staff. "
He added: "We are counting on you to advocate for EPA...The health of the American people and our country depends on you."
Join our new commenting forum
Join thought-provoking conversations, follow other Independent readers and see their replies