Environmental Justice chief resigns in protest at Donald Trump's plans to slash EPA funding and support
'The upcoming choices you make will have significant impacts on the public health and environment of our country' says Mustafa Ali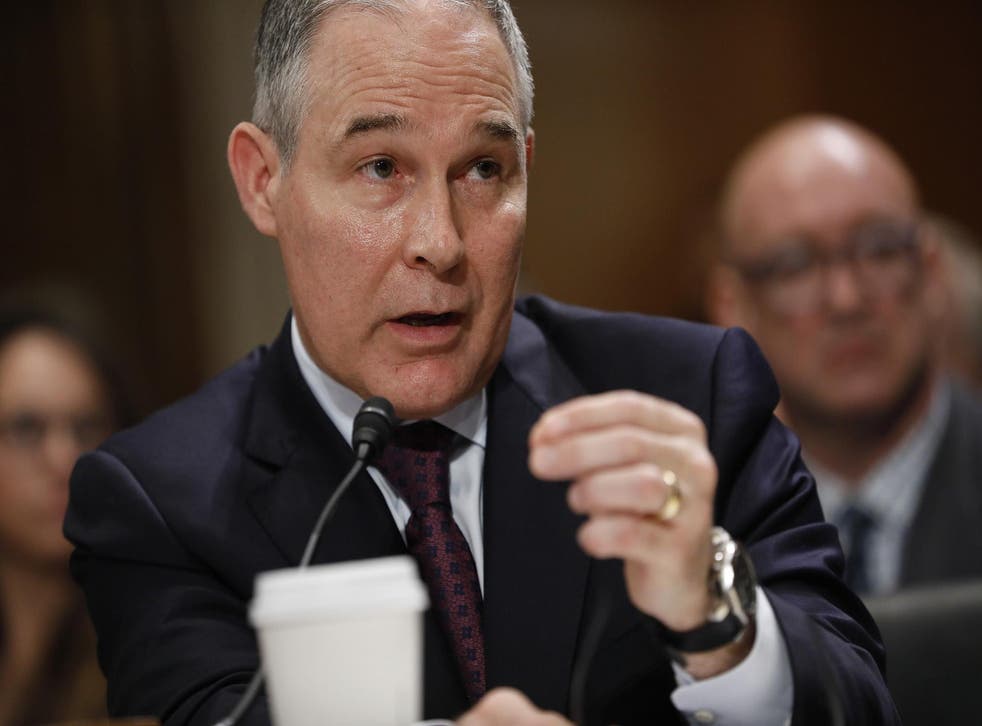 The head of an Environmental Protection Agency (EPA) programme, which seeks to protect minority communities from pollution and climate change, has resigned in protest at Donald Trump's policies.
The President is reportedly planning to slash $2 billion (£1.64 billion) from the EPA budget, including cuts of nearly 80 per cent in the Environmental Justice (EJ) scheme, that works to protect groups at disproportionate risk of environmental harm.
Mustafa Ali, who helped to found the programme in 1992, said he was quitting in response to the potential cuts and Mr Trump's installation of a climate-change denier as head of the EPA.
"The choices we make on regulations affecting clean air, clean water and enforcement are interconnected with the lives of our vulnerable communities and tribal populations," he said in a letter tendering his resignation.
Trump's EPA pick condemns Obama's conservation policy
The Trump administration's 23-page budget proposal for 2018 aims to slice the environmental regulator's overall budget by 25 per cent to $6.1 billion (£5 billion). Staff numbers are also slated to fall by 20 per cent to 12,400 as part of a broader effort to fund increased military spending.
The proposal would cut state grants for lead cleanup by 30 per cent to $9.8 million (£7.9 million), cut grants to help native tribes combat pollution reduced by 30 per cent to $45.8 million (£37 million), and cut a climate protection programme combating greenhouse gas emissions by 70 per cent to $29 million (£23.6 million).
And the Environmental Justice programme is facing some of the heaviest cuts of all. Its funding will plummet 78 percent, dropping from from $6.7 million (£5.5m) to $1.5 million (£1.2m). according to the Oregonian.
This prompted Mr Ali, a Senior Advisor to former EPA Administrator Gina McCarthy, to step down.
His letter details successes of the Environmental Justice campaign, issues advice to his Trump-backed successors, and warns that "communities of colour, low-income communities and indigenous populations are still struggling to receive equal protection before the law".
"When I hear we are considering making cuts to grant programmes like the EJ... I wonder if our new leadership has had the opportunity to converse with those who need our help the most," he said.
10 photographs to show to anyone who doesn't believe in climate change

Show all 10
"Dr Martin Luther King Jr once said, "We may have come to these shores on different ships, but we are now all in the same boat.' The upcoming choices you make will have significant impacts on the public health and environment of our country... These choices will magnified ten-fold in our most vulnerable communities."
The letter is addressed to Scott Pruitt, the new head of the EPA. Mr Pruitt has a long record of suing the EPA, attempting to block it from regulating of pollution, smog and emissions. It is therefore feared he will follow through on President Trump's promise to "get rid" of the EPA "in almost every form."
He recently doubled down on past statements denying climate change science, telling an interviewer he would not describe human activity and carbon dioxide emissions as "a primary contributor to global warming".
CIA director nominee Mike Pompeo refuses to accept Nasa's findings on climate change
Nasa, the UK Met Office and every single major scientific body worldwide say CO2 emissions are the dominant factor driving climate change, but Mr Pruitt said: "we need to continue the debate and continue the review and the analysis".
Mr Ali ended his letter by citing Donald Trump's campaign trail promises to bolster urban areas and Appalachia and restore clean drinking water in Flint, Michigan, and by challenging Mr Pruitt to live up to his oath to protect the American people.
"Administrator Pruitt, you have a once-in-a-lifetime opportunity to bring people together, to ensure that all communities have safe places to live, learn, work, play and pray and to ensure that our most vulnerable communities, who have been struggling for clean air to breathe and clean water to drink, [see that become] a reality for them and their children," he said.
Join our new commenting forum
Join thought-provoking conversations, follow other Independent readers and see their replies