Eric Garner: No charges for police officer accused of choking unarmed black man to death
The decision, though expected, is a blow to activists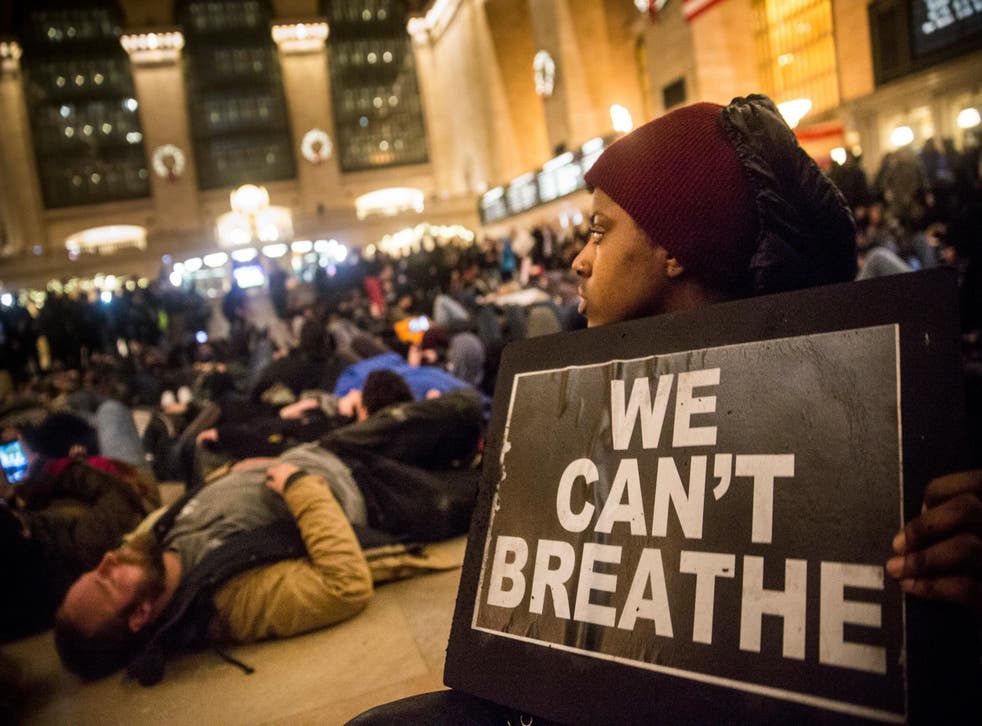 The Justice Department will not bring federal charges against a New York City police officer over the death of Eric Garner, the 43-year-old black man whose fatal chokehold death was caught on video in 2014.
Prosecutors plan to announce the decision to not pursue civil rights or criminal charges imminently, according to the New York Times.
The date, one day before the fifth anniversary of Mr Garner's death, is the deadline for filing possible charges against Daniel Pantaleo, the officer filmed putting Mr Garner in the chokehold.
Mr Garner's final words, "I can't breathe," became a rallying cry in the Black Lives Matter movement, the encompassing movement by which activists and citizens questioned law enforcement's treatment of minorities, and hoped to bring about major changes.
One month after Mr Garner's death, the teenager Michael Brown was killed by police officer Darren Wilson in Ferguson, Missouri. The actions set off protests around the country that summer.
Activists who led those protests have already expressed criticism for the Justice Department's decision. But the outcome was expected. While then-attorney general Loretta Lynch authorised the department to move forward with the case, it was taken over by Donald Trump's Justice Department early on its in process. Headed by Jeff Sessions, the department stalled the case.
Police say they were attempting to arrest Mr Garner for selling loose, untaxed cigarettes outside a store in Staten Island. When Mr Garner refused to be handcuffed, officers put him in a chokehold, which are banned under police policy. Mr Pantaleo maintains that he actually used a legal manoeuvre called the "seatbelt." Mr Garner's medical examiner found that his death was caused by a chokehold.
Black Lives Matter organises march to Trump Tower

Show all 15
None of the officers involved in Mr Garner's death have been charged with a crime, nor have they been reprimanded by the New York Police Department. Mr Pantaleo remains an active member of the NYPD.
Support free-thinking journalism and attend Independent events
Register for free to continue reading
Registration is a free and easy way to support our truly independent journalism
By registering, you will also enjoy limited access to Premium articles, exclusive newsletters, commenting, and virtual events with our leading journalists
Already have an account? sign in
Register for free to continue reading
Registration is a free and easy way to support our truly independent journalism
By registering, you will also enjoy limited access to Premium articles, exclusive newsletters, commenting, and virtual events with our leading journalists
Already have an account? sign in
Join our new commenting forum
Join thought-provoking conversations, follow other Independent readers and see their replies