Eric Garner death: Father of six dies in police custody after 'chokehold' arrest
Eric Garner, 43, reportedly died of a heart attack after being arrested for allegedly trying to sell untaxed cigarettes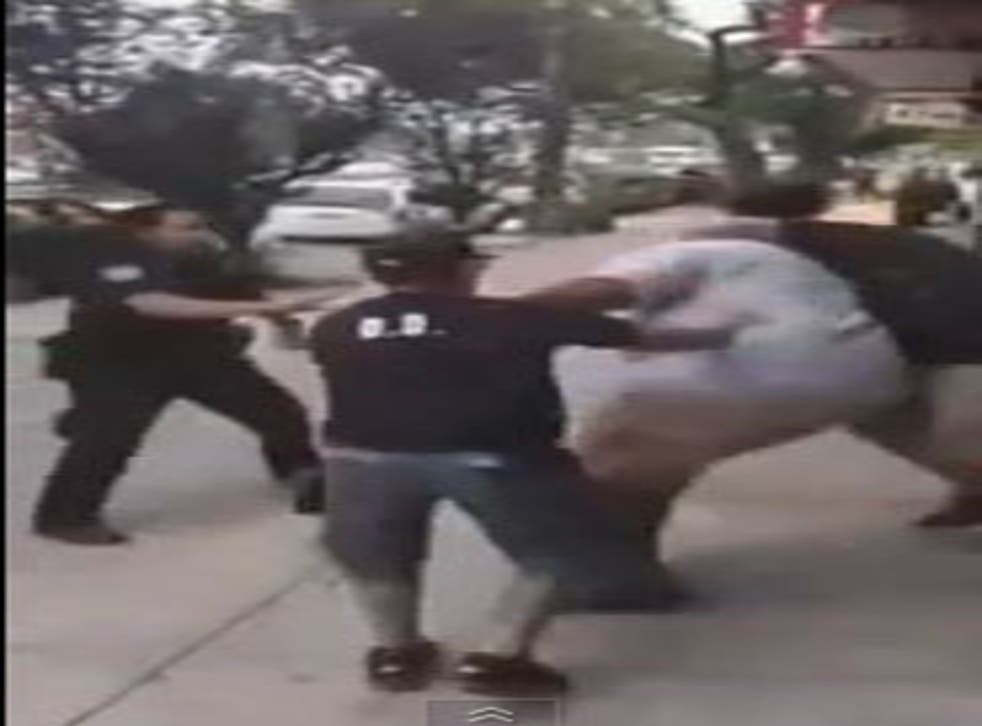 A New York father of six has died of a heart attack while in police custody, just hours after being arrested and put into a suspected illegal chokehold by officers.
Eric Garner, 43, was arrested by police outside a beauty salon on Staten Island under suspicion of selling untaxed cigarettes.
In footage taken of the arrest and later published by New York Daily News, we see the 350 pound asthmatic Garner approached by two plain clothes officers and questioned about alleged selling of untaxed cigarettes.
Garner says that "he didn't do s***" and that he was "just minding his own business", before the police ask him to give them his hands so that he can be handcuffed.
When Garner refuses, one of the officers tries to forcibly take his hand.
On resisting arrest, the officer behind Garner gets the 6 ft 3 man into a chokehold and is supported by another group of officers that step in to assist with the arrest.
During the police's efforts to restrain Garner, you can audibly here the asthmatic tell police that he cannot breathe.
The video then shows an unconscious Garner on the floor as police try to clear people away from the scene.
A statement from the NYPD spokesman on Thursday said the Garner "was being placed in custody" before going into went into cardiac arrest and dying at the Richmond University Medical Center.
Since then NYPD Police Commissioner William Bratton has said that the video footage could have appeared to show one of the restraining officers employing an illegal chokehold, the type of which is prohibited in the NYPD patrol guide because it can be fatal.
It was announced on Saturday that two of the Policemen involved in the arrest had been stripped of their badges and guns.
Seven year recruit Daniel Pantaleo and another unnamed officer had been taken off the streets and were currently carrying out deskwork.
According to the NYPD, Garner had a history of selling untaxed cigarettes and that officers had observed his selling his wares on Thursday prior to his arrest.
However, Ramsey Orta, 22, a friend of Garner and the person that videoed the footage refuted this, saying that Garner had only just split up a fight between two other men.
There has been much public anger since Garner's death and a rally was held on Saturday at the National Action Network on Staten Island to protest against police brutality.
There were emotional scenes as Esaw Garner, the widow of Eric Garner, who was due to speak at the event, was unable to and broke down on stage unable.
On Friday, Mayor of New York Bill De Blasio said that "It was very troubling" and "very sad to watch."
He has since cancelled his holiday to Italy to ensure that a full investigation could take place.
Register for free to continue reading
Registration is a free and easy way to support our truly independent journalism
By registering, you will also enjoy limited access to Premium articles, exclusive newsletters, commenting, and virtual events with our leading journalists
Already have an account? sign in
Register for free to continue reading
Registration is a free and easy way to support our truly independent journalism
By registering, you will also enjoy limited access to Premium articles, exclusive newsletters, commenting, and virtual events with our leading journalists
Already have an account? sign in
Join our new commenting forum
Join thought-provoking conversations, follow other Independent readers and see their replies