Olympic medallist accused of lying about cancer to delay trial
Eric Lamaze allegedly lied about having metastatic brain cancer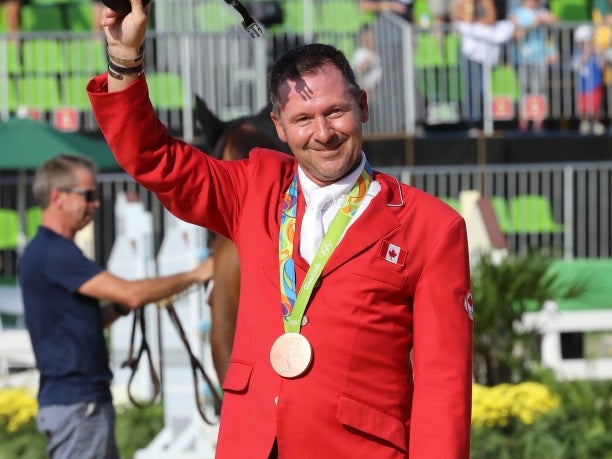 An Olympic champion showjumper has been accused of lying about having cancer in order to delay legal action he was involved in.
Eric Lamaze, 55, allegedly lied about having metastatic brain cancer to delay litigation over a disputed horse sale, according to legal filings submitted in Canadian civil court.
Mr Lamaze's lawyer told the court in July his client had "been battling brain cancer for a number of years, which has now spread to his throat." As a result, he said, and after "taking into account [Lamaze's] cognitive impairment, further time will be required to prepare for trial."
Another one of the Olympic showjumper's attorneys also submitted an affidavit to the court, featuring three photographs that "purport[ed] to graphically show Mr Lamaze's disfigured face after surgery," according to a memo prepared by justice Marvin Kurz last month.
The plaintiffs' attorneys did not believe Mr Lamaze and requested to review the images' metadata, a request which Mr Lamaze's lawyer allegedly objected to, requesting that the pictures be struck from the record. The court declined.
"Danson later stated that he was unable to provide an electronic copy of the photos as he had received them by Instagram," the justice wrote.
Mr Lamaze's lawyers then sent a supposed copy of his medical records from the spring, which was written in Dutch by a doctor named Oulad Taib.
However, the plaintiffs' attorney Jerome Morse told The Daily Beast: "My client's daughter's husband is from the Netherlands.
"He says, 'This is almost incomprehensible,'" Mr Morse claimed.
The doctor's name was also listed differently on his website – as Nordenyn Oulad Ben Taib, and the website states he speaks French, English, and Arabic, but did not mention Dutch.
"There was also concern that the address on the report was incorrect," the justice's memo said.
"Dr. Ben Taib confirmed to the investigator that the signature on his purported report is not his and that he does not speak the Dutch language," the memo said.
In a previous interview with Horse & Hound, Mr Lamaze claimed "he was unaware of letters and documents submitted to the court and [was] taking legal advice on how this came about," adding that he had his "suspicions."
However, he told the Toronto Star the false documents were "a little mistake" and maintained that the cancer diagnosis was real.
Timothy Danson, Lamaze's own attorney, told The Daily Beast: "I was blindsided and stunned and shocked when the other side had evidence that they were forgeries.
"I have been a trial and appellate lawyer in Canada for 43 years, and this is the first time that any client has done this to me."
Mr Danson has now asked to be removed as Mr Lamaze's counsel.
Mr Lamaze is required to pay the plaintiffs roughly $30,000 in costs; if he fails to do so, the plaintiffs' claims will automatically be considered valid.
Eric Lamaze has been contacted for comment.
Join our commenting forum
Join thought-provoking conversations, follow other Independent readers and see their replies