Eric Trump says his father 'tunes out' criticism so he doesn't kill himself
'It's important to keep it in context otherwise quite frankly you'd probably end up killing yourself out of depression,' says president's son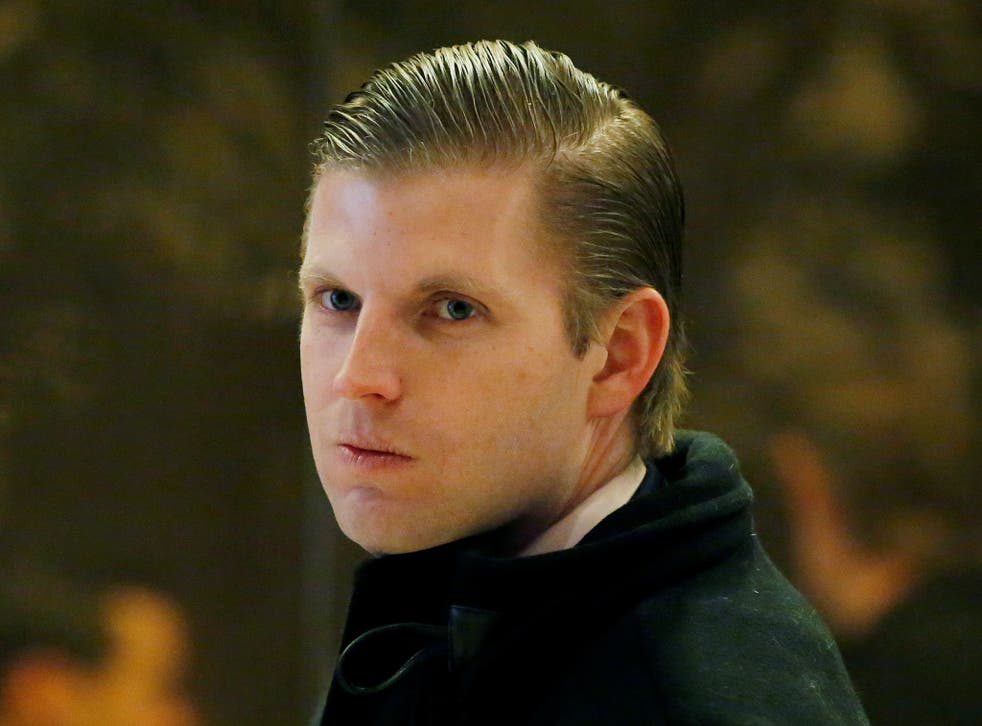 Eric Trump has argued his father is forced to block out negative media coverage because fully engaging with it could lead to depression or even suicide.
Eric, the US president's third child who is a trustee of the Trump organisation, launched into a fierce attack on the media's treatment of President Trump.
The 33-year-old businessman claimed a person could end up killing themselves if they received as much unfavourable press attention as President Trump who has been in a self-declared war with the media since entering the White House.
"If they weren't talking about you, you wouldn't be doing something right and it's important to keep it in context," he said during a radio interview on The Joe Pags Show.
"Otherwise quite frankly you'd probably end up killing yourself out of depression. But he's doing a great job."
The younger Trump said himself and the wider Trump family are forced to take the press coverage "with a grain of salt."
He added: "It's the media, the mainstream media, who does not want [Mr Trump] to succeed. It's government who does not want him to succeed… No matter what he does, he's going to get hit, and listen, I think you have to tune it out."
He said the realm of politics was the "nastiest" industry he had encountered and President Trump was relentlessly subject to intense scrutiny and criticism regardless of his actions.
He argued his father was not just being attacked by just the media but by the entire political sphere including people "in their marble offices."
Iran's 'Trumpism' contest

Show all 10
"Politics is nasty, it's the nastiest business I've ever seen. No matter what he does, they're going to hit him on it," he said.
Mr Trump has frequently launched into barbed attacks on the mainstream media whom he refers to as "fake news" throughout his presidency. President Trump used a rally in Pheonix last week to denounce the "fake news" and condemn journalists as "truly dishonest people" who "don't like our country".
The billionaire property developer has reportedly spent time in the White House watching cable TV in his bathrobe and marking up negative news stories with a black sharpie.
Nevertheless, he is believed to be a fan of positive news. Earlier in the month, it was claimed that he receives a twice-daily briefing filled with positive headlines and flattering photographs of himself.
The president was said to be handed a folder of favourable news clippings and TV screenshots compiled by the Republicans' "war room" and the White House communications team. The report cited three current and former officials to bolster its claims.
Mr Trump's most brazen attack on the media arguably came last month when he posted a video of himself body slamming CNN on Twitter. President Trump appeared to promote violence against the news network by tweeting an old video of himself performing at a 2007 World Wrestling Entertainment (WWE) professional wrestling match but with his opponent's face covered with a CNN logo.
"#FraudNewsCNN," wrote the President who has long been associated with WWE and was inducted into the company's Hall of Fame in 2013.
At the time CNN responded by posting a quote from White House Press Secretary Sarah Huckabee Sanders saying that "the President in no way, form or fashion has ever promoted or encouraged violence. If anything, quite the contrary."
"It is a sad day when the President of the United States encourages violence against reporters," the network said in an official statement. "Clearly, Sarah Huckabee Sanders lied when she said the President had never done so. Instead of preparing for his overseas trip, his first meeting with Vladimir Putin, dealing with North Korea and working on his health care bill, he is instead involved in juvenile behaviour far below the dignity of his office. We will keep doing our jobs. He should start doing his."
Register for free to continue reading
Registration is a free and easy way to support our truly independent journalism
By registering, you will also enjoy limited access to Premium articles, exclusive newsletters, commenting, and virtual events with our leading journalists
Already have an account? sign in
Register for free to continue reading
Registration is a free and easy way to support our truly independent journalism
By registering, you will also enjoy limited access to Premium articles, exclusive newsletters, commenting, and virtual events with our leading journalists
Already have an account? sign in
Join our new commenting forum
Join thought-provoking conversations, follow other Independent readers and see their replies