Experimental US hypersonic weapon explodes four seconds after test launch in Alaska
The test was aborted by the Pentagon to 'ensure public safety'
Lizzie Dearden
Tuesday 26 August 2014 16:01 Comments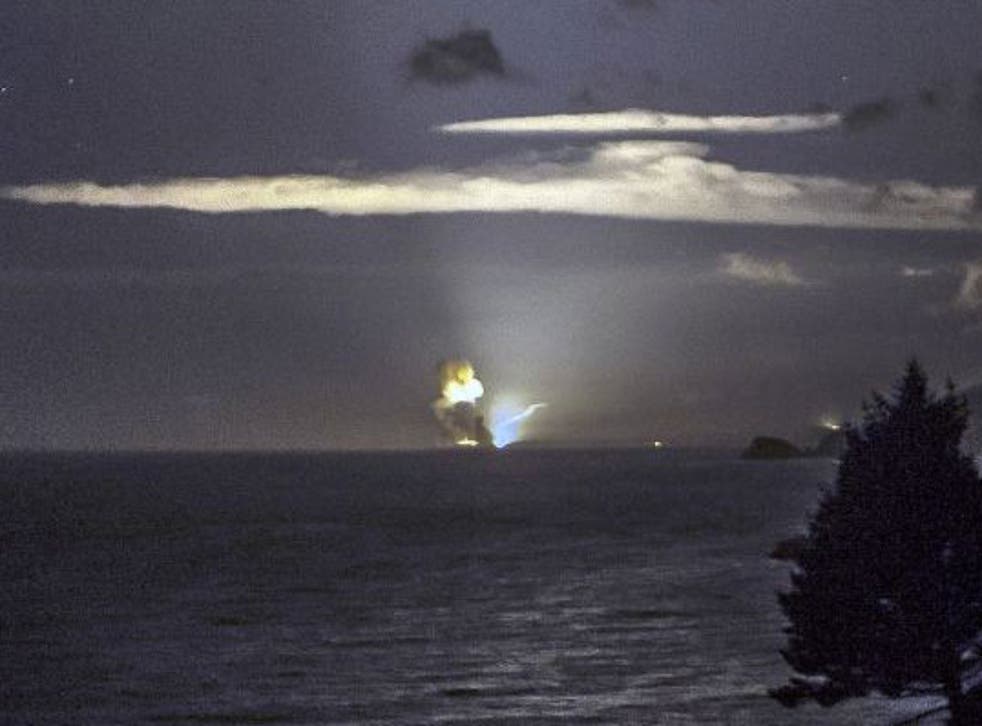 An experimental hypersonic weapon developed to reach targets anywhere in the world within an hour has been destroyed by the US military four seconds after its launch for "public safety".
The test in Alaska in the early hours of Monday morning was aborted after controllers detected a problem with the system, the Pentagon said, and the launcher is believed to have detonated before the missile was deployed.
Witnesses watched the rocket lift off at around 12.30am local time, before quickly turning nose-down and exploding, KMXT radio reported.
Scott Wight, who photographed the explosion from Cape Greville in Chiniak, about 12 miles from the launch site, described the explosion as quite loud and frightening, with a fire afterwards that burned brightly.
The weapon travels at several times the speed of sound and can reach speeds in excess of 3,500 miles-an-hour, or Mach 5.
It is part of a programme aiming to create a missile able to hit anywhere on Earth within an hour of getting data and the permission to launch.
No one was injured during the failed test at the Kodiak Launch Complex in Alaska but the facility was damaged as debris from the missile fell back to earth.
"We had to terminate," a spokesperson for the US Defence Department said.
"The weapon exploded during takeoff and fell back down in the range complex."
Some analysis see the development as a counterpoint to the growing development of ballistic missiles by Iran and North Korea but others say it is part of an arms race with China, which tested a hypersonic system in January.
Riki Ellison, founder of the Missile Defence Advocacy Alliance, said he did not think Monday's failure would lead to the programme's termination.
"This is such an important mission and there is promise in this technology," he added, saying a computer fault was to blame for the failure.
James Acton, a defence analyst at the Carnegie Endowment for International Peace, said the Pentagon had never been clear about its plans for the weapon, with some viewing it as an effective tool against terrorists and others seeing it as a "deterrent" for Iran and North Korea.
While hypersonic weapons are unlikely to be used for a decade, he said the fact that Washington and Beijing were both testing the weapons indicated there was a real potential for an arms race.
The system, known as the Advanced Hypersonic Weapon, was developed by the Sandia National Laboratory and the US Army.
It includes a glide body mounted on a three-stage booster system known as STARS, for Strategic Target System.
In a previous test in November 2011, the craft successfully flew from Hawaii to the Kwajalein Atoll in the Marshall Islands and it was supposed to reach the Kwajalein Atoll from Alaska on Monday.
Additional reporting by Reuters and AP
Register for free to continue reading
Registration is a free and easy way to support our truly independent journalism
By registering, you will also enjoy limited access to Premium articles, exclusive newsletters, commenting, and virtual events with our leading journalists
Already have an account? sign in
Join our new commenting forum
Join thought-provoking conversations, follow other Independent readers and see their replies