Florida police find man 'biting victim in the face' at double-murder scene
It remains unclear whether or not he was under the influence of highly potent drugs "bath salts" or "flakka"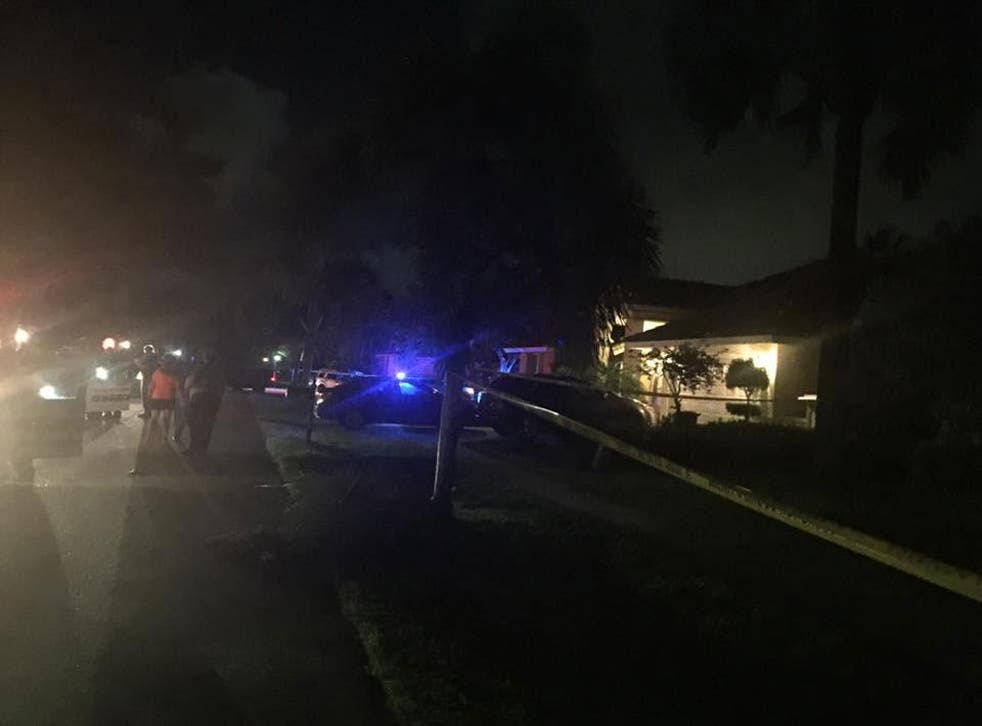 Florida police are working to determine what would drive a man to first murder a married couple, then bit off pieces of one of the victims' faces.
Martin County Sheriff William Snyder identified the suspect as a 19-year-old Florida State University Austin Harrouff student with no previous criminal record. He may have been on hallucinogenic drugs when he allegedly attacked and killed Michelle Mishon, 53, and John Stevens, 59, late Monday.
Harrouff was reportedly eating dinner with his family at a Tequesta restaurant, nearby the scene of the crime, when he stormed off after complaining about slow service.
Forty-five minutes later, the sheriff said, Harrouff targeted Stevens and Mishon at random.
"It's inexplicable," Mr Snyder said. "One of the first things we try to do at a crime scene is try to understand the motive of the offender, because it is the motive of the offender that gets us going in the right direction.
"In this case, we can't establish a motive. It's 'I don't know'."
World's 10 deadliest street drugs

Show all 10
Mr Snyder said the attack originated in the couple's garage. A neighbour attempted to break up the fight between Harrouff – a wrestler and football player – but was stabbed.
The neighbour called police after the stabbing at approximately 9.20 pm.
Deputies arrived at the gruesome scene as the suspect reportedly gnawed on the face of Stevens. The first deputy at the scene deployed her Taser, but that was ineffective. She attempted to get him off the male victim, but was unsuccessful.
Additional deputies – along with a K-9 officer – were needed to subdue Harouff.
They did not open gunfire on the suspect out of fear of hitting the victim.
Both Stevens and Mishon were dead at the scene.
"The suspect in this case was abnormally strong," Mr Snyder said. Investigators are looking into whether or not Harouff used hallucinogenic drugs, such as "bath salts" or "flakka".
Preliminary tests found no evidence of heroin, methamphetamine, or cocaine in the suspect's system. Bath salts and flakka take much longer to show up in tests.
Florida has been particularly hard hit by bath salts and flakka – amphetamine-like hallucinogens that have previously resulted in hallucinations, delirium, and, in at least one instance, a user cannibalising others.
The Sun Sentinel reported a naked man ran across a busy road during high traffic, claiming that he was being chased by killers.
Another man was caught kicking in the glass door of a police station becuase he said he was being chased by an angry mob.
Register for free to continue reading
Registration is a free and easy way to support our truly independent journalism
By registering, you will also enjoy limited access to Premium articles, exclusive newsletters, commenting, and virtual events with our leading journalists
Already have an account? sign in
Register for free to continue reading
Registration is a free and easy way to support our truly independent journalism
By registering, you will also enjoy limited access to Premium articles, exclusive newsletters, commenting, and virtual events with our leading journalists
Already have an account? sign in