Youngest face transplant recipient in US says 'it feels amazing' to touch her new skin
The 22-year-old is just one of 40 people to have received face transplants around the world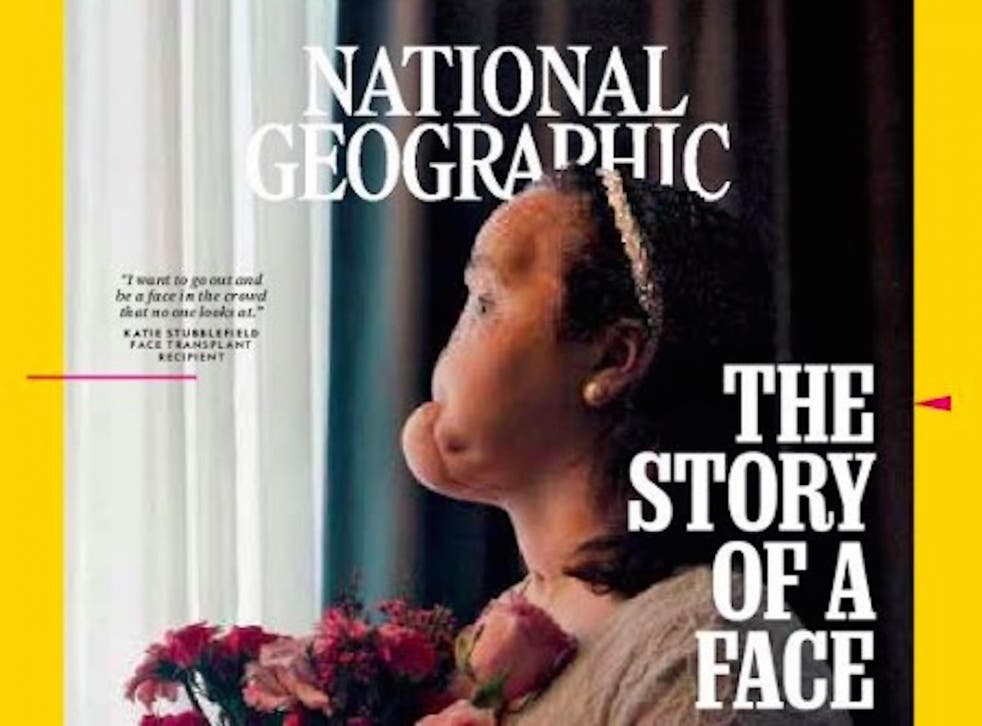 Katie Stubblefield, the youngest face transplant recipient in US history, said she is taking "many, many daily steps" to continue rehabilitating after her historic operation.
Ms Stubblefield was just 18-years-old when she attempted suicide in her brother's bathroom in 2014, surviving a gunshot wound to the head and receiving a facial transplant nearly three years later.
"I'm able to touch my face now, and it feels amazing," she said in an interview with National Geographic. "Life is previous, and life is beautiful."
Ms Stubblefield endured years of surgeries and psychological evaluations prior to receiving a facial transplant, including nearly two dozen operations attempting to reconstruct her face.
The 31-hour transplant involved removing the face off of the donor, who died after a drug overdose. Ms Stubblefield essentially received a full facial transplant, receiving a new forehead, cheeks, mouth and lips, nose, eye sockets, upper and lower eyelids, upper jaw and a portion of the lower jaw, along with teeth and facial muscles.
She is now just one of 40 people throughout the entire world to ever receive a face transplant.
Before her surgery, Ms Stubblefield's family was not aware of what a facial transplant was.
"There was an older trauma surgeon who basically told us, 'It's the worst wound that I've ever seen of its kind,' and he said, 'The only thing I can think of that would really give her functional life again is a face transplant,'" Robb Stubblefield, her father, said in the new interview. "I was standing there thinking, What do you mean a face transfer? What do you do?'"
Face transplant patient meets his donor's widow for the first time
Her surgery was conducted at the Cleveland Clinic, using virtual reality, 3D printing and nearly a dozen surgeons to achieve the final result. It was paid for by a grant from the Armed Forces Institute of Regenerative Medicine, which seeks to create new transplant operations for military members wounded in combat.
Ms Stubblefield's transplant operation and experience was documented in National Geographic's new documentary, Katie's Face. The magazine's editor-in-chief Susan Goldberg said the publication wanted to bring attention to her story, describing it as "one of the most important stories that we will do this year."
World news in pictures

Show all 50
"We thought it was just such a moving and inspiring story that is about everything from human journey to breakthrough medicine and science," she said.
Ms Stubblefield's father said his daughter, who still has difficulty speaking, is beyond grateful to have received the transplant.
"You take it for granted, the different components of our faces — the bone, the tissue, the muscle, everything," he said. "But when it's gone, you recognise the big need. Then when you receive a transplant, you're so thankful."
Philanthropist, television presenter and former model Katie Piper edits the September issue as part of the Guest Editor programme; a project, exclusively created for the UK National Geographic Magazine to celebrate the publication's 130th anniversary. The issue will be on shelves in the UK from 5th September 2018.
Register for free to continue reading
Registration is a free and easy way to support our truly independent journalism
By registering, you will also enjoy limited access to Premium articles, exclusive newsletters, commenting, and virtual events with our leading journalists
Already have an account? sign in
Register for free to continue reading
Registration is a free and easy way to support our truly independent journalism
By registering, you will also enjoy limited access to Premium articles, exclusive newsletters, commenting, and virtual events with our leading journalists
Already have an account? sign in
Join our new commenting forum
Join thought-provoking conversations, follow other Independent readers and see their replies