California man who shot himself shares pictures of face transplant recovery
The surgical procedure took 25 hours to complete.
Cameron Underwood views his face following facial transplant
A California man who underwent an arduous face transplant surgery after shooting himself has revealed the results to the world.
Cameron Ward, 26, suffered the self-inflicted gunshot wound in June 2016. The gunshot wound disfigured his face, damaging his nose, teeth, lower jaw, upper face and palate.
After the incident, Mr Underwood made several attempts at conventional reconstruction surgery before finding Dr. Eduardo Rodriguez at NYU Langone Health in New York City.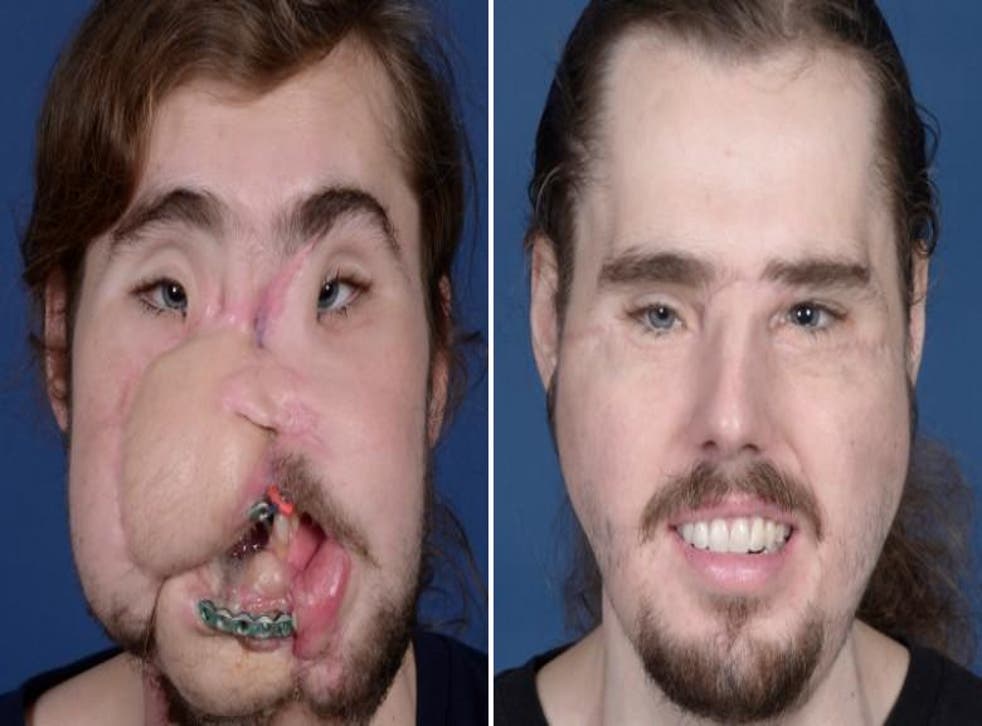 "When we read about what Dr Rodriguez had done for his other patients, we knew he was the only person to whom we would trust Cameron's life," Beverly Bailey-Potter, Mr Underwood's mother, told the New York Post . "We were willing to travel the long distance."
Mr Underwood went through the surgical operation about 11 months ago. Mr Underwood's face transplant surgery took about 25 hours to complete and relied on the help of 3D computer surgical planning and a 3D printed mask of the donor's face. The procedure required the transplanting and reconstructing of the upper and lower jaw bones, all 32 teeth, gums, the roof of the mouth, eyelids, cheeks, nose, and the nasal passage.
Mr Underwood is still recovering and working on trying to regain his senses and mobility. More importantly, he finally has a chance to get back to the living the life he once had. He reportedly went sky-diving after his procedure.
"I am so grateful to have a face transplant because it gives me a second chance at life," Mr Underwood said.
"Even though I'm still recovering and gaining back sensation and mobility, mostly with my lips, I'm still very happy with the results," he added said. "I have a nose, and a mouth so I'm able to smile, to speak and eat solid foods again."
Mr Underwood's donor was 23-year-old William Fisher. He was an aspiring filmmaker and writer living in New York City. Mr Fisher, a registered organ donor, didn't just give his face to Underwood. He also donated his kidneys, livers, eyes and tissues.
World news in pictures

Show all 50
Mr Fisher's mother, Sally, was moved by Mr Underwood's successful face transplant results.
"Being a part of this experience has been a source of strength for me during a very difficult time," the donor's mother said in a statement. "I don't think I would have survived Will's death if not for Cameron. Cameron has his whole life ahead of him -- and I love the idea that Willie is helping him have a better life."
Face transplants are not that common. The first surgical procedure of its kind was operated in France in 2005. Since then, more than 40 face transplants have been done around the world.
NYU Langone Health, where Mr Underwood had his procedure, operated two of those 40 surgeries. It also has its own face transplantation program, which is hard to come by in the US.
Mr Rodriguez completed two face transplant surgery in his career. Mr Underwood's face transplant, which Mr Rodriguez led a team of 100 medical professionals for, is the surgeon's third procedure of its kind.
After several weeks of rehabilitation, speech therapy, and orthodontic surgery, Mr Underwood was discharged from the hospital in mid-February 2018. By the end of the following month, he was able to move back to his home in California. Since then, he's been making monthly trips to New York for his follow-up appointments.
Support free-thinking journalism and attend Independent events
The face transplant requires Mr Underwood to take anti-rejection drugs for the rest of his life, and fortunately, the surgery coupled with the medicinal treatment has responded positively.
But the rigorous upkeep does not seem to faze Mr Underwood. He's just happy he gets a second chance at life.
"We hope my experience inspires others who have severe facial injuries to have hope, as I was inspired by others who came before me," Underwood said in the statement. "The journey hasn't been easy, but it's been well worth it."
Join our new commenting forum
Join thought-provoking conversations, follow other Independent readers and see their replies