Family making nearly £9,000 in profit after being bumped off overbooked Delta airlines flight
Laura Begley Bloom made £8,866 from Delta Air Lines' overbooked flights from New York to Florida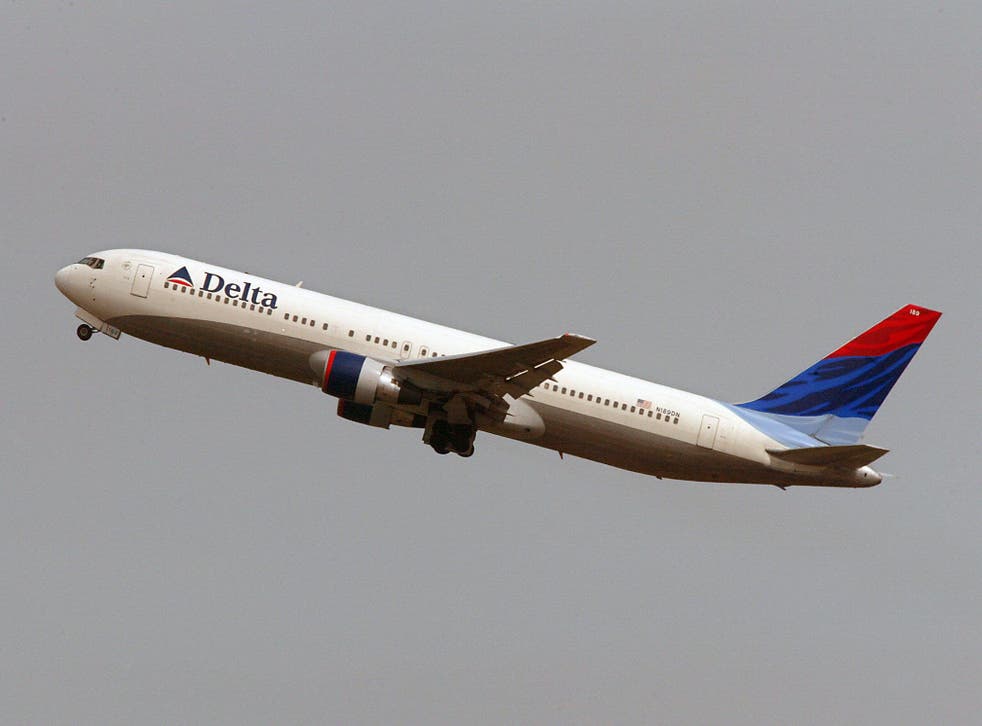 A family cashed in on their travel misery by pocketing nearly £9,000 in profit after being bumped from three flights.
Laura Begley Bloom made £8,866 after her, her husband and daughter were due to fly on an overbooked plane from New York to Florida.
The flight the family was on had 60 stand-by passengers hoping to get a seat, and after hours of delays the airline began offering sweeteners to any volunteers who would give up their ticket.
By law in the US airlines must compensate flyers who are bumped off a plane, even if involuntarily.
Ms Begley Bloom, writing for Forbes, said: "I've always quietly scoffed at travelers who would give up a seat on a flight in exchange for a voucher.
"When the compensation for volunteers got to $900 (£716) a ticket in gift cards (American Express, Target, Macy's and so on), my husband convinced me to consider the offer."
They requested $1,500 (£1,194) a piece but settled on $1,350 (£1,075) a ticket and confirmed flights for the next day, but declined the offer of a hotel room and dinner as they lived nearby.
Ms Begley Bloom was one of thousands of passengers affected when storms swept through Atlanta, causing travel giant Delta Airlines to scrap some 4,000 flights over five days.
Delays and cancellations were compounded by the busy spring travel season which saw the majority of flights booked at or near capacity, leaving few spare seats for displaced passengers or staff who were needed at other airports.
She said: "Other frustrated passengers were yelling at the staff and crying over vexed travel plans. Somehow, when an airline is offering you and your family $4,050 (£3,225), missing a flight doesn't seem so bad.
"When I went to check in online on Saturday and saw that the flight was delayed by more than an hour and that Delta was already asking for volunteers to give up their seats, I turned to my husband and said, "Cha-ching!"
Airline staff once again began asking for volunteers starting at $300 (£238), and when the price hit $1,300 (£1,035) the family cashed in pocketing two gift cards at that amount and another one at $1,350 (£1,075).
The world's 10 worst airlines

Show all 10
Ms Begley Bloom wrote: "Delta also threw in lunch ($15 each) and round-trip taxi fare (worth about $50). That's more than $4,000 (£3,185), if you factor in everything. The airline assured us that we would get confirmed seats on Sunday.
"I felt a bit guilty making so much money off the situation, but other passengers pointed out that we were freeing up seats for people who really needed to get somewhere. Many passengers actually thanked us for doing this."
But after waiting hours for confirmation of rebooked seats, and after being told flights were overbooked until Tuesday, the family decided to cancel their trip to see relatives altogether, to the delight of staff.
She added: "The offer was met with smiles and another $1,000 (£796) per person in advance compensation. Delta sweetened the deal by refunding the cost of the three plane tickets.
"We accepted Delta's offer and went home, sad to miss our trip, but not so sad about the lucrative results."
United Airlines passenger is dragged off plane because airline overbooked
The frequent traveller estimated that the trio made $11,000 (£8,759) in American Express gift cards, with food and taxi fares bumping up the final amount.
She added: "One gate agent confessed that there are people who take the art of bumping very seriously and make thousands upon thousands of dollars."
Despite their benefiting from the situation, she described misery and chaos for other stranded passengers who missed out on weddings and funerals.
Not always amicable, footage of one passenger who was forcibly removed from a United Airlines went viral after horrified passengers filmed the man, named as 69-year-old Dr David Dao, being dragged off a flight from Chicago to Louisville.
Security was called in after four people were selected at random after no volunteers took the $1,000 (£796) offer to fly the next day.
Dr Dao protested and was eventually removed by security personnel, and can be seen in the footage bleeding from the mouth.
The airline's stock price plummeted three per cent after the shocking images were released, and United CEO Oscar Munoz released a statement apologising for "having to re-accommodate these passengers."
The airline faces a backlash after labelling the elderly gentleman "disruptive and belligerent" and defending their actions.
The airport police officer from the Chicago Department of Aviation, who removed Mr Dao and faces allegations of body-slamming, was placed on leave.
Register for free to continue reading
Registration is a free and easy way to support our truly independent journalism
By registering, you will also enjoy limited access to Premium articles, exclusive newsletters, commenting, and virtual events with our leading journalists
Already have an account? sign in
Register for free to continue reading
Registration is a free and easy way to support our truly independent journalism
By registering, you will also enjoy limited access to Premium articles, exclusive newsletters, commenting, and virtual events with our leading journalists
Already have an account? sign in
Join our new commenting forum
Join thought-provoking conversations, follow other Independent readers and see their replies