Family of Sunil Tripathi - missing student wrongly linked to Boston marathon bombing - thank well-wishers for messages of support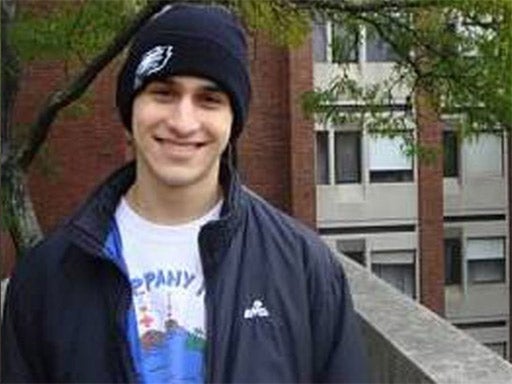 The family of Sunil Tripathi – the missing student who was wrongly identified as a suspect in the Boston bombing and whose body was this week recovered from a river – have expressed thanks for messages of support they said poured in from around the world.
Officials in the US state of Rhode Island confirmed on Thursday that the body of a man that was found in a river running through the city of Providence was that of 22-year-old Mr Tripathi.
Police had earlier reportedly told local media it was "very, very possible" the body was that of the missing philosophy student who was misidentified on social media as a suspect in the Boston bombing case. The Rhode Island health department said it had used dental records to confirm the identity.
On the Facebook page his family had set up to help in the search for Mr Tripathi and where they had urged people to upload images of messages of support written on their palms, they said the young man's body had been found on Tuesday in the Providence river close to India Point Park.
"As we carry indescribable grief, we also feel incredible gratitude. To each one of you – from our hometown to many distant lands – we extend our thanks for the words of encouragement, for your thoughts, for your hands, for your prayers, and for the love you have so generously shared," the family said in a message.
They added: "Your compassionate spirit is felt by Sunil and by all of us. This last month has changed our lives forever, and we hope it will change yours too.
"Take care of one another. Be gentle, be compassionate. Be open to letting someone in when it is you who is faltering. Lend your hand. We need it. The world needs it."
Mr Tripathi, who last year suspended his studies at Brown university after enduring bouts of depression, had gone missing on 16 March. He left his phone and wallet behind in his student digs. His family launched a search across the state of Rhode Island to try to find him and produced a video which they uploaded on to YouTube urging "Sunny" to come home.
Last week, many on social media claimed Mr Tripathi was one of two men being sought by police over the Boston bombings. Earlier this week, editors of the Reddit social-news forum apologised for what they said turned into a "witch-hunt".
The family of the student said they were trying to seize on last week's negative publicity and use it in their efforts to trace the young man. The cause of the student's death has still be determined but the medical examiner said no foul play was suspected.
The student's family said that in lieu of flowers, people might consider making a donation to a memorial fund that was to be established in his name.
They said: "As soon as we are able to, we will select organisations reflecting Sunil's spirit, particularly those focusing on mental health and environmental sustainability."
Join our commenting forum
Join thought-provoking conversations, follow other Independent readers and see their replies