Fast Food workers strike in 270 cities to demand a $15 minimum wage
A number of US cities have recently adopted a $15 minimum wage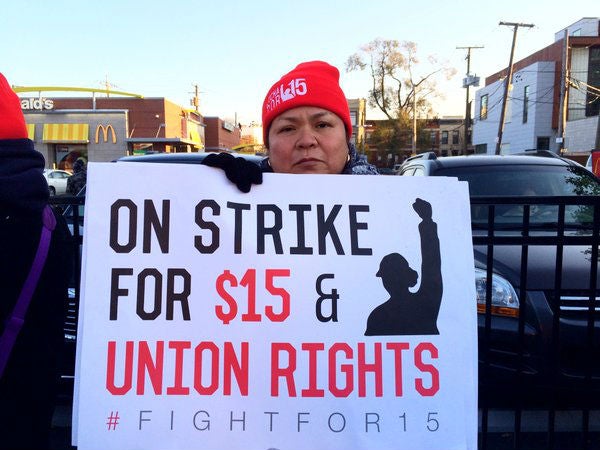 Hundreds of fast-food workers in the US have gone on strike to demand a $15 wage - kicking off a year-long campaign they hope can make an impact on next year's presidential election.
The protests, which will take place in 270 cities, mark the workers' largest show of force in the three years since they launched a series of rallies to call for higher pay.
The protests, coordinated by Fight for $15, which represents the workers and is backed by the Service Employees International Union, underscore an effort to lever the political power of 64 million low-wage workers across the country.
Reuters said that tens of thousands of workers and supporters were expected to take part in the demonstrations, which began around dawn at McDonald's outlets in downtown Brooklyn, Boston and Philadelphia, among other locations.
A couple hundred protesters marched down downtown Brooklyn's Fulton Street, blocking traffic, chanting "We are the workers, the mighty mighty workers fighting for justice".
Beating drums and carrying banners reading "A living wage - quality care" and "On strike for work that sustains families", the protesters stopped to rally outside a McDonald's restaurant.
Organisers of the Fight for $15 campaign say the protests will be followed by rallies in 500 cities by low-wage workers in such sectors as fast food and home and child care.
The protests and strikes are aimed at gaining candidates' support heading into the 2016 election for a minimum wage of $15 an hour and union rights, it said. Last December, the group staged similar protests in some 200 cities.
Democratic front-runner Hillary Clinton recently said she supports a $12 federal pay floor, while Bernie Sanders and Martin O'Malley favor a $15 minimum. They cite the issue as key to closing the widening gap between rich and poor.
The crusade for $15 has gathered momentum with a number of cities including Seattle, Los Angeles and San Francisco recently deciding to raise their minimum wage to $15, and as companies such as McDonald's, Walmart and Target also agreeing to increase worker pay.
Join our commenting forum
Join thought-provoking conversations, follow other Independent readers and see their replies