Gay couple who were technically 'father and (adoptive) son' seek right to marry each other
Many gay couples in the US used adoption to gain legal family ties before same-sex marriage became legal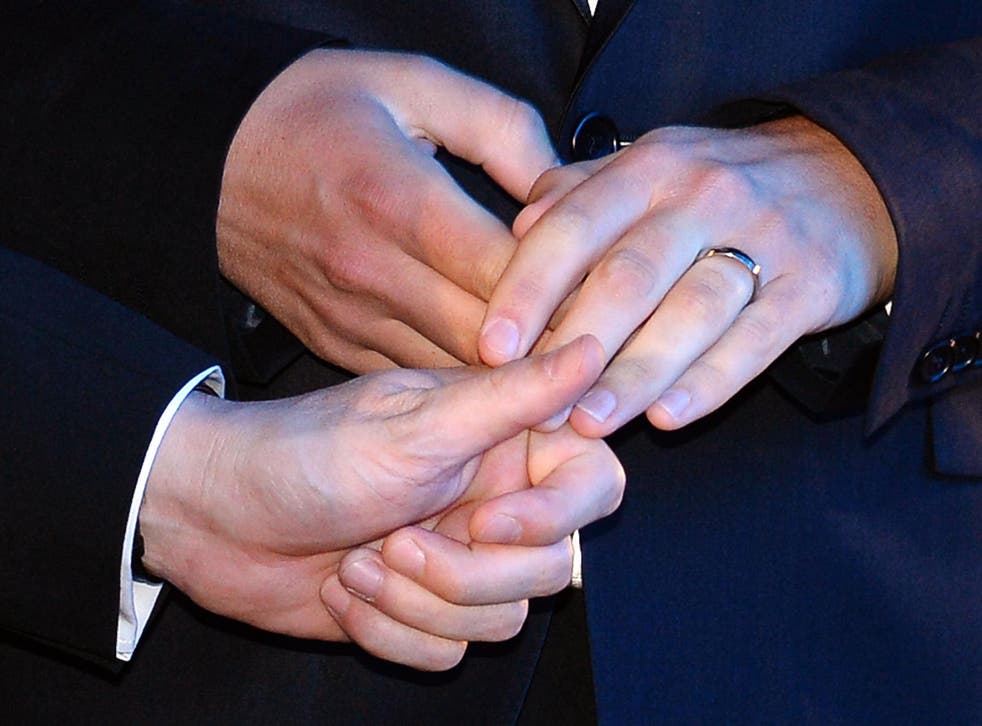 An American couple seeking a same-sex marriage have faced complications, after legally becoming father and son three years ago.
Before the Supreme Court made same-sex marriage legal in all 50 US states this year, many gay couples in the country used adoption as a means to gain legal family ties.
Retired teacher Nino Esposito and his partner, Roland "Drew" Bosee, a former technical writer, undertook an adoption in 2012 after 40 years of being together, CNN reports.
The couple now wish to annul the adoption in order to get married, but a state court judge rejected the request, saying adoption annulments are usually limited to cases of fraud.
"We thought never in our lifetime — or in 20 lifetimes — would same-sex marriage happen," 68-year-old Mr Bosee told the Pittsburgh Post-Gazette.
"[The adoption] gave us the most legitimate thing available to us."
Same-sex marriage legalised across the US

Show all 15
The ACLU of Pennsylvania, a civil liberties union supporting the couple, said it was not uncommon for couples across the states to take advantage of adoption laws as a way to legally become a family.
Mr Esposito and Mr Bosee decided to pursue adoption in 2012, while revising their wills and noticing discriminative charges. Inheritance tax is four per cent when a bequest is made to a family member and 15 per cent for non-relatives, according to the Pittsburgh-Post Gazette.
Judge Lawrence J O'Toole, of the Court of Common Pleas of Allegheny County, rejected the couple's request.
He said he was "sensitive to the situation" but that they would not be permitted to marry "because they are legally father and son".
"This Court welcomes direction from our appellate courts in handling parallel cases," Mr O'Toole said.
ACLU Pennsylvania told CNN it does not believe the judge was unsympathetic, but that the legal path should be "forged by an appellate court".
Democratic Senator for Pennsylvania Bob Casey urged the Justice Department to support the couple's case.
"I wasn't aware that LGBT couples were turning to this method,"he told the Pittsburgh Post-Gazette.
"I can't even imagine having to get an adoption petition approved in order to visit a loved one in the hospital."
"LGBT couples should have the right to obtain a marriage license, no matter the state or jurisdiction in which they reside."
A spokeswoman for the Justice Department has said the department is reviewing Mr Casey's letter.
Register for free to continue reading
Registration is a free and easy way to support our truly independent journalism
By registering, you will also enjoy limited access to Premium articles, exclusive newsletters, commenting, and virtual events with our leading journalists
Already have an account? sign in
Register for free to continue reading
Registration is a free and easy way to support our truly independent journalism
By registering, you will also enjoy limited access to Premium articles, exclusive newsletters, commenting, and virtual events with our leading journalists
Already have an account? sign in
Join our new commenting forum
Join thought-provoking conversations, follow other Independent readers and see their replies