Murder of seven-year-old girl in Mexico City sparks mounting fury about brutal femicides
'Justice has to be done, for my daughter and for all women,' says girl's mother
Maya Oppenheim
Women's Correspondent
Tuesday 18 February 2020 16:13 Comments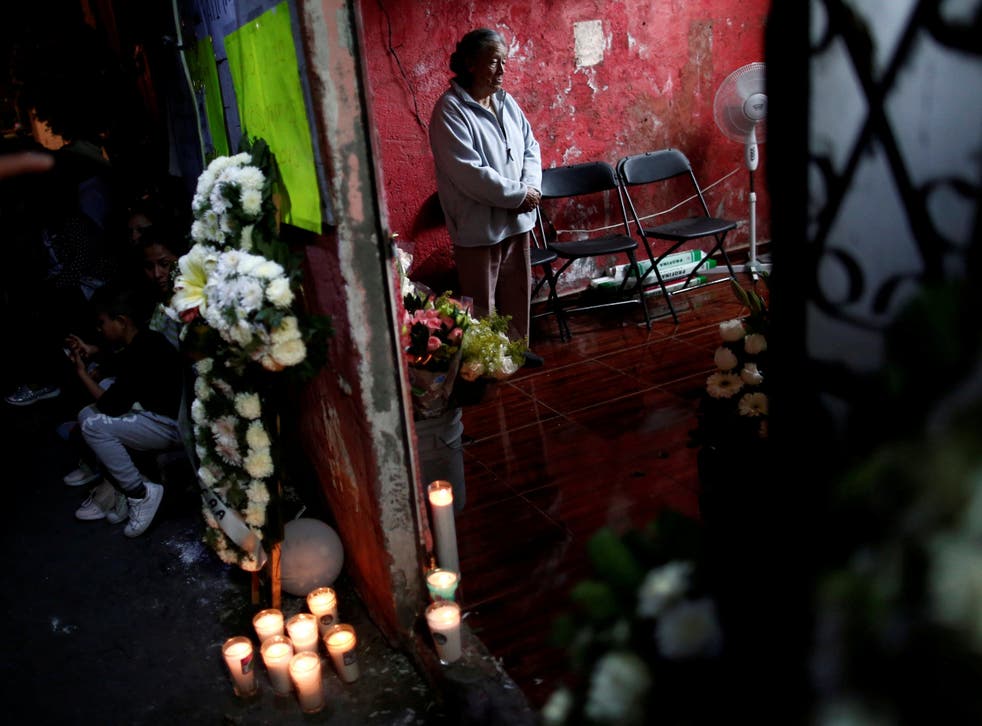 The brutal killing of a seven-year-old girl in the suburbs of Mexico City has sparked renewed anger about rates of femicide in the country.
Fatima Cecilia Aldrighett's family have accused the police and government of failing to protect the girl after her body was reportedly discovered wrapped in a bag on 11 February.
Her mother, Maria Magdalena Anton, said the family had been forced to wait hours to submit a missing person report by investigators after Fatima was taken from school.
"Justice has to be done, for my daughter and for all women," she told journalists.
A $100,000 reward for information about the individual who collected her from school has been offered by the prosecutors' spokesperson Ulises Lara.
Femicide protesters march on president's palace in Mexico

Show all 10
Classmates of Fatima left flowers, candles and balloons outside the school on Monday.
The killing has reignited anger about the prevalence of violence against women and girls in the country – with the hashtag #JuticiaParaFatima tweeted tens of thousands of times and local residents shouting and holding placards as they called for justice.
It comes just days after the chilling killing of a young woman, allegedly stabbed to death by her partner, sparked mass outrage in Mexico after photos of her mutilated body were leaked to the press.
Ingrid Escamilla had her organs and skin removed in what is believed to have been an attempt to hide evidence of her grisly murder.
The man, who has been arrested and purportedly confessed to killing Escamilla with a knife, mutilated her body and flushed part of her corpse into a sewer.
Leaked images of the 25-year-old's body were splashed on the front page of Mexican newspaper Pasala alongside the caption: "It was cupid's fault."
Protesters descended on the streets of the Mexican capital on Friday and graffitied "femicide state" in blood-red spray paint on the exterior of the country's presidential palace as they shouted "not one more murder".
Femicides, defined as the gender-motivated killing of women, are prevalent in Mexico and more than 700 cases are currently being investigated. According to official data, an average of 10 women were killed a day in Mexico in 2018.
Some 44 per cent of women have suffered violence from a partner and 66 per cent of women have experienced some form of violence during their life, according to the Mexican Institute of Statistics and Geography.
President Andres Manuel Lopez Obrador has claimed demonstrations over the killings were a bid to divert the spotlight from his social programmes.
"This issue has been manipulated a lot in the media," he said on Monday. "I don't want the issue just to be women's killings ... We are working so that there won't be any more women's killings."
Register for free to continue reading
Registration is a free and easy way to support our truly independent journalism
By registering, you will also enjoy limited access to Premium articles, exclusive newsletters, commenting, and virtual events with our leading journalists
Already have an account? sign in
Join our new commenting forum
Join thought-provoking conversations, follow other Independent readers and see their replies