Hillary Clinton emails: FBI release shows candidate said she could not remember briefings because of head injury
Disclosure will intensify pressure on Democratic presidential candidate who has failed to shrug off questions about why she used a private email server during her time as Secretary of State
Rob Crilly
New York
Friday 02 September 2016 20:07 Comments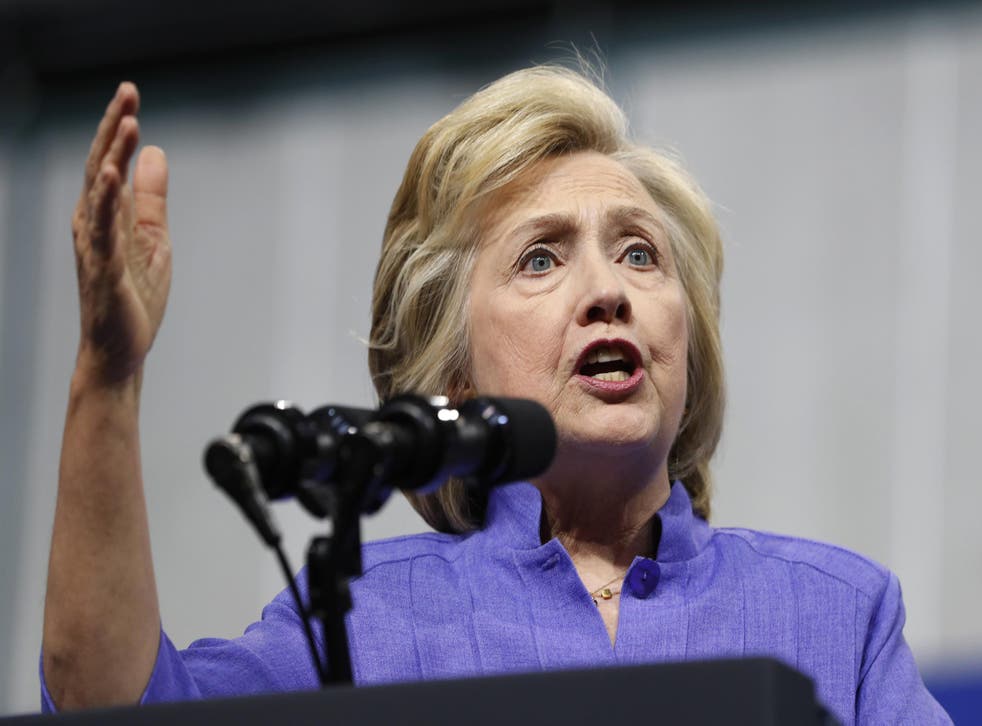 Hillary Clinton told federal investigators that she could not remember some of the briefings she was given on handling classified material because of a conucssion she suffered in 2012, according to documents made public by the FBI.
The disclosures come in a report on the FBI's investigation into Ms Clinton's use of a private email server during her time as Secretary of State and will reignite the controversy just as campaigning for the White House intensifies.
The documents include details of her three-and-a-half hour interview with investigators, although large tracts of the notes are blacked out.
"Clinton said she received no instructions or direction regarding the preservation or production of records from State [Department] during the transition out of her role as Secretary of State in 2013," the documents state.
"However, in December of 2012, Clinton suffered a concussion and then around the New Year had a blood clot. Based on her doctor's advice, she could only work at State for a few hours a day and could not recall every briefing she received," the report said.
The 58 pages of notes also offer technical details of how the server in the basement of the Clintons' home was set up.
And they show Ms Clinton and her staff were not as careful with old mobile phones - and their data - as they might have been.
"[Huma] Abedin and [former aide Monica] Hanley indicated the whereabouts of Clinton's devices would frequently become unknown once she transitioned to a new device," one report said.
At other times, they would destroy redundant devices by hitting them with a hammer, the documents show.
FBI director says 'no charges' for Hillary Clinton amid email scandal
The documents also reveal that Ms Clinton told investigators she used a personal email server "out of convenience" and could not remember anyone warning her about the practice.
"She relied on State officials to use their judgment when emailing her and could not recall anyone raising concerns with her regarding the sensitivity of the information she received at her email address," they say in comments consistent with her public statements.
The Trump campaign responded with a statement accusing Ms Clinton of mishandling classified information.
"Hillary Clinton is applying for a job that begins each day with a top secret intelligence briefing, and the notes from her FBI interview reinforce her tremendously bad judgment and dishonesty," it said.
The release comes just before Monday's Labour Day holiday in the US, traditionally viewed as the moment presidential campaigns raise their pace ahead of the election in November, and is a highly unusual step, reflecting the intense public interest in the email controversy.
In July, James Comey, FBI director, announced that investigators concluded there was insufficient evidence to merit a criminal prosecution.
Although he said Ms Clinton and staffers were "extremely careless" in their treatment of classified material, the investigation found they did not intend to mishandle the information.
However, Ms Clinton has failed to shrug off the issue. Critics accused her of failing to address the controversy quickly enough, fuelling suspicions that she is untrustworthy or out of touch.
The decision to release the documents was made in response to a series of freedom of information requests lodged by media organisations.
Register for free to continue reading
Registration is a free and easy way to support our truly independent journalism
By registering, you will also enjoy limited access to Premium articles, exclusive newsletters, commenting, and virtual events with our leading journalists
Already have an account? sign in
Join our new commenting forum
Join thought-provoking conversations, follow other Independent readers and see their replies