Campaign launches to make 'Fearless Girl' statue on Wall Street permanent
City Hall has extended the statue's permit from one week to 30 days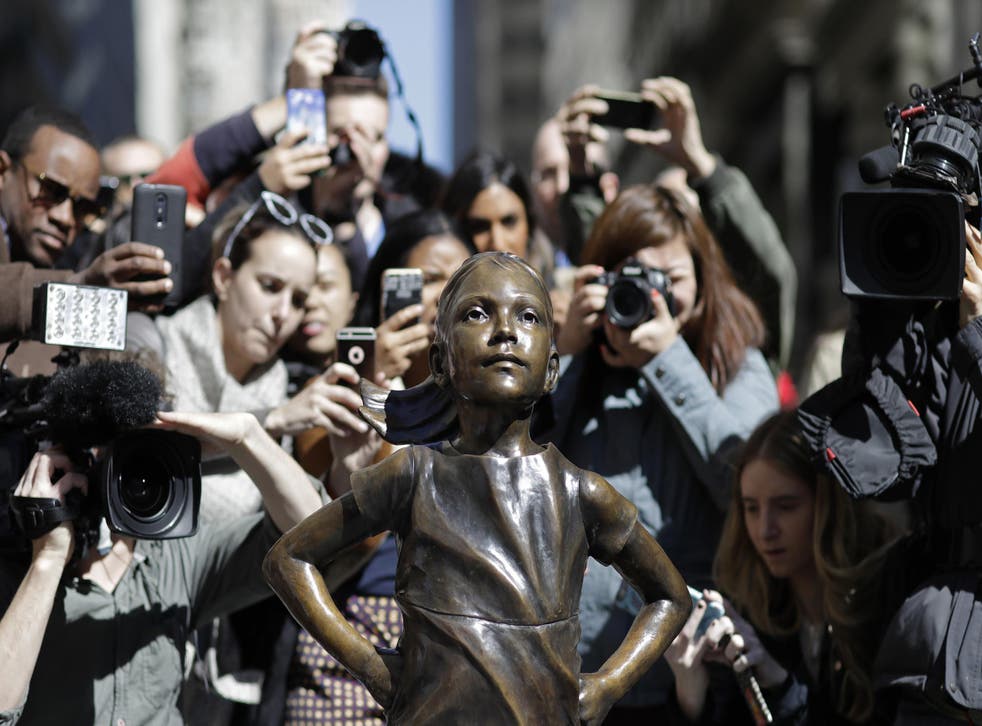 A campaign has launched to make the statue of the young girl that bravely stares down the charging bull of Wall Street permanent.
Several petitions have gathered thousands of signatures to keep the "Fearless Girl" bronze statue in place longer than 30 days.
It was designed by Kristen Vibal and put in place on International Women's Day 2017.
Construction workers took more than five hours overnight to erect the statue, including extending the cobbled area of Bowling Green to serve as its base.
The statue, representing gender equality on Wall Street and a plea for US financial firms to employ more women at senior levels, has gathered thousands of tourists.
"Wouldn't it be great if she got to stay longer? In fact, what if she stuck around permanently?" wrote Nira Desai on a Change.org petition, which has gathered more than 2,500 names in less than 48 hours.
New York City Hall originally gave the statue a permit for one week, and it has been extended to 30 days.
Mayor Bill de Blasio tweeted out the news, saying: "Our future rests in the hand of fearless girls."
Dominique Bell, who created another similar petition, wrote: "As our world is challenged in so many ways, women's leadership is more than ever needed for today and tomorrow."
The bronze bull, a symbol of the aggressive and macho culture of Wall Street, was snuck onto the pavement one night in 1989 by sculptor Arturo Di Modica and it was removed by police. It was reinstated following public outcry.
US fund management company State Street Global Advisors commissioned the Fearless Girl project and discussed it with the City beforehand.
A SSGA spokesman confirmed the company would be supportive if the statue remained longer.
Lori Heinel, deputy chief investment officer for SSGA, told The Independent that she had received calls and emails around the world, and much positive support from male friends and colleagues.
"If you see the statue on site, you can't help but be touched," she said. "Every time I walk by the crowds seem larger and larger - now I can hardly get near it."
SSGA has seen gender equality pay off in other ways. Its SPDR SSGA Gender Diversity Index ETF launched in March last year and was the top-selling exchange traded fund of 2016. It invests in US companies that advance women to boards and director positions. It raised more than $200 million since launch.
The statue purposely coincided with the one-year anniversary of the fund.
Join our new commenting forum
Join thought-provoking conversations, follow other Independent readers and see their replies