Homeland Security says shooting of federal officers in California 'act of domestic terrorism'
Acting DHS secretary Chad Wolf said alleged 'assassin' in drive-by shooting had fired at officers in Oakland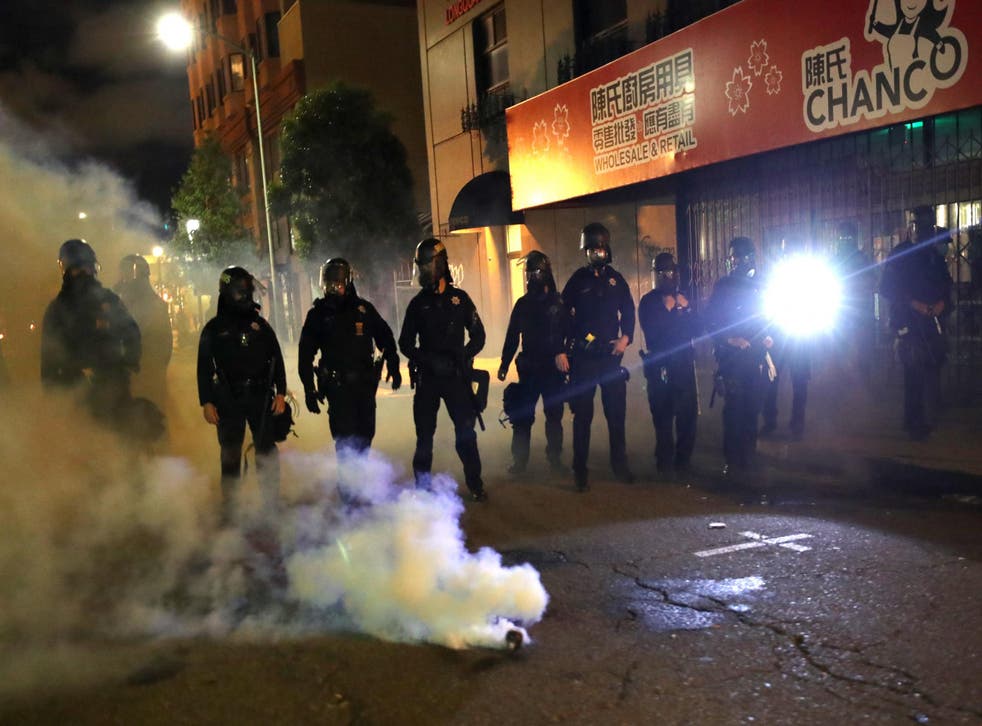 US Department of Homeland Security officials have categorised the killing of a federal contract security officer as an "act of terrorism".
One Federal Protective Service officer died and another is wounded following a drive-by shooting at a federal building in Oakland, California on Friday, according to law enforcement officials.
Their identities have not been released and the suspect has not been named; officials have not clarified whether the shooting was related to a massive protest in Oakland following the police killing of George Floyd in Minneapolis.
Acting DHS secretary Chad Wolf called the alleged shooter an "assassin" who "cowardly shot" the officers "as they stood watch over a protest".
He said the injured officer is in "critical condition fighting for his life".
During a press conference on Saturday, DHS Acting Deputy Secretary Ken Cuccinelli claimed that "there are currently threats by some to attack police stations and federal buildings".
"That violence will not be tolerated," he said. "We're also committed to ensuring that it won't succeed anywhere, and let me be clear, when someone targets a police officer or a police station with an intention to do harm and intimidate — that is an act of domestic terrorism."
FBI officials reported that "an individual inside the vehicle began firing gunshots at contract security officers for the Federal Protective Service of the Department of Homeland Security" as hundreds of protesters were demonstrating in Oakland.
George Floyd death: Minneapolis protests erupt in the streets
George Floyd death: Minneapolis protests erupt in the streets
1/30

Police spray mace at protestors to break up a gathering near the Minneapolis Police third precinct after a white police officer was caught on a bystander's video pressing his knee into the neck of African-American man George Floyd, who later died at a hospital, in Minneapolis

Reuters

2/30

A protester holds a sign with an image of George Floyd

AP

3/30

Protesters demonstrate against the death of George Floyd

AFP via Getty

4/30

A protester throws a piece of wood on a fire in the street just north of the 3rd Police Precinct

Getty

5/30

People in other US cities also protested the murder, like Los Angeles

AFP via Getty

6/30

Getty

7/30

AP

8/30

Reuters

9/30

AFP via Getty

10/30

AFP via Getty

11/30

AFP via Getty

12/30

A police officer lobs a canister to break up crowds

Reuters

13/30

A protester is treated after inhaling tear gas

Getty

14/30

Two police officers stand on the roof of the Third Police Precinct during a face off with a group of protesters

Getty

15/30

Protesters outside a Minneapolis police precinct two days after George Floyd died

EPA

16/30

Protesters run from tear gas

Reuters

17/30

AP

18/30

Demonstrators gather to protest in Los Angeles

AP

19/30

Police remove barricades set by protesters 

AFP via Getty

20/30

Getty

21/30

A fire burns inside of an Auto Zone store near the Third Police Precinct 

Getty

22/30

Flowers, signs and balloons are left near a makeshift memorial to George Floyd near the spot where he died

AFP via Getty

23/30

A policeman faces a protester holding a placard in downtown Los Angeles 

AFP via Getty

24/30

A couple poses with a sign in Los Angeles

AFP via Getty

25/30

MINNEAPOLIS, MN - MAY 27: A man is tended to after sustaining an injury from a projectile shot by police outside the 3rd Police Precinct building on May 27, 2020 in Minneapolis, Minnesota. Four Minneapolis police officers have been fired after a video taken by a bystander was posted on social media showing Floyd's neck being pinned to the ground by an officer as he repeatedly said, "I cant breathe". Floyd was later pronounced dead while in police custody after being transported to Hennepin County Medical Center. (Photo by Stephen Maturen/Getty Images) Stephen Maturen

Getty

26/30

Getty

27/30

A protester reacts after inhaling tear gas

Getty

28/30

Getty Images

29/30

Protesters use shopping carts as a barricade 

Getty Images

30/30

Protesters clash with the police as they demonstrate against the death of George Floyd 

AFP via Getty Images
The Federal Protective Service is used "to prevent, protect, respond to and recover from terrorism, criminal acts, and other hazards" that threat "critical infrastructure, services, and the people who provide or receive them," according to DHS.
Twenty-two people were arrested during the protests.
Register for free to continue reading
Registration is a free and easy way to support our truly independent journalism
By registering, you will also enjoy limited access to Premium articles, exclusive newsletters, commenting, and virtual events with our leading journalists
Already have an account? sign in
Register for free to continue reading
Registration is a free and easy way to support our truly independent journalism
By registering, you will also enjoy limited access to Premium articles, exclusive newsletters, commenting, and virtual events with our leading journalists
Already have an account? sign in
Join our new commenting forum
Join thought-provoking conversations, follow other Independent readers and see their replies