Is an 'open border' to blame for America's fentanyl crisis?
Republicans blame poor border security for America's fentanyl crisis, but experts tell a different story. Richard Hall reports
Wednesday 11 January 2023 14:31 GMT
Comments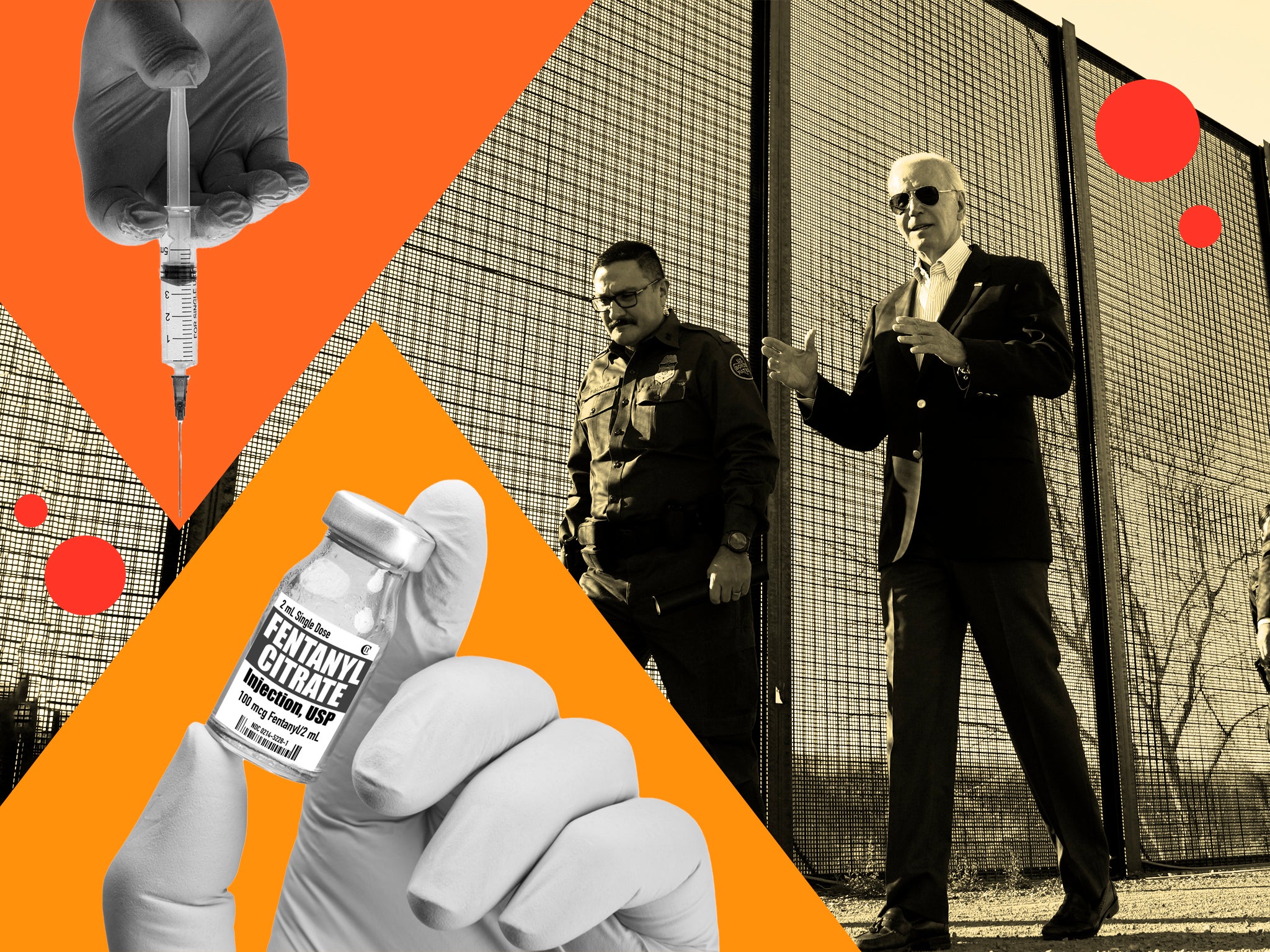 Joe Biden arrived in Mexico this week for a summit with president Andres Manuel López Obrador aimed at addressing the record amounts of illicit fentanyl being smuggled across the border into the US.
The fentanyl crisis has wreaked havoc in the United States, turning an already catastrophic opioid epidemic even deadlier. Of the estimated 107,622 fatal drug overdoses in the US in 2021 — the highest number ever recorded — fentanyl was responsible for two thirds of deaths.
Republicans have sought to cast the fentanyl deaths as a border security problem, and blamed Mr Biden for not stopping shipments from coming into the country. That claim became a key theme of November's midterm attacks on Democrats.
But even as Mr Biden and his counterpart met to discuss ways to "interdict the flow of fentanyl across the border" — as White House national security advisor Jake Sullivan put it during a briefing on Monday — experts have questioned whether the approach will have any meaningful impact.
"This is primarily not a law enforcement problem. This is a public health problem that needs to be fought as a public health problem," Adam Scott Wandt, assistant professor of public policy at the John Jay College of Criminal Justice, told The Independent in a phone interview on Tuesday
Professor Wandt, who received a three-year $600,000 grant from the National Institute of Justice in 2020 to study fentanyl sales on the dark web, said the border had become something of a red herring when it comes to the causes of the fentanyl crisis.
It is true that fentanyl seizures at the border have risen to record levels — a trend that began during the Trump administration. Since August of last year, Customs and Border Patrol have seized more than 20,000 lbs of fentanyl from smugglers. authorities estimate that number represents only a small percentage of the total amount entering the country.
Those seizures only tell a small part of the story, he said.
"I think these people who are naturally enthusiasts of securing the border, when they look at something like fentanyl, they get what we call confirmation bias," Professor Wandt said. "When they see drugs being confiscated at the border, which they do on a regular basis, I think that they only focus on it being a border issue and not realise that it is much larger than that. I don't think most people have an the appreciation for the level of how serious this opioid epidemic is. And that just by taking away the opioids, you're not gonna fix the problem, which is that people are addicted."
Many Republicans have called on the Biden administration to devote more resources to tackling the Mexican cartels that are responsible for smuggling fentanyl into the US.
Currently, the Drug Enforcement Agency (DEA) says most of the fentanyl crossing the border is being produced and smuggled into the US by the Sinaloa and the New Generation Jalisco (Cártel de Jalisco Nueva Generación or CJNG) cartels. Those cartels use precursor ingredients made en masse in factories in China to make the finished fentanyl product.
Ben Westhoff, the author of Fentanyl, Inc. — a book about the manufacture, sale and use of fentanyl and other synthetic drugs — infiltrated one of those Chinese fentanyl labs in the course of his research.
He told The Independent that the relationship between the cartels and Chinese laboratories developed in the 2000s, but has yielded huge profits for both parties in the last seven of eight years.
He explained that the causes of the fentanyl crisis have their roots much closer to home.
"The opioid prescription problem, starting in the nineties, created a huge new market for opioids of 1 - 3 million people. And so when these people's prescriptions ran out they basically turned to the black market and began using street heroin. And then eventually fentanyl kind of helped fill the void," Mr Westhoff said.
Many people who used heroin for years have now switched to fentanyl because they require a stronger substance to experience the same high. Due to fentanyl being readily available, dealers often mix fentanyl with other drugs such as heroin, cocaine, methamphetamine and MDMA to increase potency. It has also found its way into counterfeit prescription pills like oxycodone (Oxycontin, Percocet), hydrocodone (Vicodin), and alprazolam (Xanax); or stimulants like amphetamines (Adderall). Often, the people taking those pills do not know they contain fentanyl.
Mr Westhoff said the potency of fentanyl is one of the primary reasons why it is so hard to intercept.
"There's no way to stop it," he said. "Fentanyl is 50 times stronger than heroin. Before, if you were smuggling 50 pounds of heroin, now you just need to smuggle one pound of fentanyl. There's so many ways to get it across — it can be packed into secret compartments and cars. It can underground tunnels, there are drones, it can be brought in on boats. If you look at America's prisons, people die of overdoses constantly in prisons. If we can't stop drugs from getting into prisons, so there's no way we can stop it from getting across the border."
Both Mr Westhoff and Professor Wandt, and most experts on the fentanyl crisis, argue that more policing on the border will not solve the deeper fentanyl crisis in America.
"I think it's worth talking about," Mr Westhoff said of Mr Biden's meeting with his Mexican counterpart, "but futile is definitely the right word. We spend billions and billions, tens of billions of dollars every year on international drug interdiction, meaning trying to stop drugs from coming into this country from other countries. It's just this giant waste of money."
He added: "I think we need to be focusing on helping our own citizens at home — trying education campaigns to try to get people to try bad drugs like fentanyl in the first place, not to get involved with them at all. And then for addicted users, trying to get them into treatment programs and medication-assisted treatment."
Professor Wandt, too, suggested that a focus on more policing would simply repeat the mistakes of the past.
"We know that the war on drugs was a failure. We know that the war on drugs doesn't work. We have studies have shown that you cannot police your way out of the war on drugs," he said.
Mr Biden's border visit follows an announcement last year that his administration would provide $1.5bn in funding for communities addressing the addiction and overdose crises. The money provides funding for "access to treatment for substance use disorder, remove barriers to public-health interventions like naloxone, and expand access to recovery support services such as 24/7 Opioid Treatment Programs," according to the White House.
The latest figures from the US Centers for Disease Control and Prevention suggest the rate of overdose deaths may have slowed slightly, but fentanyl remains the biggest killer.
Join our commenting forum
Join thought-provoking conversations, follow other Independent readers and see their replies