Fires could turn Amazon rainforest into a desert as human activity and climate change threaten 'lungs of the world', says study
Drying out of the rainforest threatens to ignite the tree-filled habitat – with its rich biodiversity – and convert it almost overnight into barren desert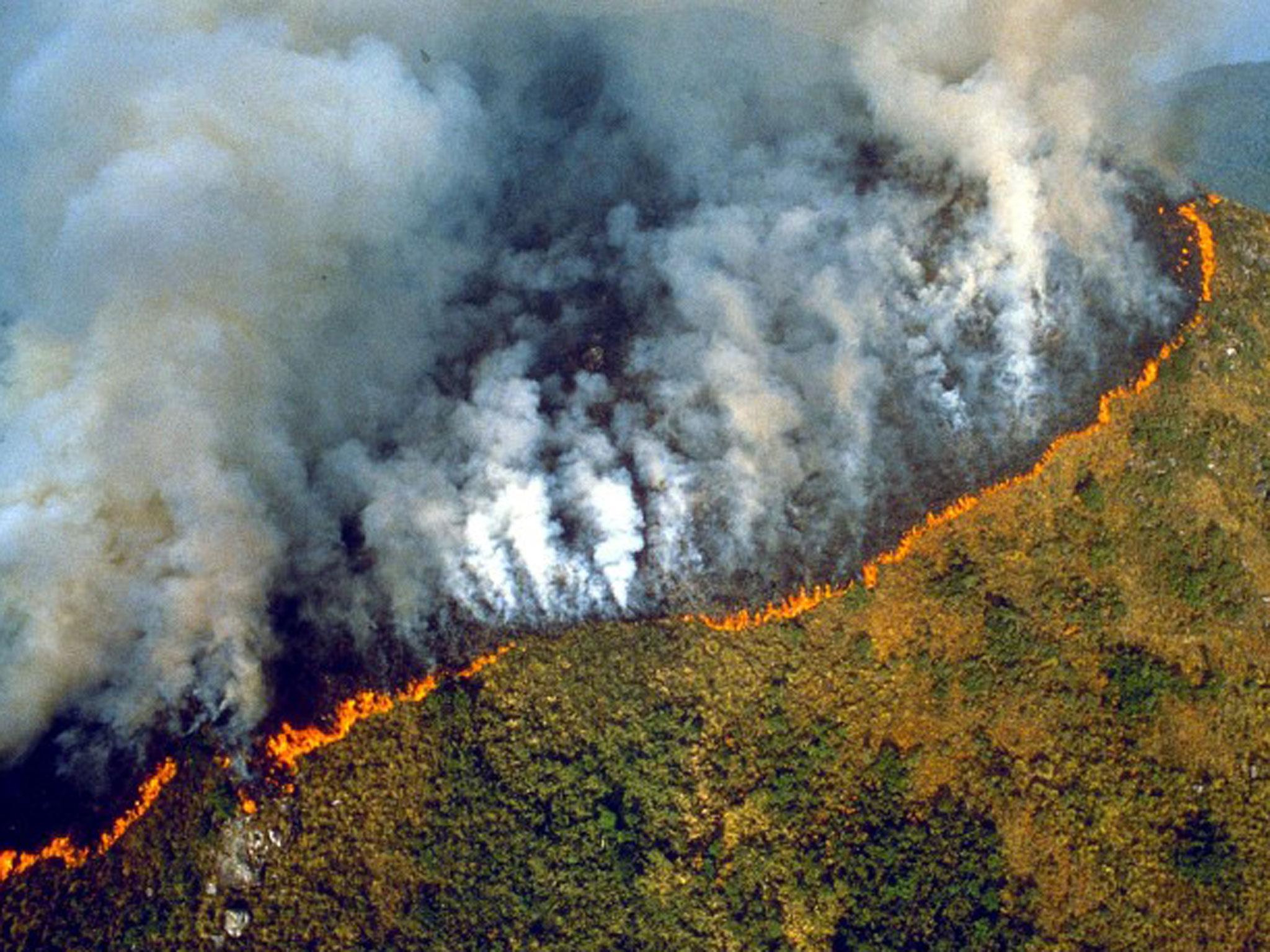 The Amazon rainforest is becoming increasingly vulnerable to catastrophic forest fires due to a combination of droughts, climate change and human activities such as deforestation, farming and habitat fragmentation, a major study has concluded.
One of the last great wildernesses on earth – known as the lungs of the world – is balancing dangerously close to a "tipping point" where forest fires will become so commonplace and extensive that they will change much of the landscape forever, scientists said.
Although fires have always occurred in Amazonia, they have been largely controlled by the natural humidity of the region. Now, however, the drying out of the rainforest threatens to ignite the tree-filled habitat – with its rich biodiversity – and convert it almost overnight into barren desert, they warned.
For the first time, scientists have shown in experiments on the ground how extreme, dry weather combined with the effects of human activities can create a tinderbox environment where intensely damaging forest fires can spread easily, killing trees that have taken hundreds of years to grow.
The study, carried out on three large experimental plots of rainforest monitored by satellite, showed that droughts abruptly increased the risk of intense forest fires compared to non-drought years, and this effect can be exacerbated significantly in areas influenced by human activities.
"These results provide, to our knowledge, the first experimental evidence of the link among extreme weather events, widespread and high-intensity fires and associated abrupt changes in forest structure, dynamics and composition," said the scientists from the US and Brazil.
"This mechanism of rapid forest degradation could operate over a larger geographical area, such as the 'arc of deforestation', where droughts, forest fragmentation and forest fires are already common," they said in a study published in the journal Proceedings of the National Academy of Sciences.
The researchers monitored the three 50-hectare plots of Amazon rainforest over an eight-year period. During this time they subjected two of the plots to controlled fires, either on an annual or a three-year basis, and left the third plot untouched as a control for comparison.
They found that while the rainforest did not burn very much in years with normal rainfall, it burned intensively and extensively in drought years, which are expected to increase in both frequency and severity due to climate change causing shorter, more intense rainy seasons and longer dry seasons.
Trees in the tropical rainforests, unlike more temperate woodlands, are not naturally immune to forest fires and are easily killed by flames. The study found that this vulnerability caused a collapse of the overhead canopy cover and an invasion of the forest by more flammable vegetation from the inhabited forest edges, causing a cascade of events that increased the chances of an irreversible "tipping point" triggered by fire.
"Agricultural development has created smaller forest fragments, which exposes forest edges to the hotter dryer conditions in the surrounding landscape and makes them vulnerable to escaped fires," said Marcia Macedo of the Woods Hole Research Centre in Falmouth, Massachusetts.
"These fragmented forests are more likely to be invaded by flammable grasses, which further increase the likelihood and intensity of future fires," Dr Macedo said.
The researchers emphasised that most computer models of how the Amazon will respond to climate change do not take into account the true scale of the threat posed by forest fires, which is a serious flaw in the assessment of what could happen over the coming decades of warmer global temperatures.
"This study shows that fires are already degrading large areas of forests in southern Amazonia and highlights the need to include interactions between extreme weather events and fire when attempting to predict the future of Amazonian forests under a changing climate," said Paulo Brando of the Instituto de Pesquisa Ambiental da Amazonia in Belem, Brazil, and lead author of the study.
Over the past 10 years, the Amazon has experienced several unusual droughts. In 2005, a drought occurred over a wide area that was calculated to be a one-in-100-year event, however, an even more extensive drought occurred in 2010.
On both occasions, scientists believe the Amazon went from being a net absorber of carbon dioxide to a net producer. In 2005, for instance, researchers calculated that it turned from being a net absorber of about 2 billion tonnes of CO2 to a net producer of as much as 5bn tonnes of CO2 – almost as high as the 5.4bn tonnes emitted annually by the US.
However, in the drought of 2010 was far larger, causing the massive Rio Negro river – the biggest tributary of the Amazon – to fall to its lowest level since record began more than a century ago. On this occasion, the forest expelled some 8 billion tonnes net of CO2, scientists said.
A more regional drought in 2007, which mainly affected southeast Amazonia, caused a significant increase in forest fires in the area, which burned about 10 times more forest than in typical years – an area equivalent to a million soccer fields.
The scientists believe that the findings show that the response of the Amazon to rising global temperatures and the increased risk of severe drought years can be unpredictable and "non-linear" because of a sudden breach of an irreversible tipping point.
"None of the models used to evaluate future Amazon forest health include fire, so most predictions grossly underestimate the amount of tree death and overestimate overall forest health," said Michael Coe, another Woods Hole researcher and member of the joint US-Brazil team.
Join our commenting forum
Join thought-provoking conversations, follow other Independent readers and see their replies