First but not equal: Canada grinds to a halt as its native people hit out
Leader on hunger strike as First Nations target transport links in protest at poor living conditions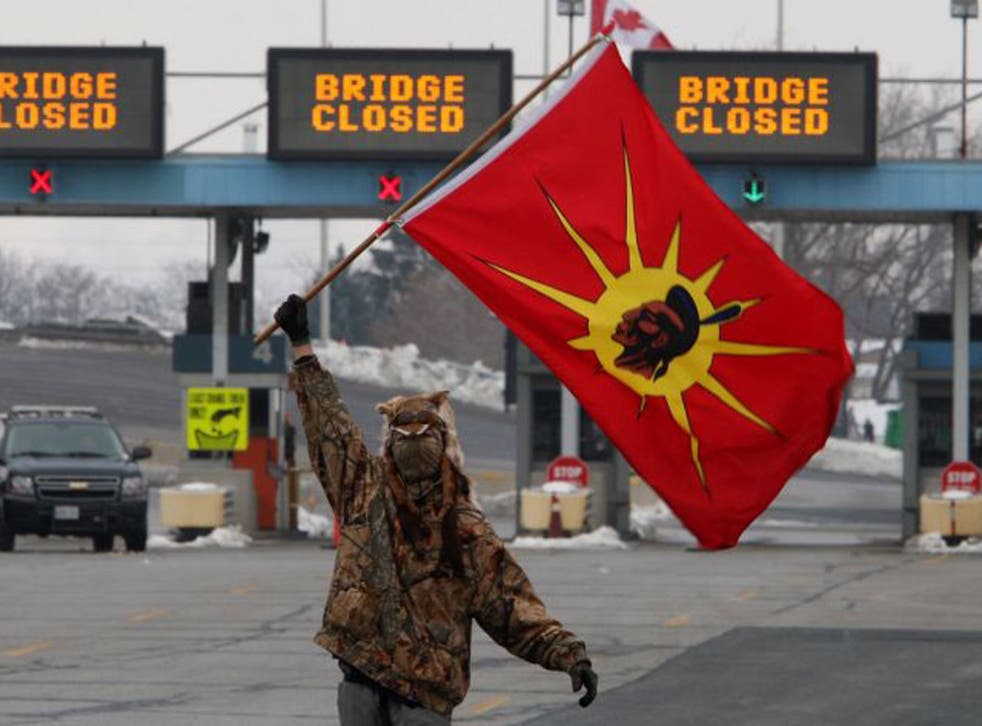 Several of Canada's key transport corridors, including bridges to the US and the rail line linking Toronto and Montreal, were blocked at the weekend – occasionally for hours at a time – by indigenous people protesting against conditions on Indian reservations.
The First Nations' "Idle No More" campaign was conceived in October by four Saskatchewan women angered by perceived threats to indigenous people's rights from new legislation. It has quickly gathered steam, seizing the national spotlight and drawing attention to broader questions about Canada's often struggling aboriginal population.
The sleepy political rhythms of Ottawa have also been disrupted by the contribution to the movement of Theresa Spence, the leader of the Attawapiskat, a small native band from northern Ontario. For nearly four weeks she has been on a hunger strike inside a traditional teepee on a small island within sight of the national parliament building. Three other chiefs have joined Ms Spence, 49, in her protest against a budget bill that critics say weakens native land rights and environmental safeguards.
The combined impact of the daily demonstrations and Ms Spence's fast (though she does allow herself sustaining helpings of moose and fish broth) has driven the Conservative Prime Minster Stephen Harper to agree to meet a delegation of First Nations chiefs this Friday to discuss their concerns, notably about an omnibus law known as the Jobs and Growth Act, passed last year.
While sold by Mr Harper as an effort to reduce red tape created by outdated environmental regulations and to encourage economic development, the law is seen by critics as a threat to the integrity of aboriginal lands and undoing some of the protections agreed under a treaty between the First Nations and the federal government.
The passenger train operator, VIA Rail, said today that normal services between Canada's main eastern cities had been mostly restored. By late Saturday, at least four trains had been stopped on the tracks, forcing the company to offload frustrated passengers to buses to get around blockades.
Fuelled by websites such as Twitter and Facebook, the movement is casting a broader light on conditions for aboriginals in Canada, including the wide differences that still exist in their earning power compared with non-indigenous citizens, the elevated levels of dependence on government welfare and the simmering scandal over evidence that aboriginal women are disproportionately victimised in cases of rape, violence and murder.
This last problem was highlighted last month by Human Rights Watch in Toronto. "The epidemic of violence against indigenous women and girls in Canada is a national problem and it demands a national inquiry," Meghan Rhoad, a spokeswoman, said. The group made its remarks after the release of a provincial report into the murder and disappearance of mostly aboriginal women in skid-row neighbourhoods of Vancouver from 1997 to 2002. Separately, the Native Women's Association of Canada has recently documented 582 cases of missing and murdered indigenous women and girls as of March 2010 – with 39 per cent of them occurring since 2000.
Idle No More has triggered reactions ranging from liberal hand-wringing to conservative ridicule. The conservative columnist Ezra Levant, writing in the Toronto Sun, said: "[It] is just an aboriginal reboot of Occupy Wall Street. It has the same vague demands, summarized as 'give us more free stuff'."
Register for free to continue reading
Registration is a free and easy way to support our truly independent journalism
By registering, you will also enjoy limited access to Premium articles, exclusive newsletters, commenting, and virtual events with our leading journalists
Already have an account? sign in
Register for free to continue reading
Registration is a free and easy way to support our truly independent journalism
By registering, you will also enjoy limited access to Premium articles, exclusive newsletters, commenting, and virtual events with our leading journalists
Already have an account? sign in
Join our new commenting forum
Join thought-provoking conversations, follow other Independent readers and see their replies