First Fender Stratocaster on sale for $250,000
"This is effectively like having the right Rembrandt or Van Gogh or Da Vinci," said the shop owner selling the guitar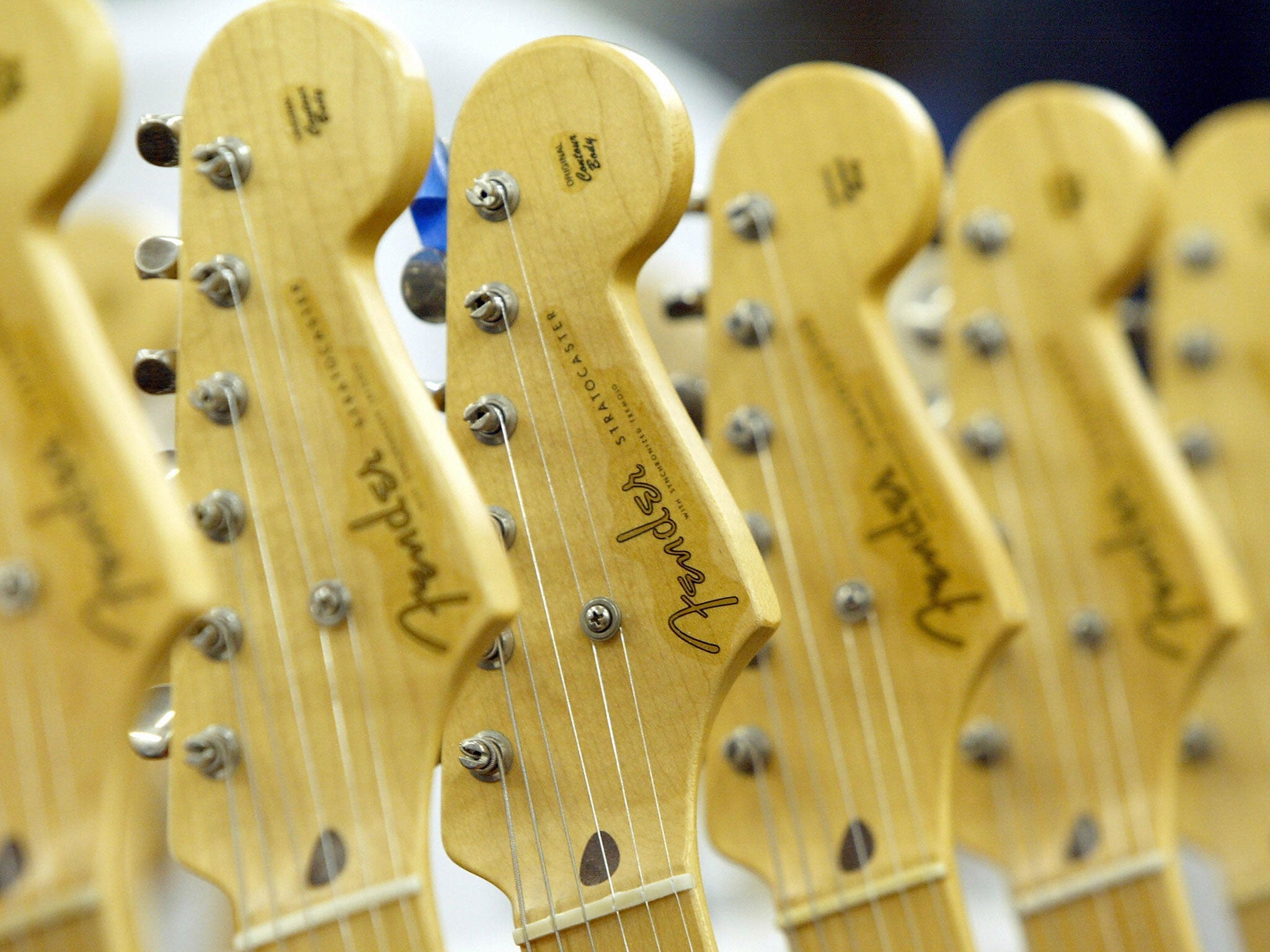 In the 60 years since it was created, the Fender Stratocaster has become a symbol for rockstardom – an axe wielded by musicians from Buddy Holly and Jimi Hendrix to the Arctic Monkeys.
Now, a guitar from the very first production line of Fender Stratocasters is going on sale in Nashville, Tennessee in the US, for a quarter of a million dollars (£150,000).
The sunburst-finish Stratocaster bears the serial number 0100. While some models of the guitar have lower numbers that begin with 0001, George Gruhn, who owns the shop selling the instrument, explained they were manufactured later in that first year of production.
He added the guitar on sale was sold to an amateur who evidently took good care of it.
"This one didn't go to a famous performer," he said. "It actually went to Joe Blow Public. But it stayed in good condition, hardly used."
Stars and their guitars: the Fender Stratocaster
Show all 7
"And then, a bit over 30 years ago, Richard Smith, who is a curator today at the museum of the city of Fullerton, California, where this guitar was made, bought this guitar," he added.
Smith purchased the guitar from the original owner. Gruhn said the record-keeping on the guitar is superb because Smith is considered one of the foremost experts on Stratocasters. Smith is selling it on consignment through Gruhn's Guitars.
"This is special," said Gruhn.
"It's not special as memorabilia because it wasn't owned by anybody special. But it is special because this is effectively like having the right Rembrandt or Van Gogh or Da Vinci. It's special because of what it is and who did this. Not because of who owned it."
The Fender Stratocaster was first produced in 1954 when its streamlined contours seemed strange and perplexing to many at the time.
Stars who helped give the instrument its reputation include old greats Buddy Holly and Jimi Hendrix, as well as swathes of modern artists like the Strokes. Bob Dylan infamously swapped his acoustic guitar for a Stratocaster for his revolutionary electric set in 1965, much to the anger of his die-hard folk fans at the time.
60 years after it was created, the much copied design of the Stratocaster has hardly changed and it continues to be the single most popular, best-selling electric guitar on the planet, according to Gruhn.
Over the years, a fair number of vintage Strats have sold for over $100,000 (£60,291), with some approaching $1 million (£602,900)
Eric Clapton's "Blackie" sold for $959,500 (£578,499) in 2004 and recently the Stratocaster that Dylan played at Newport sold for a record $965,000 (£581,815).
However, Gruhn says the very first production model Strat is something like a national treasure. in the US.
"I consider this to be one of the most important pieces of American, truly iconic industrial design, as well as musical instrument design, that we can find today," he said. "It's a piece of art, it's a piece of industrial design, it's a piece of musical history. And it's part of our national heritage."
He added, "I think it belongs in a museum ultimately. On the other hand, I don't like to see them put in a museum setting where they will never again be touched without white gloves.
"Even for the Stradivari quartet at the Library of Congress, it does get played. They don't play those instruments every day, but they are used for concerts. And this instrument is a wonderful sounding guitar. It plays great."
Additional reporting by AP
Join our commenting forum
Join thought-provoking conversations, follow other Independent readers and see their replies