First World Indigenous Games closes in spectacular ceremony in Brazil
This year was the first time that the Indigenous Games have involved participants from outside Brazil
Doug Bolton
Monday 02 November 2015 00:23 Comments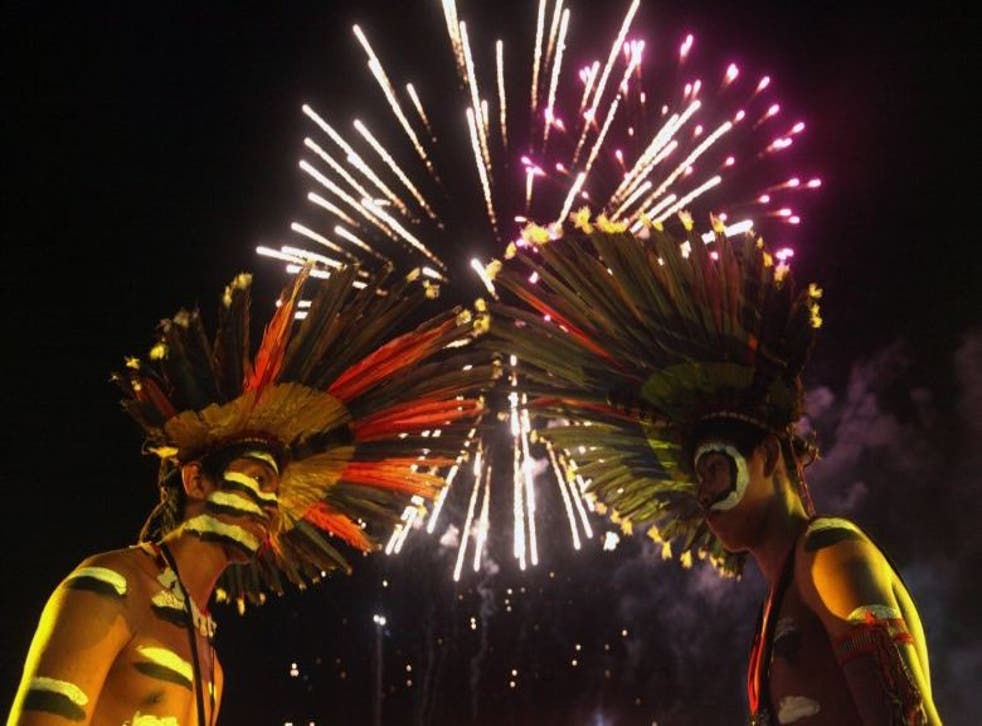 The first World Indigenous Games has closed in a spectacular closing ceremony, after nine days of sporting competitions between indigenous peoples from around the world.
The games took place in Palmas, Brazil, and involved 2,000 participants from 23 countries, including Finland, Bolivia and Canada.
The events included the tug of war, spear toss, archery and canoeing, with the sports taking place against a background of cultural exchange and understanding.
Speaking to the Associated Press, Felicia Chischilly, a Navajo from New Mexico who was amongst 19 American delegates, said: "This is an eye-opener for us."
"It's a pow wow in the true sense of the word — a gathering of nations."
However, protests and opposition from Brazil's indigenous population cast a shadow over the event - they accused the government of hypocrisy, accusing them of heaping attention and money on the Indigenous Games while ignoring problems faced by Brazil's own native people.
Antonio Apinaje, a leader of the Apinaje people, said the games were an effort to "pull the wool over our eyes," and declined to take part.
Much of the criticism is due to a government proposal that would give the country's legislative branch, which is influenced by agricultural lobbies, the power to define indigenous lands, many of which are home to valuable natural resources.
Although many of the nations involved in the games were from South America, some came from further afield - the indigenous Finnish Sami folk standing out due to their fair hair and blue eyes.
Maori people from New Zealand and a sole Russian delegate also took part in the games.
The Indigenous Games has previously only included groups from Brazil, so 2015 is the first year that participants from other nations have taken part.
The next edition of the games is set to take place in Canada in 2017.
Register for free to continue reading
Registration is a free and easy way to support our truly independent journalism
By registering, you will also enjoy limited access to Premium articles, exclusive newsletters, commenting, and virtual events with our leading journalists
Already have an account? sign in
Join our new commenting forum
Join thought-provoking conversations, follow other Independent readers and see their replies