Five killed as 'freak wind' blows down Indianapolis festival stage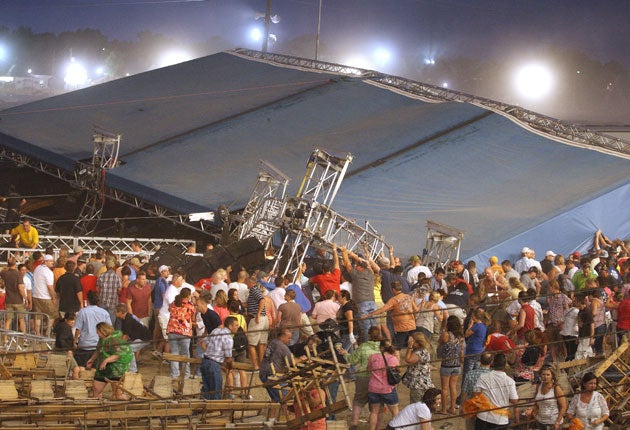 An investigation has been launched into safety failures that may have led to the collapse in strong winds of a concert stage in Indianapolis that killed five people and left more than 40 injured, some of them seriously.
Officials confirmed yesterday that four concert-goers had died at the scene of the accident and that another, identified as a spotlight operator who had been perched above the stage, had died in hospital overnight. They warned the numbers of dead could still rise.
Thousands were attending the annual Indiana State Fair on Saturday, which offers the usual array of agricultural exhibits, deep-fried treats, rides and entertainment. Music fans had filled the seats and standing area at the main stage of the grounds waiting for the popular country band, Sugarland, to begin a concert. The steel rigging that held lights and other paraphernalia toppled after being struck by a gust of wind, witnesses said.
State Governor Mitch Daniels, whose wife and daughter were in the crowd to see the band but escaped injury, called the wind blast "freakish". The fairgrounds were closed yesterday and Sugarland said it had cancelled an appearance scheduled for yesterday at the Iowa State Fair.
It emerged that safety officials at the stage had minutes earlier broadcast a warning over the sound system that the approach of a strong storm might mean evacuating the area and cancelling the event. However, the gust that caused the tragedy came before an evacuation was actually ordered.
Witnesses spoke of pandemonium when the rigging collapsed, with some fans running to get away and others turning to help those who became trapped underneath and trying to lift the heavy scaffolding beams. Video footage posted online showed panic-stricken fans screaming "Oh my God!" as the stage fell.
"It was like it was in slow motion," Amy Weathers, who was unhurt, told the Indianapolis Star. "You couldn't believe it was actually happening."
A photographer for the Associated Press said he was one of a group that ran for shelter in a nearby barn when the wind whipped up. "Then we heard screams. We heard people just come running," Darron Cummings said. Jessica Alsman, who was also on the scene, said the stage "kind of wobbled at first" before crashing down. "You can't imagine – we just thought it was going to rain or something."
Soon after the accident, the members of Sugarland sent out a message to fans via Twitter. "We are all right. We are praying for our fans, and the people of Indianapolis. We hope you'll join us. They need your strength." Yesterday, lead singer Jennifer Nettles said the band was heartbroken for the fans and their families in Indiana. "We hold those injured in our prayers at this very sad time. There are no words. It is tragic."
Join our commenting forum
Join thought-provoking conversations, follow other Independent readers and see their replies