Five things to know about Governor Chris Christie
The governor becomes the 14th Republican candidate for the 2016 election
Justin Carissimo
Tuesday 30 June 2015 16:04 Comments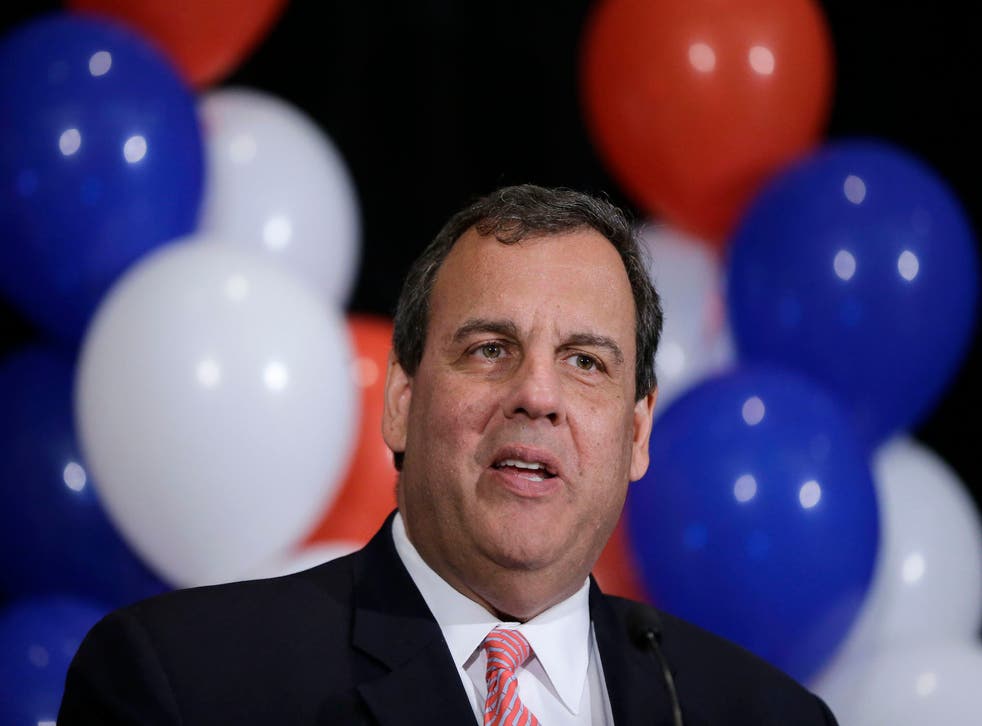 New Jersey Governor Chris Christie will become the 14th member of the 2016 GOP presidential field on Tuesday.
Once considered a front runner, analysts believe the former US attorney is now a long shot to become president. Here are five things to know about the newly announced candidiate.
1. Mr Christie underwent weight loss surgery in 2013.
In 2009, he was a subject of an attack ad that accused him of "throwing his weight around" town, the ad also featured slow-motion footage of Mr Christie struggling to exit his car.
However in 2013, he underwent lap-band weight loss surgery to improve his health. Mr Christie told NBC News: "It's the best thing that I've ever done for my health. And I look back on it now and wish I'd done it years ago."
2. Mary Pat Christie left her Wall Street Job ahead of the campaign.
Mr Christie's wife Mary Pat was as a financial adviser, making $500,000 annually as the managing director at Angelo, Gordon & Co. In comparison, Mr Christie only brings home $175,000 annually as governor.
3. He currently boasts a record low approval rating in the Garden State.
Mr Christie's approval rating currently sits at a record low of 30-percent and a 55-percent disapproval rating in his home state of New Jersey, Bloomberg reported. The Governor's popularity declined after Mr Christie's handling of "Bridgegate" and Hurricane Sandy.
He was accused by activists and senior members of his administration of withholding $800 million of disaster relief after the massive storm wrought havoc on the east coast.
4. Mr Christie is engaged in 23 court battles to keep public documents secret.
Mr Christie has come under fire for information revealed in documents obtained by lawsuits. According to Mother Jones, he's been criticised for more than 60 unofficial out-of-state travel expenses, taxpayer-fueled fundraising, potentially breaking pay-to-play laws and concealing routine documents that would immediately reach the public without the taxpayers expense for the pending lawsuits.
"As of September 2014, Christie's administration had paid $441,000 to North Jersey Media Group and other media outlets for records. And that doesn't count the cost of government lawyers' time," Mother Jones reported.
5. A New Jersey editor says he's a pathological liar.
In an expansive op-ed, Star-Ledger editor Tom Moran covered Mr Christie for more than a decade and warned the public that he isn't like most politicians — he's a pathological liar.
"Don't misunderstand me. They all lie, and I get that. But Christie does it with such audacity, and such frequency, that he stands out."
Mr Moran said that Mr Christie lies with conviction and that he doesn't blame union leaders for mistakenly believing him. He says the lies are consistent and expansive from gun control to abortion issues.
"These are painful moments for New Jersey reporters who cover Christie. Stephanopoulos and Kelly are facing a crowded Republican field with more than a dozen contenders. They can't be expected to know this stuff. Which is why Christie prefers to sit down with the national press. It's easier to get away with these lies. For now."
Register for free to continue reading
Registration is a free and easy way to support our truly independent journalism
By registering, you will also enjoy limited access to Premium articles, exclusive newsletters, commenting, and virtual events with our leading journalists
Already have an account? sign in
Join our new commenting forum
Join thought-provoking conversations, follow other Independent readers and see their replies