Flight 1549: One hell of a landing
Nobody had ever landed a jet liner on water before without losing a life. Here, survivors describe what really happened, moment by moment, when Flight 1549 hit the Hudson River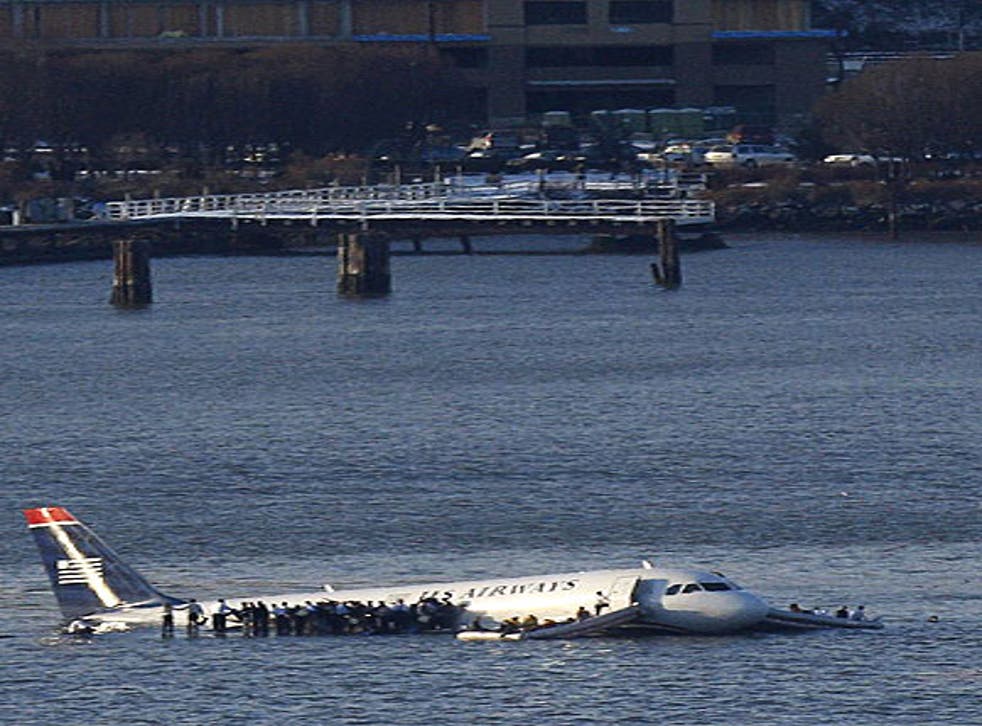 You guys gotta brace for a hard impact.
Captain Chesley B "Sully" Sullenberger III, Over the in-flight tannoy
I heard an explosion, and I saw flames coming from the left wing, and I thought, "This isn't good." Then it was just controlled chaos. People started running up the aisle. People were getting shoved out of the way.
Dave Sanderson, Passenger, returning to Charlotte after a business trip
I thought, "OK, I'm not going to see my husband and three children again."
Vallie Collins, Passenger, from Maryville, Tennessee
Planes on fire love you and the kids.
Nick Gamache, Passenger, in a text message to his wife
The stewardess in the back asked for a fire extinguisher, saying there was a fire. Once we saw panic with the stewardess, then everybody started to panic.
Bill Zuhoski, Passenger, from Long Island
I knew we were going to crash. The question was how close to the buildings we were.
Beth McHugh, Passenger, from Charlotte, North Carolina
The engine blew. There was fire everywhere and it smelled like gas. We hit the water pretty hard. It was scary. It was intense. You've got to give it to the pilot. He made a hell of a landing.
Jeff Kolodjay, Passenger, from Norwalk, Connecticut
I saw a plane coming down the Hudson in a very controlled fashion. It touched down in a perfect "rear-first" approach. It landed at about 56th Street and skidded along for 100 to 200 yards. Then a wing caught the water and it made an abrupt left turn. It was really just a remarkable job... It could not have been more controlled and smooth.
Christian Martin; Watching from the 32nd floor of a building in Manhattan
I saw it going down slowly, almost like it was descending nicely. There was a big splash. When I saw it, I was in shock. But immediately, we just sprang into action.
Juan Rosario; Captain of a New York Waterway ferry, one of 14 that went to help
We all jolted sideways and frontwards and water started coming in right by my feet.
Beth McHugh, Who had previously survived being in a plane struck by lightning
The water was rushing in through the window seams and we couldn't get the back exit open, so that scared us a little bit. We tried, and the flight attendant did a wonderful job trying, but then finally turned and said immediately, "Go to the wing [exit]."
Billy Campbell; Passenger
We tried as hard as we could to push both of those doors, and the flight attendant said: "We probably only have two minutes." I put my hands up and said: "You can't get out this way... Go to the wings! Keep moving, people!... Stay calm."
Vallie Collins
I started to get, you know, close to my neck underwater. I just thought I was going to drown right there.
Bill Zuhoski; Took off his clothes to swim for it, then found himself in a rescue dinghy in his underpants
She didn't want to get crushed in the stampede.
Martin Sosa; On why his wife was forced to climb over the seats with their nine-month-old son
I had a long conversation with the pilot, who walked the plane twice after everyone got off to make sure there was no one left on board. This pilot did a wonderful job.
Michael Bloomberg, Mayor of New York
They were cold, very lethargic, almost to the point of hypothermia. The water would have been around 55 to 65 feet deep, and at its coldest point around 30F to 45F. People would have only been able to survive for around five to 10 minutes.
Detective Michael Delany, New York Police Department scuba team
There were people standing on the wing... all afraid to take the dive.
Javier Soto, Ferry passenger
It was an eerie feeling, like 9/11, because there was a plane somewhere it wasn't supposed to be.
Susan Obel, Watching from her home on 70th Street
They screamed for joy when we arrived. We pulled one elderly lady out in a sling. It was hard with the wind and tides. We don't have blankets on board, so we gave them the coats off our backs.
Vince Lombardi, Ferry captain
They kept saying, "Throw the baby! Throw the baby!" After about 30 seconds, she did throw the baby.
Dave Sanderson; Passenger, who suffered frostbite, describing efforts to help Tess Sosa and her son, Damian
She was so scared. She had a little blue blanket, and she was hunkered in my lap. She just kept biting on my left arm. She never said a word.
Vallie Collins; Of a little girl she held on a rescue raft
Everybody was screaming. Everyone was in shock.
Wilfredo Rivera, Ferryboat deckhand
I was telling other people on the wing to dance. That's when we all started dancing.
Mike Berkwitz, Passenger, on how they fought the cold
We provided cell phones so they could call loved ones. A lot of them were so cold that they couldn't dial.
David Watta, Passenger on the Weehawken Ferry
I can't believe I'm alive.
Unidentified passenger to emergency medic Helen Rodriguez
I was thinking, "If I go down, my mother's not going to survive this."
John Howell; Passenger, who could see Manhattan, where his firefighter brother died on 9/11
He was very cold. Very, very cold.
Dr Alvaro Alban; On a man in his forties who swam for 15 minutes to reach the shore
There has been an incident.
Captain Chesley Sullenberger; On the phone to his wife after the crash
I've heard Sully say to people, "It's rare for an airline pilot to have an incident in their career." At first I thought it was something minor, but then he told me the circumstances and my body started shaking and I rushed to get our daughters out of school.
Lorrie Sullenberger, Wife of the pilot
You know Sully, no one has ever had a successful ditching before. You pulled it off, man.
Jeff Skiles; Co-pilot, while sitting in a rescue raft with Captain Sullenberger
I leaned over and grabbed [the pilot's] arm, and I said, "I just want to thank you on behalf of all of us."
Billy Campbell, Passenger, also in the raft
You're welcome.
Captain Sullenberger, responding
They applauded us. We had some wine and we thought about just how great it was to be alive.
Brad Wentzell; On fellow passengers' reaction when some survivors caught the next flight to Charlotte
Over the area where the wreckage floated, we flew in complete silence.
Mark Wilkinson; Pilot whose take-off was delayed by the crash
We have had a miracle on 34th Street. I believe now we have had a miracle on the Hudson.
David Paterson, Governor of New York
Register for free to continue reading
Registration is a free and easy way to support our truly independent journalism
By registering, you will also enjoy limited access to Premium articles, exclusive newsletters, commenting, and virtual events with our leading journalists
Already have an account? sign in
Register for free to continue reading
Registration is a free and easy way to support our truly independent journalism
By registering, you will also enjoy limited access to Premium articles, exclusive newsletters, commenting, and virtual events with our leading journalists
Already have an account? sign in
Join our new commenting forum
Join thought-provoking conversations, follow other Independent readers and see their replies