Florida beaches shut down swimming after finding elevated levels of fecal bacteria
The bacteria can cause human disease, infections or rashes
Rachael Revesz
New York
Thursday 30 June 2016 15:41 Comments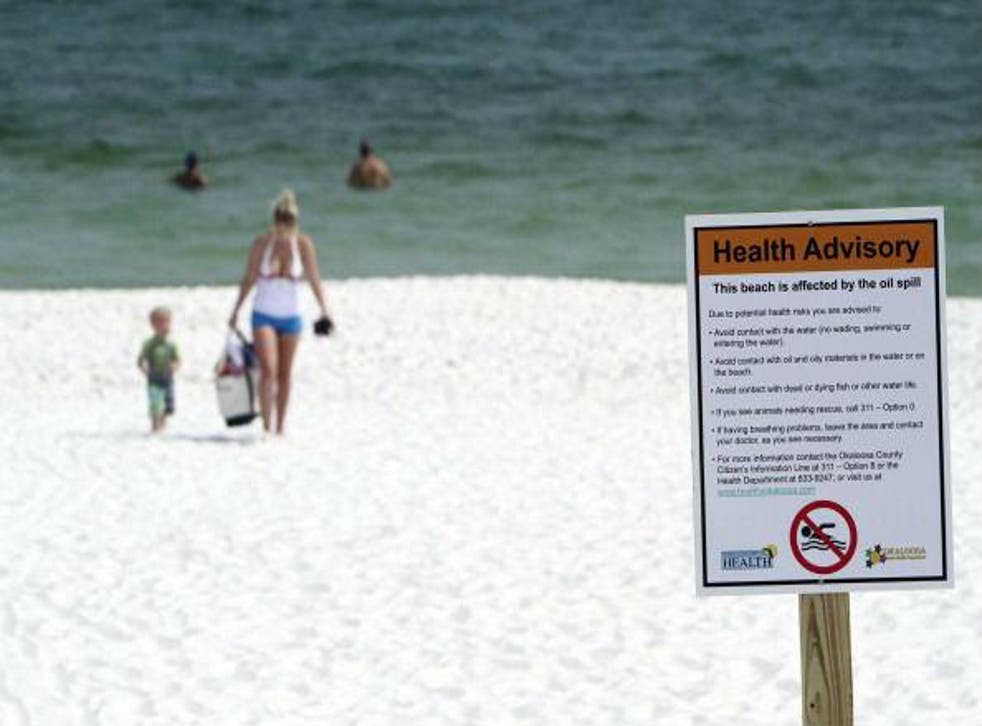 Beaches in Florida along the Gulf Coast are no longer letting people swim after finding high levels of toxic and fecal bacteria in the water.
The two beaches in Walton County have a "no swim" advisory, while six beaches in Okaloosa County still allow swimming but have a "health advisory" after discovering elevated levels of the enterococci bacteria which is less likely to die off in salt water.
The Florida Health Department said all other beaches along the Panhandle have "satisfactory" water quality.
The enterococci bacteria are normally found within the intestinal tract of human and animals, and indicate fecal pollution from stormwater, pets and human sewage.
High concentrations of the bacteria, if ingested while swimming, or entering the skin through an open cut, can cause human disease, infections or rashes.
According to Medscape, infections commonly caused by the bacteria are: "urinary tract infection (UTIs), endocarditis, bacteremia, catheter-related infections, wound infections, and intra-abdominal and pelvic infections."
The top 10 world's best beaches

Show all 10
The young and elderly, especially those with weakened immune systems, would be at most risk. People with open wounds are advised not to swim.
Water quality is considered poor if bacteria levels are above 70 enterococci per 100 milliliters of marine water, but WSB news reported that Walton County water levels exceed 900.
WSB previously incorrectly reported that more beaches were closed and that the bacteria was "flesh-eating".
"I apologize for any confusion this may have caused," WSB chief meteorologist Glenn Burns said on Facebook.
Florida began testing for the bacteria in 1998, and it has since expanded to more than 34 of the state's coastal counties, testing for fecal coliform as well as the enterococci bacteria.
All the participating counties are tested on a weekly basis.
Register for free to continue reading
Registration is a free and easy way to support our truly independent journalism
By registering, you will also enjoy limited access to Premium articles, exclusive newsletters, commenting, and virtual events with our leading journalists
Already have an account? sign in
Join our new commenting forum
Join thought-provoking conversations, follow other Independent readers and see their replies