As it happened
ended
1643150842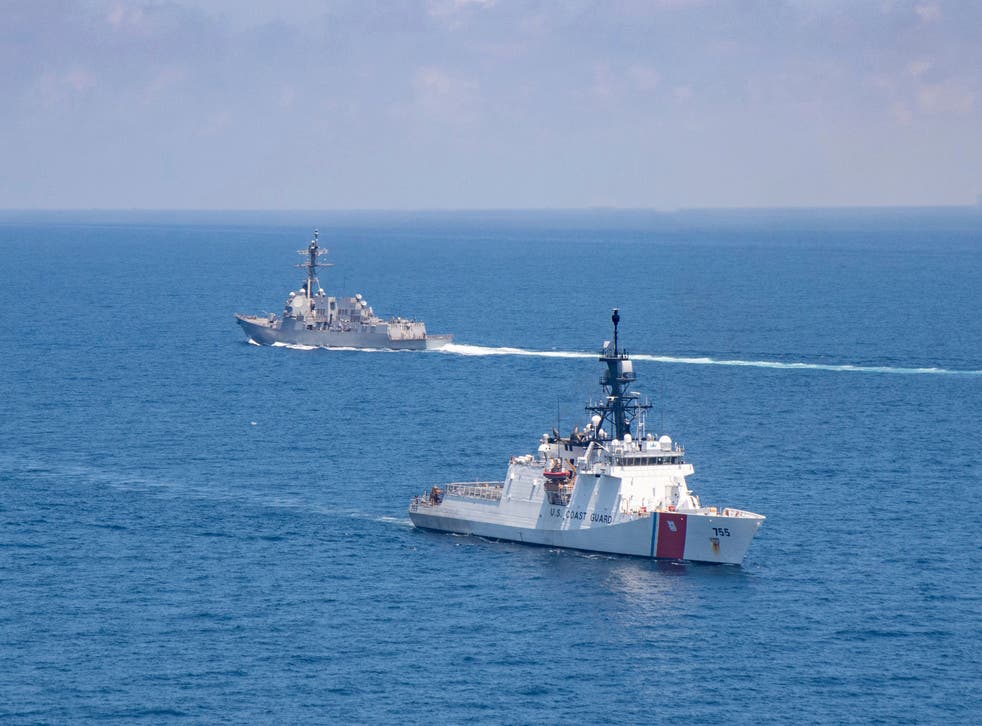 The US Coast Guard is searching for 39 people who were on board a suspected people smuggling boat when it capsized off the Florida coast.
Officials said that the alarm was raised when a survivor clinging to the capsized vessel was rescued by a "good Samaritan" about 45 miles east of Fort Pierce Inlet.
The survivor said that he was one of 40 people who had left Bimini in the Bahamas on Saturday night but quickly encountered bad weather. He said nobody was wearing a life jacket.
The Coast Guard said it believed it was dealing with a "human smuggling venture".
This is not the first such disaster. Last May, another suspected human smuggling boat capsized off a beach in California, reportedly killing one person and injuring 11.
Another, larger smuggling vessel turned over off Point Loma near San Diego the same month, allegedly killing four people. The San Diego Fire Department pulled 27 people from the water, with five needing CPR.
Follow live updates below as this story develops.
1643140056
What the Coast Guard has said
Welcome to our live coverage. Here's what the US Coast Guard has said about the capsized vessel in Florida:
"Coast Guard Sector Miami watchstanders received a report from a good Samaritan who rescued a man clinging to a capsized vessel approximately 45 miles east of Fort Pierce Inlet.
The survivor reported he left Bimini, Bahamas, with 39 other people Saturday night and encountered severe weather, causing the vessel to capsize.
"According to the survivor, no one else was wearing a life jacket. Coast Guard air and surface asset crews are actively searching for people in the water.
"This is a suspected human smuggling venture."
Io Dodds
25 January 2022 19:47
1643142140
A grim toll on the US border
This is far from the first instance of a suspected people smuggling vessel getting into trouble. Only last Friday, the Coast Guard rescued 32 people from an alleged smuggling vessel that capsized five miles west of Bimini.
Earlier this month, four people were taken to hospital and about 20 needed medical attention after a boat carrying nearly 200 Haitian migrants began taking on water off the coast of Key Largo. Last May saw two separate incidents in California, one involving a small boat with an outboard motor that overturned off the shore near La Jolla and the other involving a larger vessel near the peninsular of Point Loma. In the latter case, three people were killed and more than two dozen had to go to hospital. Officials said people had been sucked out on a rip tide during rough surf, with waves about five to six feet high.
Io Dodds
25 January 2022 20:22
1643144509
Bimini is a common stop-off for people smugglers
Bimini is a tiny island chain close to the Florida coast, only 57 miles away from Miami, that has often served as a route for people smugglers into the US.
The islands are closer to Florida than to the Bahamas' main islands and have been the scene of migrant boat accidents since at least 2008.
Tens of thousands of Haitians have sought entry to the US over the past year as Haiti itself suffers a multidimensional crisis, encompassing gang battles, endemic hunger, repeated hurricanes and earthquakes, and the assassination of President Jovenel Moise last July.
"Bahamas is used as a staging location because of the easy access to the island, and which in turn is in close proximity to the United States," Department of Homeland Security agent Derek Gordon told the South Florida Sun Sentinel in 2019.
Io Dodds
25 January 2022 21:01
Register for free to continue reading
Registration is a free and easy way to support our truly independent journalism
By registering, you will also enjoy limited access to Premium articles, exclusive newsletters, commenting, and virtual events with our leading journalists
Already have an account? sign in
Join our new commenting forum
Join thought-provoking conversations, follow other Independent readers and see their replies