A librarian's frontline view of Florida's 'vetting' process for school books, and the titles being banned
A vetting process to comply with Florida guidelines to school books has caused chaos for students and teachers, writes Richard Hall
Monday 13 February 2023 15:20 GMT
Comments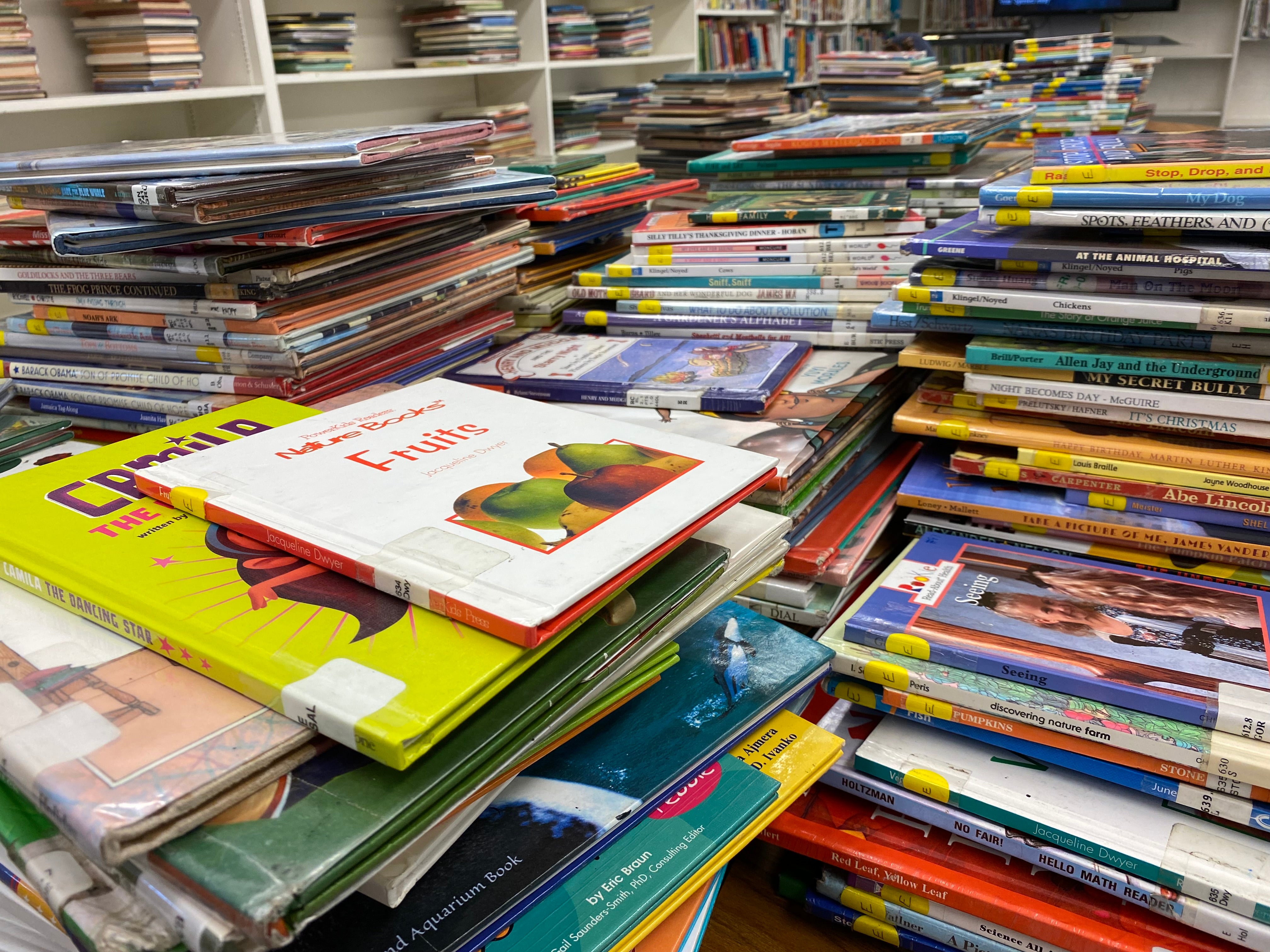 Keri Clark used to spend her days helping students discover books in the school library where she works in Jacksonville, Florida. As she saw it, her job as a librarian was to get as many books in kids' hands as possible.
That changed last month. The library is now closed off, the shelves are empty, and her job now mostly consists of "vetting" piles of books to comply with new censorship laws implemented by the state of Florida.
"The books are sitting out on tables, they're being boxed up and discarded," Ms Clark tells The Independent. "It's just it's a really sad sight. A lot of the kids keep looking through the window and it's just it's awful that I can't let them come in and get books."
Ms Clark is one of many educators who have found themselves on the frontline of a sweeping effort by the state of Florida to exert greater control over every level of education. That effort, spearheaded by governor Ron DeSantis, has resulted in thousands of books being pulled from shelves so they can go through a vetting process. Some of them will never return.
Among the titles that have been removed and banned in the course of the vetting in her school district are Toni Morrison's 'The Bluest Eye,' 'The Kite Runner' by Khaled Hosseini, 'The Stranger' by Albert Camus, 'Revolting Rhymes' by Roald Dahl, and a skateboarding magazine called 'Thrasher'.
The reasons for these bans, noted in a document viewed by The Independent, are brief and vague. They include descriptions like "racial profile" [sic], "Lewd/Offensive" and "Inapp. Behavior."
The upheaval is the result of a "curriculum transparency" law passed by Mr DeSantis last year that requires schools to ensure their book selections are "free of pornography and prohibited materials harmful to minors, suited to student needs, and appropriate for the grade level and age group."
The aim of the law, according to Mr DeSantis's office, is "to ensure that parents have knowledge of what is being offered to their children in the classroom." School districts are now rushing to meet those guidelines.
But teachers and free expression advocacy groups, like PEN America, have said the "vague laws, harsh penalties and confusing directives" have left schools operating under a "cloud of fear" that is harming students' ability to learn.
The Independent reported last month that the Duvall County school district ordered teachers to remove all non-curriculum books from school shelves pending a review by a "media specialist," a term used to describe librarians in Florida.
Ms Clark, as one of those media specialists, has been tasked by the state of Florida of vetting every book in the two schools where she works, an estimated 37,000 in total. She checks each of those books against a central list of titles that have been vetted and approved. If the book does not appear on the list, her job is to make sure each title complies with the wording of the law.
The problem, according to Ms Clark, is that the law is unclear and open to interpretation, and the process for vetting the books keeps changing.
"There's a lot of confusion, there's a lot of misinformation, and a lot of contradicting information we're getting. It's hour by hour some days that we're getting these updates," she says.
"The Florida Department of Education has been very vague with our directives and the state statutes. Our district is doing the best they can to get it cleared up whenever they can, but even they're even confused."
Ms Clark says the process for vetting the books has changed several times already. At first, she had to skim through every book in her libraries one by one to check for phrases or characters that broke the new guidelines. At that pace, she was checking around 60 books a day. She estimates that would have taken her more than two years to vet all her books. This week the school district shared a central spreadsheet which media specialists could check titles against.
The ostensible aim of vetting — to make sure children are protected from harmful content — is not the issue for most educators. Rather, it is the vagueness of the guidelines, which leaves them open to interpretation.
"The phrase 'harmful to children' is so vague," says Ms Clark. "It used to just encompass pornography. They have now added excessive violence. They've added negative language. Just they have snuck so many little things underneath harmful to children, it just seems like they're trying to catch us making a mistake."
Some of the guidelines for banning books are clear: books with LGBT+ characters are banned for use below third grade, for example.
Hundreds of books have been flagged by "media specialists" for potentially harmful content in Duvall County. While many of them are eventually approved for use in classrooms, the sheer scale of the books flagged for potential violations shows the uncertainty around the guidelines.
In the meantime, Ms Clark adds, school children are not able to use their school library while this opaque process is underway.
"This entire process will take so much time and while it's going on they have no access to books through the media centre, just classroom libraries, and that's only if the teachers have the books out," Ms Clark says.
Mr DeSantis, who is expected to run for president in 2024, has frequently used the governor's office as a bully pulpit to stoke national culture war issues in aid of that effort.
His attempt to exert greater control over education has coincided with a concerted legislative effort to restrict discussion about sexual orientation, gender and race in schools and colleges.
Mr DeSantis passed the "Parental Rights in Education" law in 2021, dubbed the 'Don't Say Gay' law by critics, which prohibits "classroom discussion about sexual orientation or gender identity in certain grade levels" in Florida's primary schools, according to the preamble. That was followed by the 'Stop WOKE' law, which restricts how colleges and universities teach classes on race and gender. Mr DeSantis also blocked a Black history course for high schoolers.
Jonathan Friedman, director of free expression and education at PEN America, said the flurry of new laws had caused confusion in the classroom.
"What we're seeing in Florida is the ongoing impact of a state government that has prioritised ideological control ahead of student learning," he told The Independent.
"A trio of laws passed in 2022 are causing confusion as to what rules apply to the availability of books in school libraries and classrooms, and what processes schools need to undertake to comply," he added.
"This deliberative, administrative process is occurring despite the fact that many students rely on these libraries to, quite literally, learn to read, and that teachers are currently in the middle of an academic school year."
Florida's Department of Education and the office of Ron DeSantis did not respond to a request for comment from The Independent.
Join our commenting forum
Join thought-provoking conversations, follow other Independent readers and see their replies