Florida plane crash: Two dead after aircraft hits child autism centre and bursts into flames in Fort Lauderdale
Warning: Story contains video footage of plane crashing into building
Chiara Giordano
Wednesday 05 December 2018 11:13 Comments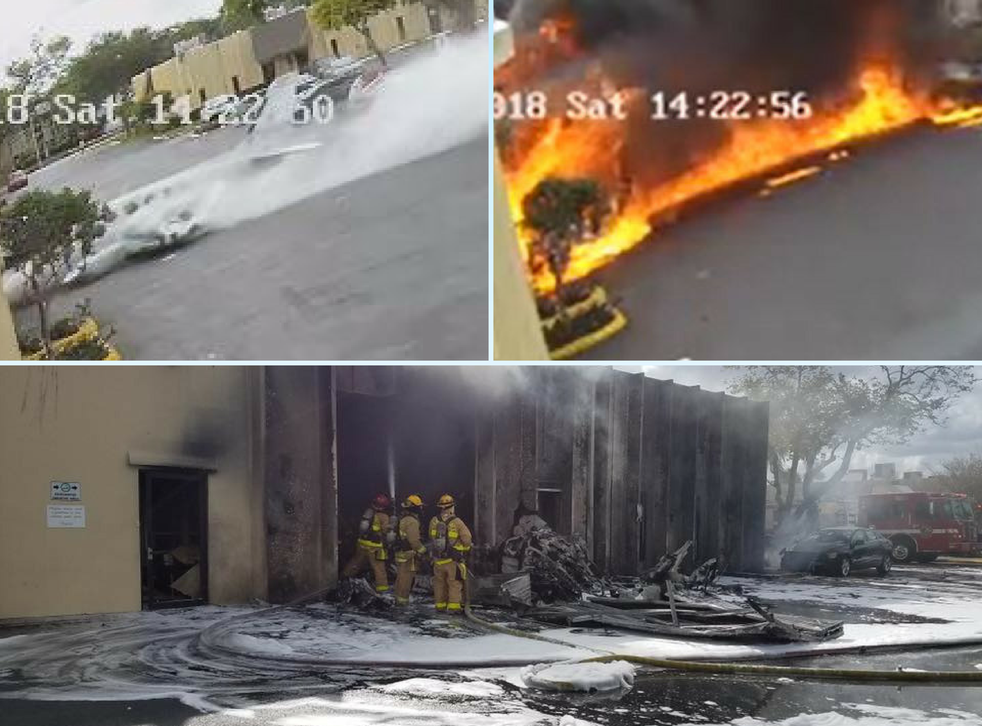 CCTV footage has captured the moment a plane burst into flames after crashing into a therapy centre for autistic children, both of those on board.
Children and teachers were seen fleeing after the aircraft smashed into the warehouse building in Fort Lauderdale, Florida, on Saturday.
The occupants of the building escaped unharmed, but the pilot and his flight school student died in the crash.
CCTV footage from nearby business H & J Electronics International Inc shows the plane skidding across the ground shortly before hitting the building.
It can be seen immediately erupting into flames before adults and children run out of the building to safety.
Posting the footage on its Facebook page, the company said: "Surveillance footage of the plane crash at our warehouse.
"Unfortunately, the two people on the plane didn't make it.
"We are praying for the family and friends of the two souls on board."
The pilot of the six-seat Cessna craft has been named as 51-year-old Eladio Marquez.
The father, from New Jersey, reportedly told air traffic control the plane had a fire in the left engine shortly after take-off.
His widow, Belkis Marquez, said he had been flying for 12 years and had been an instructor for 10.
She told NBC New York that her husband had never previously had accident.
"He was an excellent pilot, and excellent instructor," she said.
"It's so difficult for me and for my little son. Everyone loved him and he loved everybody."
Eight adults and five children are believed to have been at the Positive Behaviour Supports Corporation-run centre, housed inside the warehouse building, at the time of the crash but none were harmed.
Investigators are looking into whether the plane had any recent maintenance work, CBS Miami reports.
Register for free to continue reading
Registration is a free and easy way to support our truly independent journalism
By registering, you will also enjoy limited access to Premium articles, exclusive newsletters, commenting, and virtual events with our leading journalists
Already have an account? sign in
Join our new commenting forum
Join thought-provoking conversations, follow other Independent readers and see their replies