Florida plane crash: Feature to slow down 737 aircraft that skidded off runway into river 'not working'
Jet's 'black box' will be examined in Washington to determine cause of incident
Chris Stevenson Comments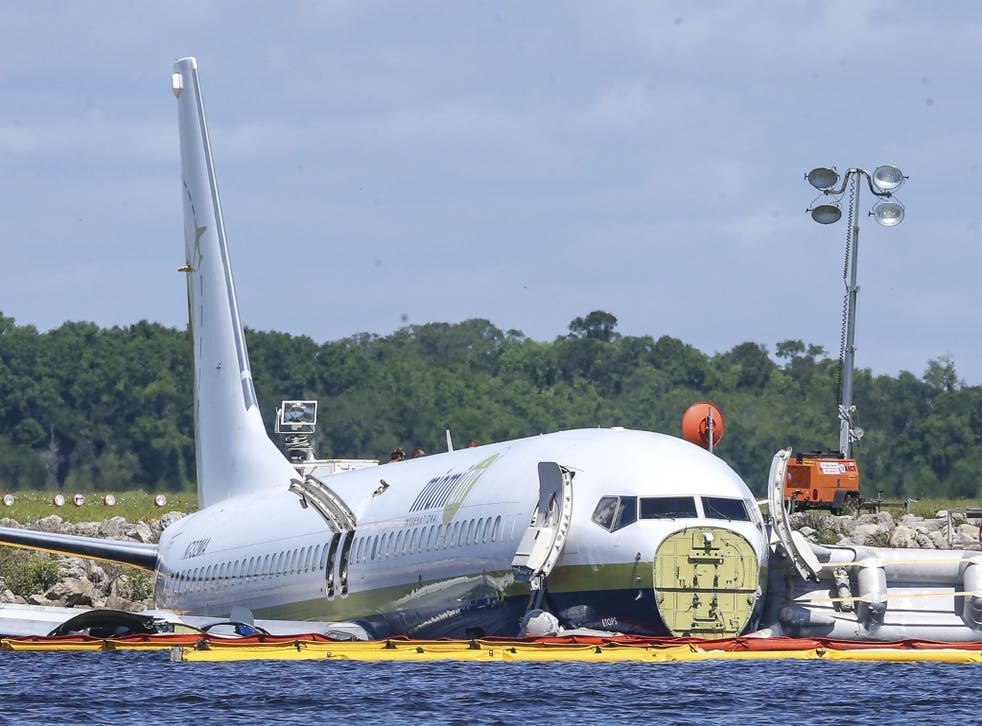 A feature that helps aircraft slow down upon landing was broken on a Boeing 737 that skidded into a river in Florida, according to investigators.
The plane, which was carrying 143 people, slid off the runway at Naval Air Station Jacksonville at around 9.40pm local time on Friday. It had been flying from the naval station at Guantanamo Bay, Cuba.
"The aircraft had been in maintenance and the maintenance log noted that the left-hand thrust reverser was inoperative," Bruce Landsberg, vice chairman of the National Transportation Safety Board (NTSB), said.
Nobody died in the crash or suffered critical injuries – although 21 people were taken to hospital. Only one passenger, a three-month-old baby, was kept in for treatment as a precaution. Those on the flight spoke about belongings being thrown around the plane as overhead lockers opened.
"The plane ... literally hit the ground and then it bounced. It bounced some more, it swerved and tilted left and right," Cheryl Bormann told CNN. "The pilot was trying to control it but couldn't, and then all of a sudden it smashed into something."
World news in pictures

Show all 50
At least three pets, including a dog and two cats, died in the crash having been in the hold of the plane. Water had risen "several feet" in the cargo hold making it difficult to even see the pets.
"Those who were involved in this sad tasking performed the recovery in the most dignified way possible with the base veterinarian on site to ensure all protocols were followed," Naval Air Station Jackson posted on Facebook. "The animals will be cremated through a local company. Every possible avenue to rescue these animals was pursued following the incident."
Mr Landsberg said investigators would be examining the maintenance of the aircraft in the weeks prior to the accident "and the condition of the thrust reversers will obviously be of interest". The plane had been in operation since 2001.
Also of interest would be the thoughts of the crew, who had requested a change of runway despite being informed of the presence of naval equipment which reduced the space to land.
The runway the aircraft landed on was reduced by 1,200 feet (366m). "We don't know what they were thinking or why they made that choice. That will be one of the things we look to find out, as we go through the cockpit voice recorder," Mr Landsberg said on Sunday..
Support free-thinking journalism and attend Independent events
A 16-person rescue team sent by the NTSB recovered the aircraft's "black box" data recorder which will now be examined in Washington. The cockpit voice recorder is still underwater and will not recovered until the entire aircraft is removed from the river.
In a statement released over the weekend, Boeing extended its "well wishes to all those involved".
Register for free to continue reading
Registration is a free and easy way to support our truly independent journalism
By registering, you will also enjoy limited access to Premium articles, exclusive newsletters, commenting, and virtual events with our leading journalists
Already have an account? sign in
Join our new commenting forum
Join thought-provoking conversations, follow other Independent readers and see their replies