'Dramatic' increase in sales of bulletproof classroom shelters after Florida school shooting
Country searches for way to protect students from gun violence
Emily Shugerman
New York
Wednesday 28 February 2018 20:02 Comments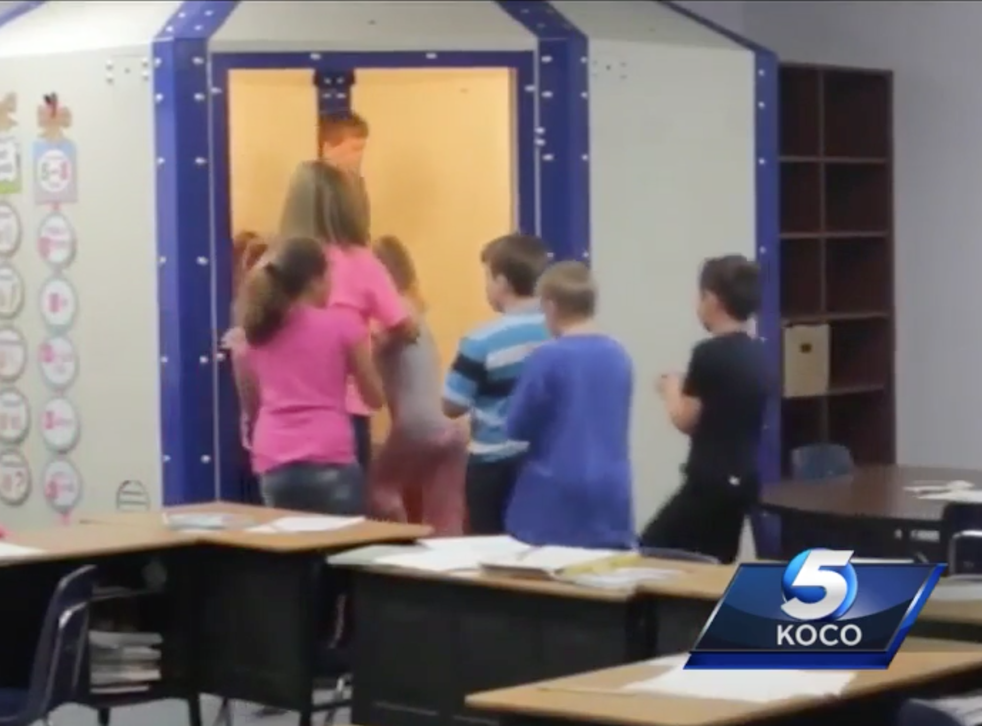 Sales of bulletproof shelters for classrooms are booming in the wake of the Florida high school shooting that killed 17 students and staff members this Valentines Day.
James Haslem, the creator of one such bulletproof barricade, claims sales of his product have increased "dramatically" since the shooting. The businessman has talked to more than 100 school districts about his product – a customizable steel and bulletproof-glass structure that can be installed in classrooms – in the first two months of this year alone.
The claim mirrors similar reports from bulletproof backpack manufacturers, many of whom said sales of their wearable armour skyrocketed after the shooting.
Mr Haslem said he has already installed his invention in at least three different schools, and has contracts out with dozens more. And he thinks the sales will only go up from here.
"If people were simply made aware of the fact that this does exist, everybody – from the president down to the janitor at the school – would want an easy solution," he told The Independent.
Mr Haslem says his products can fit up to 35 people and, if installed correctly, get them all to safety within 30 seconds. The idea is to give students and staff a safe place to hide if a shooter enters the building, as one did in Florida just weeks ago. When a gunman started spraying bullets in the Parkland high school that day, terrified students had to huddle for safety in supply cabinets.
Florida shooting – in pictures

Show all 10
Politicians, educators, and even students have hotly debated how best to protect America's children since the shooting. Some – including many of the outspoken Parkland students – have called for stricter gun control laws. Others, like President Donald Trump, have suggested arming teachers in self-defence.
Mr Haslem thinks his product would suit both factions, if they were aware of its existence.
"The main thing is that the vast majority of the population doesn't know that we have a solution [that] doesn't cause an armed shoot-out in the OK Corral with teachers," he said.
Florida officer brought to tears recounting finding wife and kids during shooting
Healdton Schools in Oklahoma became the first school district to install the structures in 2014, primarily as a way to protect against tornadoes. Danny Legg, a Healdton Schools graduate who lost her son in a tornado, contacted the district about getting the storm- and bullet-proof shelters installed.
Now, Superintendent Terry Shaw says they're pleased to have them as protection against school shooters, too.
The district has so far installed five shelters in the elementary school and two in the middle school. They are working on getting several installed in the high school as well. The schools run drills every semester to coach students and staff in how to use the shelters.
"Nothing that any of us do is ever going to be able to, in every situation, save everyone," Mr Shaw said. "You just hope that you have somewhere safe to go to save as many of those precious lives as possible."
Register for free to continue reading
Registration is a free and easy way to support our truly independent journalism
By registering, you will also enjoy limited access to Premium articles, exclusive newsletters, commenting, and virtual events with our leading journalists
Already have an account? sign in
Join our new commenting forum
Join thought-provoking conversations, follow other Independent readers and see their replies