Florida shooting: Doctor describes 'sledgehammer' injuries inflicted by AR-15
'I have now seen high velocity AR-15 gunshot wounds firsthand, an experience that most radiologists in our country will never have. I pray that these are the last such wounds I have to see'
Lucy Pasha-Robinson
Friday 23 February 2018 13:57 Comments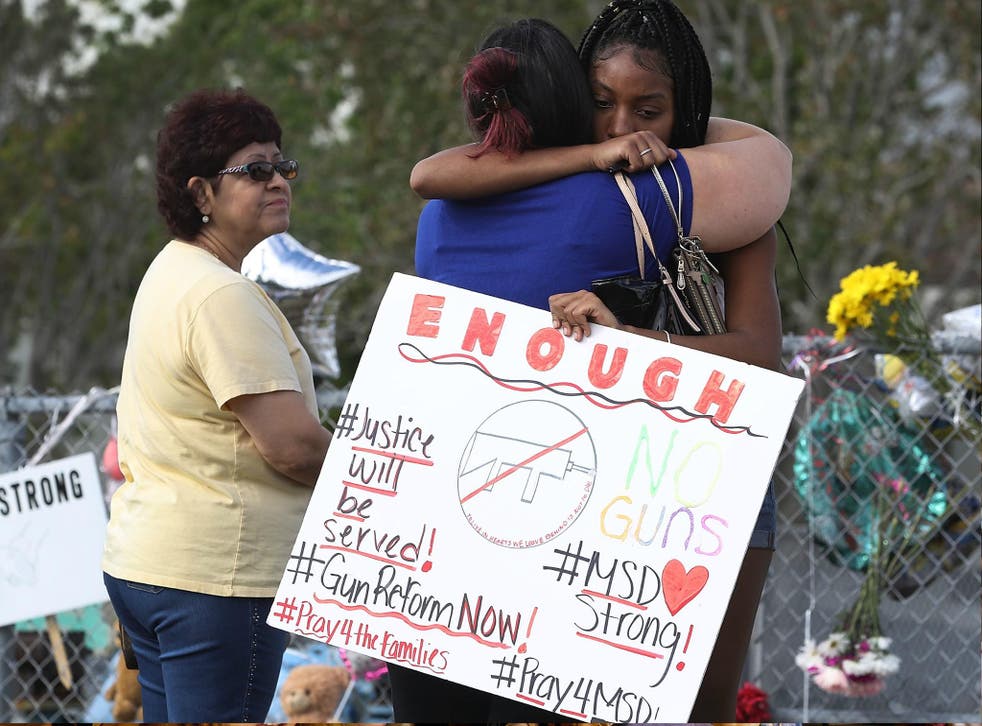 A doctor who treated victims of the Florida school shooting has detailed their horrific wounds as she called for civilian use of AR-15 style weapons to be banned in the US.
Heather Sher described organs that had been completely obliterated "like an overripe melon smashed by a sledgehammer" and exit wounds the "size of an orange" in an op-ed piece for The Atlantic.
The radiologist, who has worked in busy emergency rooms for 13 years, said the pattern of injury was different to those she normally saw and she was forced to ask herself "How could a gunshot wound have caused this much damage?"
"The reaction in the emergency room was the same. One of the trauma surgeons opened a young victim in the operating room, and found only shreds of the organ that had been hit by a bullet from an AR-15, a semi-automatic rifle which delivers a devastatingly lethal, high-velocity bullet to the victim. There was nothing left to repair, and utterly, devastatingly, nothing that could be done to fix the problem. The injury was fatal," she wrote.
Ms Sher said normally a bullet from a handgun would travel through an organ, creating entry and exit wounds and marking linear tracks through the tissue.
But she warned an AR-15 bullet was far more lethal due to the speed in which the bullet travels through the body, leaving a trail of destruction in its wake.
World news in pictures

Show all 50
"The high-velocity bullet causes a swath of tissue damage that extends several inches from its path. It does not have to actually hit an artery to damage it and cause catastrophic bleeding," she wrote, adding that even if the shooter was inaccurate, they could still cause mass casualties.
The doctor is now calling on the Trump administration, with the support of the centre for disease control and prevention (CDC), to issue a total ban on civilian use of AR-15s.
"Banning the AR-15 should not be a partisan issue. While there may be no consensus on many questions of gun control, there seems to be broad support for removing high-velocity, lethal weaponry and high-capacity magazines from the market, which would drastically reduce the incidence of mass murders," she wrote.
"As a radiologist, I have now seen high velocity AR-15 gunshot wounds firsthand, an experience that most radiologists in our country will never have. I pray that these are the last such wounds I have to see, and that AR-15-style weapons and high-capacity magazines are banned for use by civilians in the United States, once and for all."
It comes as Donald Trump called leaders of the National Rifle Association (NRA) "great people" amid a growing backlash against the organisation following the Parkland shooting.
Students at the Marjory Stoneman Douglas High School and victims' families have been leading a nationwide campaign to ban assault-style weapons in the wake of the massacre.
Register for free to continue reading
Registration is a free and easy way to support our truly independent journalism
By registering, you will also enjoy limited access to Premium articles, exclusive newsletters, commenting, and virtual events with our leading journalists
Already have an account? sign in
Join our new commenting forum
Join thought-provoking conversations, follow other Independent readers and see their replies