Florida shooting survivors return to Marjory Stoneman Douglas High School for first time since tragedy
A number of students have tweeted messages and images about how happy they are to get back on campus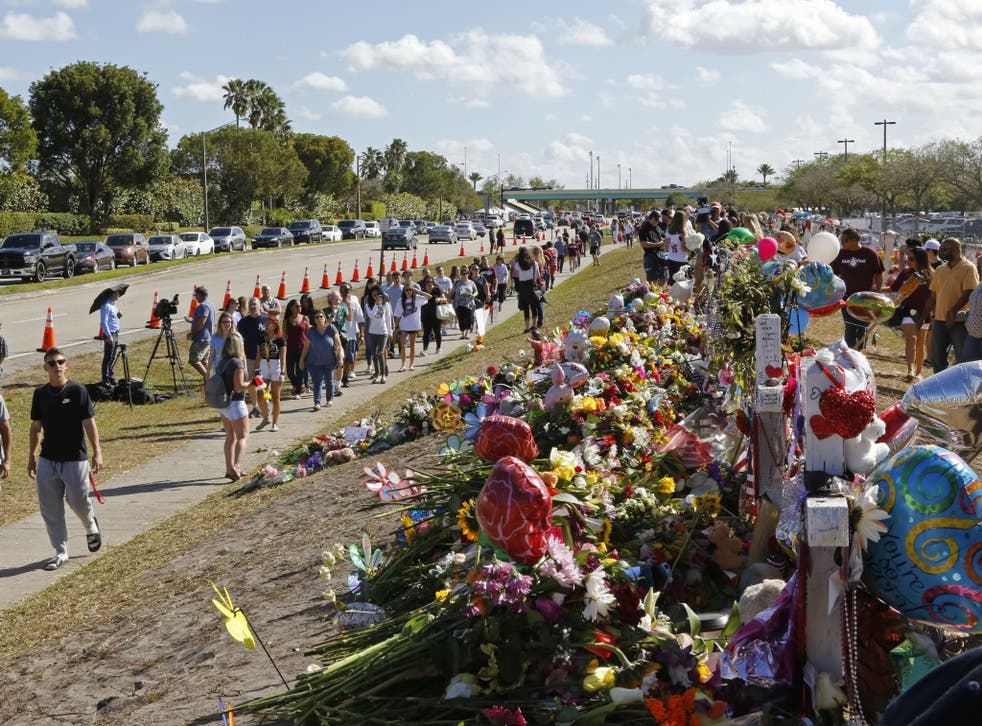 Students from a Florida high school where 17 of their classmates and teachers were killed in one of America's worst mass shootings, returned to the school for the first time on Sunday.
Thousands of students joined their parents in walking past the three-story building at Marjory Stoneman Douglas High School where the massacre took place. That building has been cordoned off with chain link fence that has been covered with banners showing their support for those who attend the school. The building will not be used by the school again.
The school reopens on Wednesday, but the early opening was organised to ease into the return for students, and to allow some to gather up belongings that had been left in the rush to escape when the school was evacuated. A former student, 19-year-old Nikolas Cruz has been charged with 17 counts of premeditated murder over the shooting.
"Just seeing the building was scary," student Francesca Lozano said as she left the school with her mum. However, seeing her friends "made it a lot better" she told the Associated Press.
The superintendent of schools in the area Robert Runcie called on media not to fly helicopters over the school during the open day "out of respect for the students, teachers and parents".
A number of students tweeted messages and images of their return to the school grounds, saying things like "good to be home" and "I've missed you".
Seventeen people dressed in white costumes as angels stood by a makeshift memorial outside the school. Terry Decarlo, who organised the scene, said the costumes are sent to mass shootings and disasters so the survivors "know angels are looking over them and protecting them." Many of Sunday's angels were survivors of the 2016 Pulse nightclub shooting in Orlando where 49 people died, Mr Decarlo said told the AP.
"Two of my best friends aren't here anymore," said Sammy Cooper, who picked up the book bag he had dropped during the shooting. "But I'm definitely going to school Wednesday," he told the Associated Press. "I will handle it."
Florida shooting – in pictures

Show all 10
As local residents look to get back to some level of normalcy, the local police, Broward County Sheriff's Office, are facing scrutiny about their response to the shooting. Florida Governor Rick Scott's office said on Sunday that Mr Scott had asked Florida Department of Law Enforcement Commissioner Rick Swearingen to investigate the police response.
Broward County Sheriff Scott Israel has defended his leadership amid calls to resign over the revelation that an armed deputy on the scene did not enter the school to confront the shooter. That deputy - Scot Peterson - later resigned after being place on leave pending an investigation into his conduct.
Associated Press contributed to this report
Join our new commenting forum
Join thought-provoking conversations, follow other Independent readers and see their replies