Florida shooting: Student journalist interviews classmates about gun control while school is attacked
'While I was in there, I thought, 'What impact have I had? What will my story be if I die here?' student says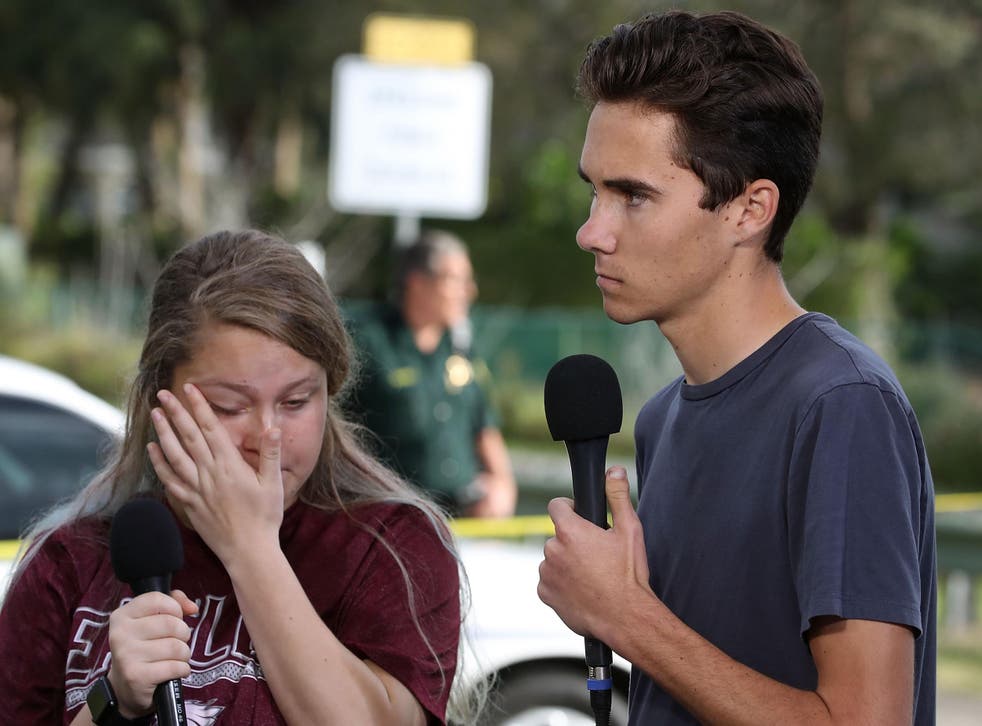 Trapped in a classroom while a mass shooter prowled his high school, a student reporter began taping his classmates' heartbreaking reactions.
David Hogg, a senior at Marjory Stoneman Douglas High School in Parkland, Florida, turned on his camera while a lone gunman opened fire on his high school, ultimately killing at least 17 people.
Mr Hogg told Time that he had attempted to flee the shooting, but was ushered into a classroom with several other students to hide out. While there, he checked social media and realised that a mass shooting was taking place.
"While I was in there, I thought, 'What impact have I had? What will my story be if I die here?'" said the student, who works at the school's TV station and volunteers at a local newspaper.
"The only thing I could think of was, pull out my camera and try telling others," he continued. "As a student journalist, as an aspiring journalist, that's all I could think: Get other people's stories on tape. If we all die, the camera survives, and that's how we get the message out there, about how we want change to be brought about."
So Mr Hogg turned his camera on his classmates, asking them, in hushed tones, for their opinions on gun control.
Florida shooting – in pictures

Show all 10
"I really don't think there's anything new to say, but there shouldn't have to be," one student told him.
"If you looked around this closet and saw everyone just hiding together, you would know that this shouldn't be happening anymore, and that it doesn't deserve to happen to anyone, and that no amount of money should make it more easily accessible to get guns," she said.
Florida school student thanks Geography teacher who saved her
Another student said she had previously marched in favour of gun rights, and wanted to be a junior member of the National Rifle Association. The student, whose face does not appear on screen, said she even planned to have her 18th birthday party at a gun range. But this shooting changed her mind.
"This experience was so traumatising to the point where I can't even fathom a gun in my house or on my bodice," she said. "...To have the bullet pointed at me – at my school, my classmates, my teachers, my mentors – it's just it's definitely eye-opening to the fact that we need more gun control in our country."
Police arrested 19-year-old Nikolas Cruz, a former Marjory Stoneman student, in connection with the shooting on Wednesday. He has been charged with 17 counts of premeditated murder and has yet to enter a plea.
There have been 239 school shootings in the US since December 2012, according to Gun Violence Archive, a nonprofit that tracks school shootings. More than 400 people have been shot in these incidents.
Register for free to continue reading
Registration is a free and easy way to support our truly independent journalism
By registering, you will also enjoy limited access to Premium articles, exclusive newsletters, commenting, and virtual events with our leading journalists
Already have an account? sign in
Register for free to continue reading
Registration is a free and easy way to support our truly independent journalism
By registering, you will also enjoy limited access to Premium articles, exclusive newsletters, commenting, and virtual events with our leading journalists
Already have an account? sign in
Join our new commenting forum
Join thought-provoking conversations, follow other Independent readers and see their replies