Florida shooting: School plans to tear down building where 17 people were killed
'Parents and students have resoundingly told me they can't go back into that building regardless of what we do,' the superintendent says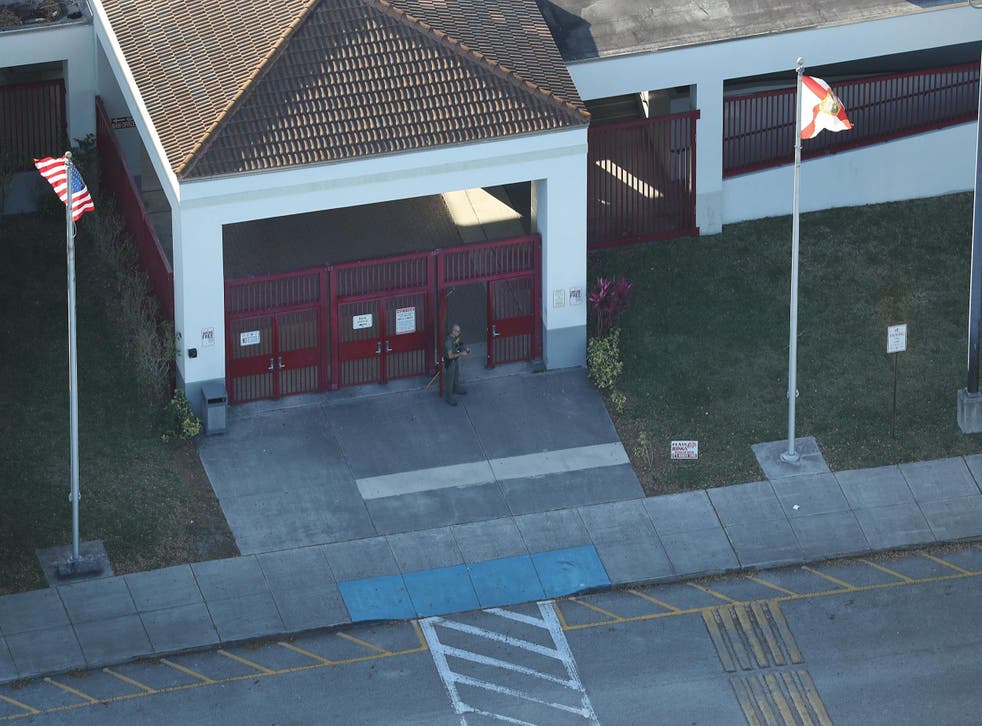 The Florida high school where 17 people were killed in a mass shooting may be torn down and turned into a memorial, district officials have said.
Broward Schools Superintendent Robert Runcie told the South Florida Sun Sentinel that the district has proposed demolishing the building on campus where a former student allegedly opened fire earlier this week.
"Parents and students have resoundingly told me they can't go back into that building regardless of what we do," Mr Runcie said.
The building may also be used as evidence in legal proceedings, the superintendent added, meaning it would not be available for use in the near future. He said the district eventually plans to build a memorial on the land.
Any proposals for the building must be approved and funded by the School Board and the state, Mr Runcie said. Florida Governor Rick Scott has already promised state funding to aid in the investigation and help the community recover.
The challenge now will be finding somewhere to house the 900 students who took classes in the building. The school itself is at capacity, as are many other schools in the district, according to the Sun Sentinel.
Florida shooting – in pictures

Show all 10
Fourteen students and three staff members were killed on Wednesday when police say a former student carried an AR-15 rifle and multiple magazines of ammunition into the south Florida school. Among those killed were a 14-year-old girl and an assistant football coach who reportedly threw himself in front of students to protect them.
Suspect Nikolas Cruz, a 19-year-old who was previously expelled from the school, has been charged with 17 counts of premeditated murder. He has yet to enter a plea.
The sites of previous school shootings have also been torn down, and in some cases memorialised. After the Columbine shooting, the library where most of the carnage occurred was replaced with an atrium.
At Sandy Hook Elementary School, where 26 people were killed in a 2012 shooting, the building was completely torn down and rebuilt. The site of the school shootings at Virginia Tech were also remodelled into offices and laboratories.
Register for free to continue reading
Registration is a free and easy way to support our truly independent journalism
By registering, you will also enjoy limited access to Premium articles, exclusive newsletters, commenting, and virtual events with our leading journalists
Already have an account? sign in
Register for free to continue reading
Registration is a free and easy way to support our truly independent journalism
By registering, you will also enjoy limited access to Premium articles, exclusive newsletters, commenting, and virtual events with our leading journalists
Already have an account? sign in
Join our new commenting forum
Join thought-provoking conversations, follow other Independent readers and see their replies