Florida executes man with untested cocktail of drugs
He is the first person to die by an injection using etomidate – an anaesthetic developed in Belgium in the 1960s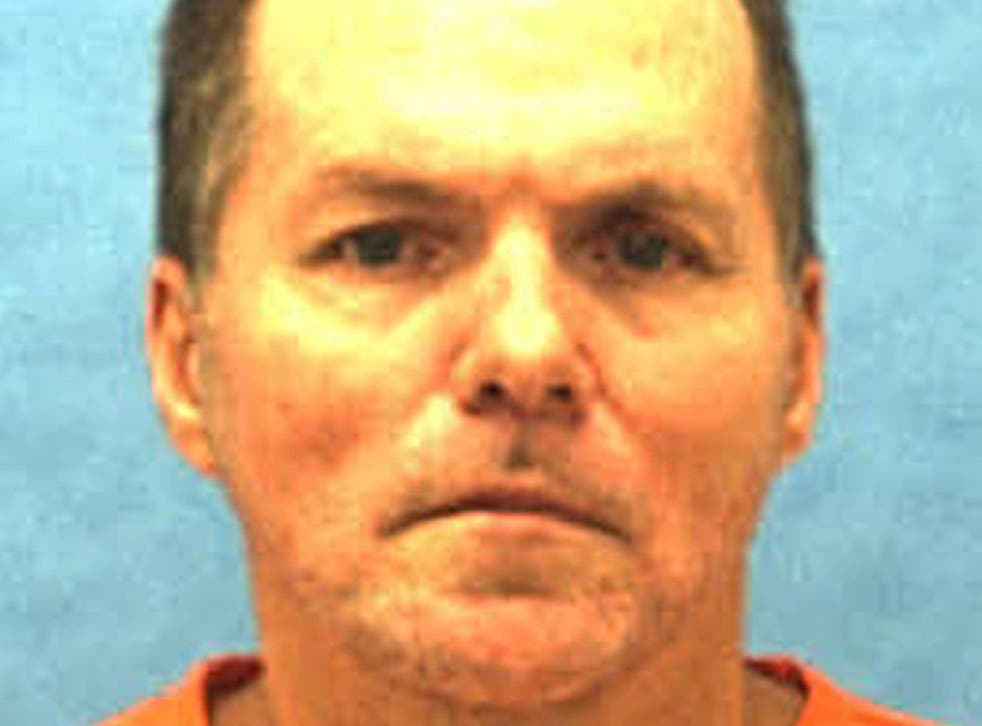 Florida has executed a 53-year-old man convicted of two 1987 murders, using a lethal injection that included a drug never before used in a US execution.
The execution was carried out at 6.22 pm local time at the Florida State Prison in Bradford County, about 50 miles southwest of Jacksonville, where the two murders took place.
Mark James Asay was the first white man to be put to death in Florida for killing a black man since the state reinstated the death penalty in 1979.
He is also the first person to die by an injection using etomidate – an anaesthetic developed in Belgium in the 1960s.
Asay was sentenced to death in 1988 for the killing of two men in separate incidents on the same day a year earlier.
After using a racial slur during an argument, Asay shot Robert Lee Booker in the stomach. He killed Robert McDowell by shooting him multiple times in the chest.
The US Supreme Court earlier refused to block his execution.
World news in pictures

Show all 50
Florida, along with other states, has had to find a replacement for drugs that became unavailable when drugmakers stopped distributing them because of their stands against the death penalty.
Marty McClain, Asay's attorney, said on Wednesday that etomidate, which would be part of a three-drug lethal injection protocol, causes pain before it takes hold and could cause involuntary body movements that make it difficult for prison staff "to know when the guy is unconscious."
Florida Governor Rick Scott signed a death warrant for Asay in January 2016. Days later, the US Supreme Court ruled it should be juries, not judges, who decide whether aggravating factors determine if a defendant is eligible for execution.
Florida lawmakers rewrote the state's capital punishment law this year to require that juries be unanimous when recommending the death penalty.
Register for free to continue reading
Registration is a free and easy way to support our truly independent journalism
By registering, you will also enjoy limited access to Premium articles, exclusive newsletters, commenting, and virtual events with our leading journalists
Already have an account? sign in
Register for free to continue reading
Registration is a free and easy way to support our truly independent journalism
By registering, you will also enjoy limited access to Premium articles, exclusive newsletters, commenting, and virtual events with our leading journalists
Already have an account? sign in
Join our new commenting forum
Join thought-provoking conversations, follow other Independent readers and see their replies