Six-year-old girl dies after paramedics dismiss breathing difficulties as symptoms of common flu
Emily Muth of North Carolina  dies suddenly after ambulance crew misdiagnose lung problems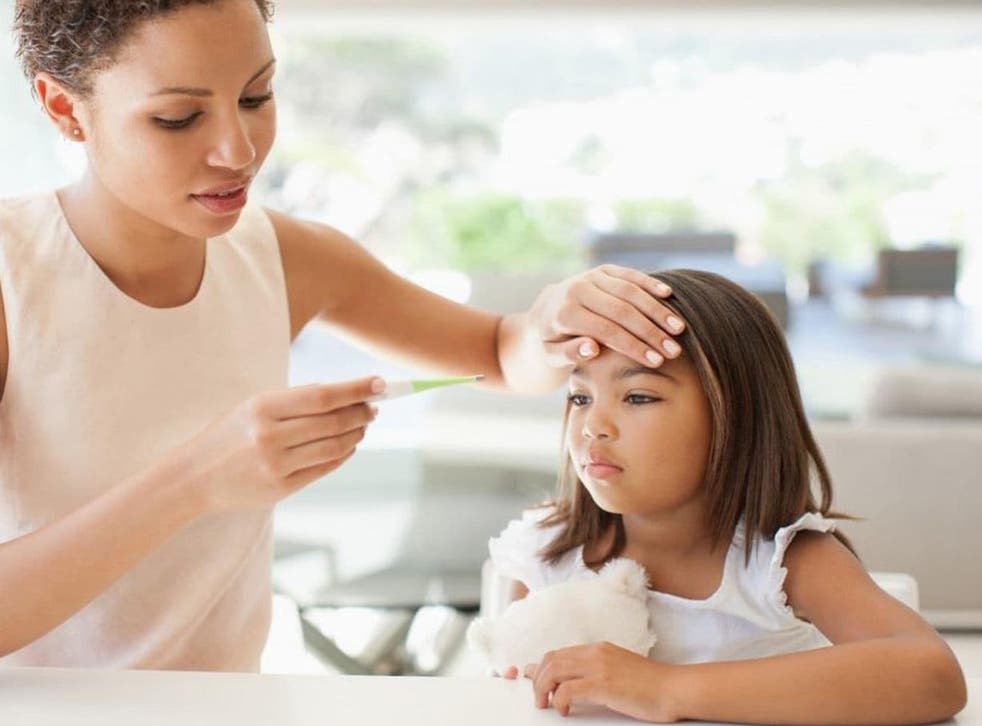 Six-year-old Emily Muth first fell ill with the flu on 16 January. Three days later, she had difficulty breathing, so her mother, Rhonda Muth, called for an ambulance.
Muth said a paramedic told her that laboured breathing was a common symptom of the flu, so the ambulance was sent back. But Emily's breathing continued to slow, and when paramedics returned a second time, it was too late.
Emily's sudden death was heartbreaking and unsettling to her parents and her eight and ten-year-old brothers, Muth said.
"How could that even happen? I mean one day she's fine, you know, and I mean she had the fever and she was a little achy," Muth told ABC11 in Raleigh, North Carolina. "Other than that, I mean, she had had the runny nose and cough like typical, you know, and then she's gone. It's horrible. I don't wish this on anybody."
Emily, of Cary, North Carolina, is among at least 30 children across the country who have died of the flu during a nasty season that's caused a rapid increase in the number of older people and children being hospitalised, according to the Centers for Disease Control and Prevention. Though the flu season typically peaks in February, the outbreak is already one of the worst on record, as the flu has touched every US state, with 32 states reporting severe flu activity.
Physicians are insisting people get their flu shots, as 85 percent of the children who died were probably not vaccinated, CDC Director Brenda Fitzgerald told Reuters. While the flu vaccine does not guarantee no illness, experts say data suggests the vaccinations make the flu milder.
Emily died Friday after she was rushed by an ambulance to WakeMed Hospital in Raleigh. She had tested positive for the flu three days before at an urgent care centre in Cary, according to ABC11. He mother was handed a prescription for Tamiflu and told to keep her hydrated, ABC11 reported.
The fever appeared to normalise on Thursday, but on Friday, Emily began having difficulty breathing. Her mother called an ambulance and said a paramedic told her the laboured breathing was a common symptom of the flu. Emily's breathing worsened a few hours later, and when her mother called paramedics a second time, they couldn't save her daughter, she told ABC11.
WakeMed Hospital, Rhonda Muth and her husband, Nathan Muth, could not be immediately reached for comment.
While young, healthy people have died of the flu, those most at risk are the elderly and young children. A 10-year-old boy in New Canaan, Connecticut, whose mother said was healthy as 'an ox,' died after he was rushed to a New York hospital. The mother of a 12-year-old girl in Visalia, California, who died of a bacterial infection that entered her bloodstream claims that doctors, overwhelmed by the rise in flu cases, misdiagnosed her daughter with the flu.
As The Washington Post's Lena Sun reported, a particular concern for health experts is the sharp increase in people hospitalised with laboratory-confirmed cases. Nearly 6,500 people were hospitalised since the season began on 1 October, and the overall hospitalisation rate for the week ending 6 January - 22.7 per 100,000 - was almost double that of the previous week. Seven children died in just the first week of January.
According to Sun:
"The main culprit for this harsh flu season is the predominant strain, H3N2, which causes the worst outbreaks of the two influenza A viruses and two types of influenza B viruses circulating. Seasons where H3N2 dominates typically result in the most complications, especially for the very young, the elderly and people with certain chronic health conditions, experts say.
Even though flu activity has probably peaked, the forecast for next three months is grim."
What makes the threat of the flu worse is that most of the IV saline bags used in medical treatments are manufactured in Puerto Rico, which is still recovering from Hurricane Maria. Hospitals flooded with flu patients are quickly running low on saline, leading medical staff to rely on lengthy and potentially dangerous treatments of patients.
Emily was not vaccinated, although her parents told ABC11 that they plan to vaccinate their two sons. Muth hopes Emily's story will encourage parents to vaccinate their children.
Health news in pictures

Show all 40
"She was a good girl. Everybody loved her," Rhonda Muth told ABC11.
"Just take it day by day," she said. "She'll always be with us."
The Washington Post
Join our new commenting forum
Join thought-provoking conversations, follow other Independent readers and see their replies