American flyers are losing their minds - and missing their planes - as security screening chaos mounts
Hundreds of American Airlines passengers marooned in Chicago airport on Sunday night alone
David Usborne
New York Comments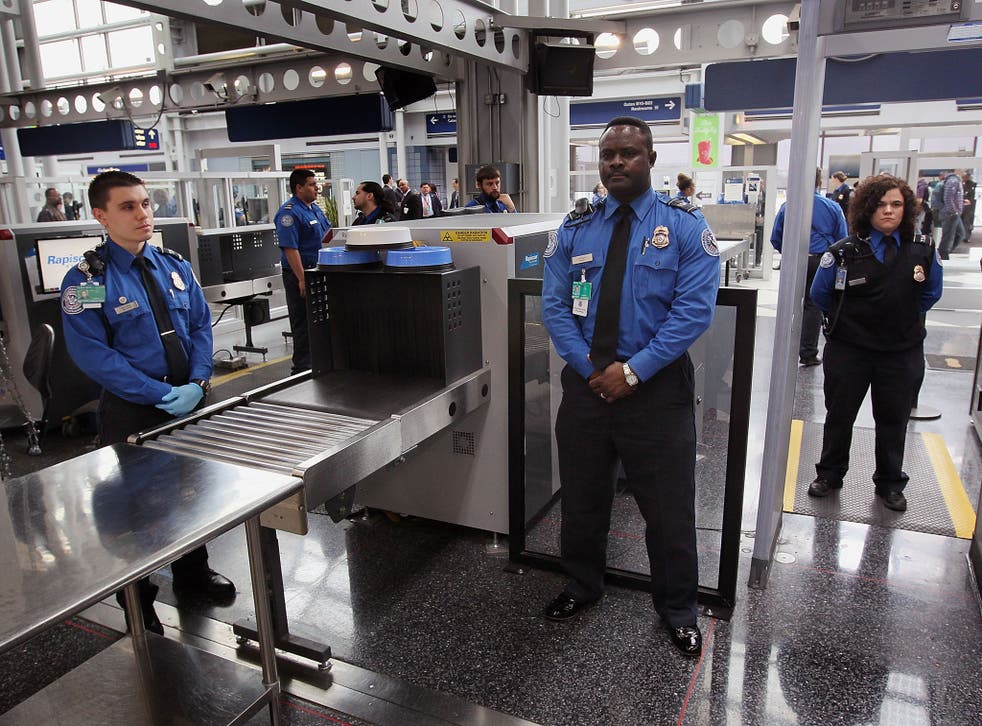 Travelers passing through airports in the United States this summer are being told to build in lots of extra time because of maddening back-ups at the security check-points that are already causing thousands of flyers to miss their planes every week.
Frustration at airports all around the country is close to boiling point as screeners hired by the federal Transportation Safety Agency, TSA, struggle to keep up with surging numbers of passengers. At least one major airport, in Phoenix, Arizona, is threatening to throw the TSA out and hire private screeners instead.
With a few weeks still to go before the start of the summer peak season, irritated travelers are already taking to social media and elsewhere to share horror stories of getting stuck sometimes for more hours in the security line and sometimes then missing their planes. Airports that seem particularly prone to the jams are in New York, Detroit, Atlanta and Chicago.
About 450 American Airlines passengers failed to make their flights at Chicago's O'Hare Airport on Sunday night alone, forcing staff of the carrier to produce camp beds for them to sleep in inside the terminal.
American Airlines, the number one carrier by traffic in the US, recently reported that in just one week in March alone clogged security lines caused 6,800 of its passengers to miss their planes. "Our customers are very upset," the airline said.
Last Thursday, American reckoned that it was taking passengers as long as one hour and 45 minutes to get through security when the lines were at their worst.
It has become such a pressing problem that Jeh Johnson, the Homeland Security Secretary, held a press conference at Washington DC's National Airport at the end of last week to pledge improvements in the operations of the TSA, which is overseen by his department. The TSA's first job is to prevent terrorism attacks against travelers and the air industry.
That included authorising the agency to take on an additional 768 screening personnel to join its workforce of 42,500, expand overtime provisions for agents it already employs and deploy more bomb-sniffing dogs to major airports.
9 terrifying things that happen on a plane but passengers know nothing about
"Obviously waiting three hours for a two-hour flight is not acceptable and it's not a good thing and it taxes everyone's patience," he said. But he added, "We're not going to compromise aviation security because of this."
United Airlines recently sent email messages to all its loyalty members using Newark's Liberty International Airport just outside New York City to expect to spend as much as an hour trying to get through security and to plan accordingly.
One option for the TSA is to enroll more travelers in its so-called Pre-Check programme, where frequent flyers have answered questions about themselves and submitted to general screening in advance and are thus allowed to go through expedited lines that do not require them to take items like toiletries or laptops out of their bags.
For those who have already gone to the trouble of joining Pre-Check, however, that risks ensuring that their lines get just as snarled as everyone else's.
At his press conference, Mr Johnson warned that while the goal was to bring the queues down to reasonable levels, they would never be eliminated. "Our task is to keep passengers moving, but also, and most importantly, keep passengers safe," Mr. Johnson said.
The TSA says it has been caught out because its own projections grossly underestimated passenger growth numbers and it hasn't been able to keep up with hiring.
Register for free to continue reading
Registration is a free and easy way to support our truly independent journalism
By registering, you will also enjoy limited access to Premium articles, exclusive newsletters, commenting, and virtual events with our leading journalists
Already have an account? sign in
Join our new commenting forum
Join thought-provoking conversations, follow other Independent readers and see their replies