Donald Rumsfeld: Former defence secretary launches gaming app inspired by Winston Churchill
'Churchilll Solitaire', based on the game played by Winston Churchill, is complex and demanding - just like the man himself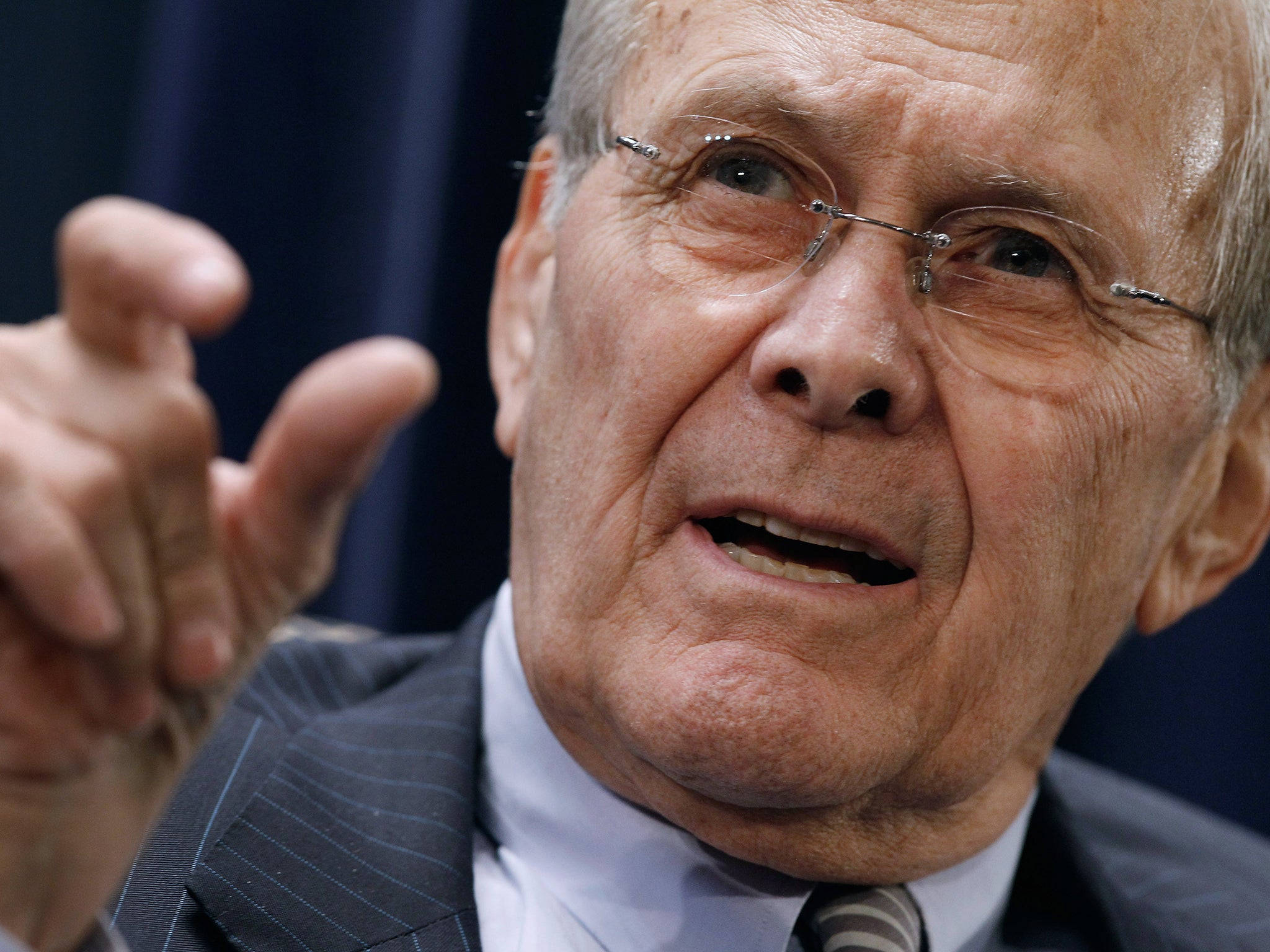 A more complex and demanding version of card game Solitaire, first devised by former wartime Prime Minister Winston Churchill, has been made into a new app by the former US defence secretary.
Donald Rumsfeld, the 83-year-old pharmaceutical boss, two-time defence secretary and White House chief of staff has released a game called 'Churchill Solitaire', which has ranked an impressive 4.5/5 customer rating in the App Store.
"I've done business, politics, and war. Now I'm trying my hand at mobile gaming," he wrote in a post on Medium.
Mr Rumsfeld said the app is a variation on solitaire that Mr Churchill invented and played with his young Belgian government aide called André de Staercke during World War II.
Mr Staercke went on to become a NATO diplomat and taught Mr Rumsfeld the game in the 1970s as they were flying in a plane across Europe.
"I asked him what he was playing and he proceeded to tell me the origin of the game he called Churchill Solitaire after the man we both very much admired, and the diabolical rules that make it the hardest game of solitaire — and probably the most challenging and strategic game of logic or puzzle — I've ever played," he wrote.
The "devilish" version of Solitaire uses two decks of cards, not one, and 10 rows of cards, instead of seven. An extra column called the Devil's Six also has to be navigated.
Mr Rumsfeld wrote to Mr Churchill's great-grandson Randolph Churchill to get approval for the game.
"As my friend Andre de Staercke once put it to me, "What one needs in life are the pessimism of intelligence and the optimism of will." Play a couple hands of Churchill Solitaire, and you'll know precisely what he meant," he wrote.
All profits will go to charity, said Mr Rumsfeld.
Join our commenting forum
Join thought-provoking conversations, follow other Independent readers and see their replies