Government library bookshelves 'filled with Donald Trump books'
Meanwhile, the US president is accused of 'censorship' after issuing gag order to prevent certain state officials from speaking publicly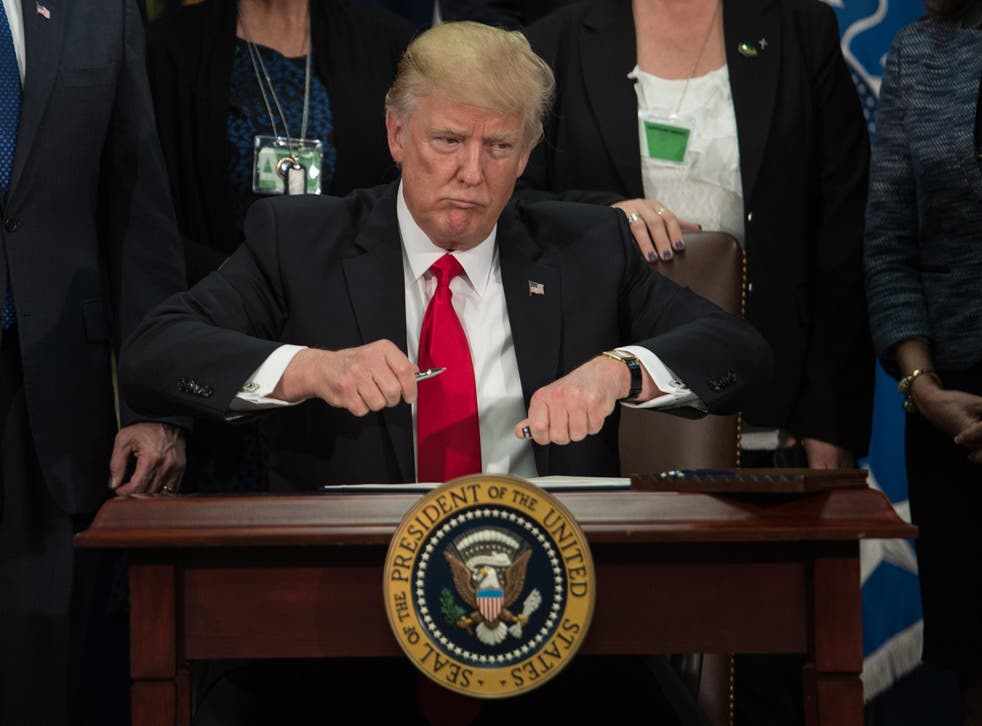 A bookcase in the former State Department library in Washington DC has been filled with Donald Trump's books, it has been claimed.
According to an unverified photograph that emerged on Thursday, shelves of the Eisenhower Executive Office Building's library are now stocked with reading material authored by the US president.
Writing on Twitter, MSNBC journalist Christopher Hayes, who shared the photo, said: "A contact sends along a picture of a bookcase in what's called the Old State Department Library in the EEOB (Eisenhower Executive Office Building). It's the first thing you see."
The books pictured include: Crippled America: How to Make America Great Again; Trump 101 and Midas Touch: Why Some Entrepreneurs Get Rich-And Why Most Don't, however it was unclear if other shelves had also been stocked with Mr Trump's books.
The Government building is situated west of the White House and originally housed the departments of State, War and Navy. The building still houses offices of many White House staff members.
The picture emerged following reports the Trump administration issued a "gag order" to prevent Environmental Protection Agency (EPA) officials and other Government staff from speaking publicly, prompting leading scientists to accuse the President of "censorship".
Other federal agencies, including the Department of Health and Human Services and the Department of Agriculture, were also told to suspend external communications, although the latter department's gag order was subsequently lifted.
The ban includes the issuing of press releases, blogs and social media posts, according to information leaked to several media organisations, and all media requests must be "screened" by the administration.
Register for free to continue reading
Registration is a free and easy way to support our truly independent journalism
By registering, you will also enjoy limited access to Premium articles, exclusive newsletters, commenting, and virtual events with our leading journalists
Already have an account? sign in
Register for free to continue reading
Registration is a free and easy way to support our truly independent journalism
By registering, you will also enjoy limited access to Premium articles, exclusive newsletters, commenting, and virtual events with our leading journalists
Already have an account? sign in
Join our new commenting forum
Join thought-provoking conversations, follow other Independent readers and see their replies