Former US House Speaker Dennis Hastert abused at least four boys, prosecutors say
Prosecutors are seeking a six-month jail sentence for Dennis Hastert, who allegedly 'paid hush money' in child abuse scandal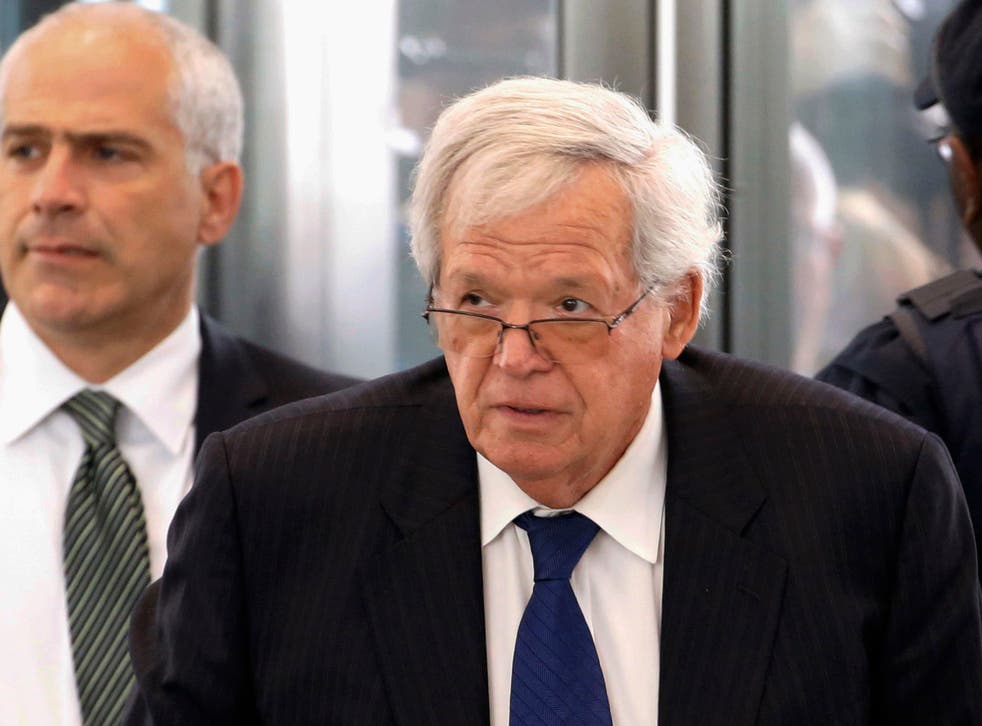 The former Speaker of the US House of Representatives Dennis Hastert abused at least four boys while he was a wrestling coach, prosecutors have alleged.
They are calling for a six-month sentence for Mr Hastert, the former Republican congressman who led the US House of Representatives from 1999 to 2007.
Mr Hastert has been accused of agreeing to pay an individual $3.5m (£2.5m) in 'hush money' to cover up sex abuse which took place when the victim was 14.
He pleaded guilty of evading US banking laws and lying to the FBI in October and is due to be sentenced for those offences on 27 April.
Details of the abuse allegations were filed in court on Friday, according to the Associated Press.
Three wrestlers who were coached by Mr Hastert and a student manager have claimed that he sexually abused them several decades ago.
One of the victims told prosecutors the abuse occurred in a motel room on the way home from wrestling camp, while two others say that Mr Hastert performed sex acts on them when they were 14 and 17 years old in a high school locker room.
In pictures: White Flowers Campaign to support child abuse victims

Show all 10
Last year the former House Speaker was indicted for "withdrawing cash in increments of less than $10,000 to evade currency transaction reporting requirements because he wanted his agreement to compensate [an individual] to remain secret so as to cover up his past misconduct".
Mr Hastert served as Speaker longer than any other Republican and pushed a number of anti-gay measures, including a motion to amend the US Constitution to ban same-sex marriage.
His portrait has since been removed from the House of Representatives in the US Congress, according to the BBC.
"Mr Hastert is deeply sorry and apologised for his misconduct that occurred decades ago and the resulting harm he caused to others," Mr Hastert's lawyers wrote earlier this week in a sentencing memo asking for Mr Hastert to only serve probation.
Register for free to continue reading
Registration is a free and easy way to support our truly independent journalism
By registering, you will also enjoy limited access to Premium articles, exclusive newsletters, commenting, and virtual events with our leading journalists
Already have an account? sign in
Register for free to continue reading
Registration is a free and easy way to support our truly independent journalism
By registering, you will also enjoy limited access to Premium articles, exclusive newsletters, commenting, and virtual events with our leading journalists
Already have an account? sign in
Join our new commenting forum
Join thought-provoking conversations, follow other Independent readers and see their replies