Fort Lauderdale shooting: Laptop 'saves man's life' at Florida airport
'The backpack saved my life'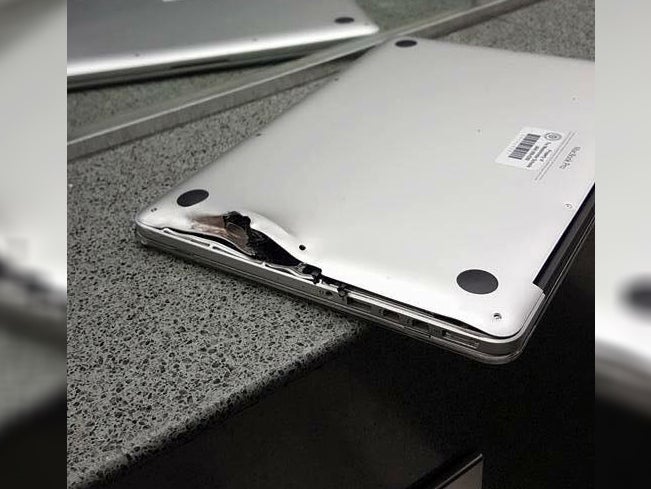 A man who witnessed the shooting at a Florida airport narrowly escaped death when his laptop stopped a bullet from hitting his body.
Steve Frappier was among the travellers inside Terminal 2 of the Fort Lauderdale International Airport when a gunman began shooting people at random when he heard "popping, like firecrackers".
At least five people were killed in the rampage, and six others were wounded, according to a count from federal authorities. More than 40 others were injured in the panic that ensued as shots rang out.
Police apprehended the suspect, identified as 26-year-old Esteban Santiago. Authorities are still investigating and have not yet determined a motive for the shooting.
Mr Frappier recalled the harrowing moments in the baggage claim area where the scene unfolded.
"It was completely silent and all we could hear was just the popping of the guns," he told CNN. He took cover on the ground while wearing his backpack. Then he said he felt a something strike him in the back.
"It was only later when I went to the bathroom to check myself out that the bullet had entered my backpack, hit my laptop," he said, "and then later when I gave my backpack over to the FBI for investigation, they found the bullet in the pocket…"
A friend of Mr Frappier's posted an image to Facebook showing the Apple laptop with what appears to be a bullet hole in the bottom of it.
"Glad that my friend, Steve Frappier, is safe," wrote Heath Einstein. "As you can see from the picture, his life might have been saved by his laptop as he lay on the ground in baggage claim…
"Surely somewhere in the gulf between outlawing firearms and doing nothing lies a solution."
Mr Frappier added that he had not put much thought in his computer when he put it in his bag upon stepping off his plane.
"The backpack saved my life," he said.