Fort McMurray fire: Oil workers told to flee racing wild fires
Around 90,000 residents have already been forced to flee from the city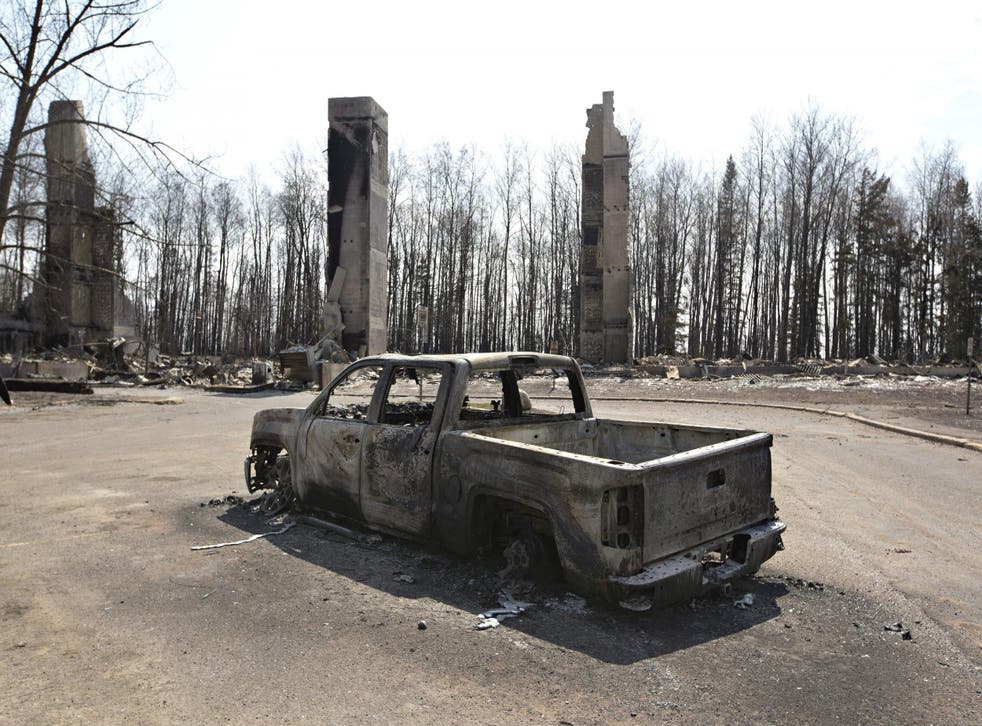 The chance of Canada restarting production at one of its most important oil and gas facilities has been set back, after up to 12,000 workers were ordered to evacuate from the fire ravaged city of Fort McMurray.
As authorities continued to battle to bring the devastating wildfires under control, a mandatory evacuation order was on Monday night extended to 30 miles north of the Alberta city. Earlier in the day, officials had said the air quality was dangerously poor in the area, from which 80,000 residents were forced to leave their homes two weeks ago.
The Associated Press said that Suncor, one of the major operators working on Canada's oil sands, announced the news, confirming it had "started a staged and orderly shutdown of our base plant operations" and that personnel were being transported to work camps further north. It stressed there has been no damage to Suncor infrastructure.
The workers had been trying to restart oil production at the facilities after they were halted by the fires and by the need to house a flood of people seeking safety from Fort McMurray. Those people have since been transferred further south.
But on Monday, officials were told the fire was travelling at 30-40 metres per minute north of Fort McMurray.
"Suncor has enhanced fire mitigation and protection around all of its facilities," the company said in a statement. "When it is safe to do so, we will continue implementing our restart plans."
The fire destroyed more than 2,400 structures in Fort McMurray, although firefighters managed to save essential infrastructure in the oil sands capital, including the hospital, water treatment plant and the airport.
Hope amid wildfire devastation
Crews continued to battle hot spots on the edge of Fort McMurray on Monday while the first still raged out of control deeper in the forest. Hot, dry conditions were not helping firefighters, the news agency said.
Alberta Premier Rachel Notley said the air quality health index was normally between one to ten, with ten being the worst, but the reading on Monday morning was at thirty eight.
She said the conditions were hampering efforts to get residents back to their homes.
"Alberta Health Services has recommended that members of the public who had been previously arranging to return to the area under various requests not return until those conditions improve," she said.
"This is something that could potentially delay recovery work and a return to the community."
Karen Grimsrud, Alberta's chief medical officer of health, said they expected the air quality readings to remain in the extreme range for the next couple of days. She said workers in the area should be wearing respirators.
Canadian Finance Minister Bill Morneau told CBC News that the cost of the disaster was still being evaluated.
"We're obviously going to stand shoulder to shoulder with the people in Fort McMurray and rebuild the city," he said.
The wildfire still covers about 930 square miles and is expected to spread.
Join our new commenting forum
Join thought-provoking conversations, follow other Independent readers and see their replies