Four-eared cat called Batman adopted from a Pittsburgh shelter
The cat's extra ears are the product of a recessive gene present in both parents
Feliks Garcia
New York
Thursday 11 August 2016 18:33 Comments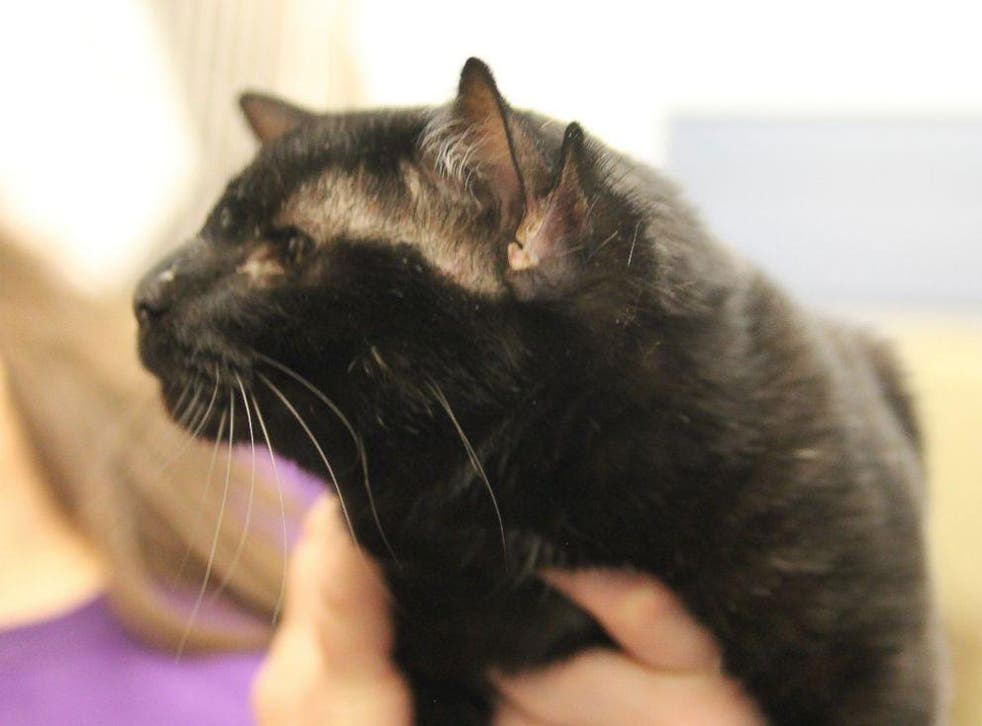 A four-eared cat named Batman has found a new home within hours of being put up for adoption by a Pennsylvania animal shelter.
Batman's extra ears are the product of a recessive gene mutation needed from both parents, according to the Western Pennsylvania Humane Society in Pittsburgh, where the unusual feline was surrendered last month.
"Just when you think you've seen it all, a four-eared cat comes in the door!" the Humane Society's managing director said in a Facebook post.
Batman the cat with four ears
The cat stayed for a month so that he could be treated for a respiratory infection, a common ailment amongst shelter animals.
A mother and her young daughter adopted Batman on Tuesday, only hours after the shelter posted video of the unusual animal.
"It was fitting because the little girl liked superheroes," communications manager Caitlin Lasky told ABC News.
Black cats like Batman have a reputation for being the least likely to be adopted, due in part to an inability to capture them in photographs.
However, a 2014 article published to the ASPCA blog, while more black cats are entering shelters, they are being adopted at higher rates than cats of different colours.
And with shelters filled to the brim with cats during the summer season, the Humane Society said that Batman can become a hero in his own right – by getting more people to the shelter to adopt.
"We're hoping that the interest in Batman will help get more people through the door to look at animals they may have never thought of adopting," Ms Lasky said. "We will have many cats and other animals who are also looking for their forever homes."
Register for free to continue reading
Registration is a free and easy way to support our truly independent journalism
By registering, you will also enjoy limited access to Premium articles, exclusive newsletters, commenting, and virtual events with our leading journalists
Already have an account? sign in
Join our new commenting forum
Join thought-provoking conversations, follow other Independent readers and see their replies