Four people 'of Middle Eastern descent' pulled off Spirit Airlines flight
Campaigners have claimed there has been a number of incidents in which Muslims have been targeted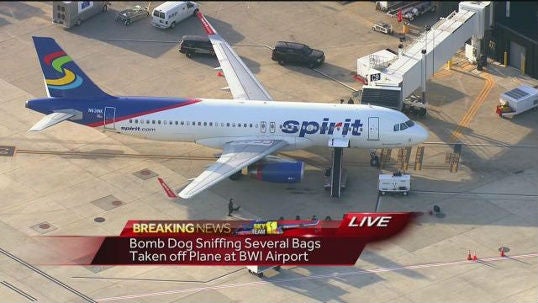 An investigation is underway after four passengers - reportedly of "Middle-Eastern descent" - were forced to leave a plane after a fellow passenger reported so-called suspicious activity and alerted the crew.
Spirit Airlines confirmed that an early morning flight from Baltimore to Chicago was halted just before take-off and that four passengers were removed of an "abundance of caution."
A television reporter on board the plane said that eventually all passengers and their luggage were removed for further security screening.
Psgrs had carry on luggage. Several backpacks Appeared to be in early 30s and of middle eastern descent
The four individuals were being questioned by state and federal law enforcement officers, Maryland Transportation Authority Police 1st Sgt Jonathan Green told the Associated Press. Reuters said the passengers were removed after another traveller believed a woman was watching an Isis video.
Spirit Airlines said the flight in question was Flight No 969 and that it returned to the gate as it was taxiing to take off around 6.30am due to concerns from the plane's captain.
"While the aircraft was taxiing to the runway, a passenger alerted a flight attendant of a passenger engaged in suspicious activity on board. The flight attendant notified the captain, and out of an abundance of caution, the plane returned to the gate," Spirit Airlines spokesman Stephen Schuler said in a statement.
"The aircraft and luggage has been cleared by the TSA, and the plane is scheduled to take off shortly."
Sgt Green declined to reveal what concerns from the captain prompted the return to the gate, saying it was part of the investigation. He also refused to characterise the investigation or say whether it involved a terrorism threat.
"We are interviewing the four individuals to see if any violations occurred," he said. "We have to get to the bottom of what happened."
The federal Transportation Security Administration (TSA) did not immediately respond to inquiries.
But reporter Suzanne Kennedy said it appeared suspicion was triggered when a woman got up shortly before take off and went to the back of a plane with a small child.
She said the four people who were first taken off had several backpacks, were in their early 30's and appeared to be of "Middle Eastern descent".
Ibrahim Hooper, national spokesman for the Council on Islamic-American-Islamic Relations (CAIR), said he had witnessed an increase of incidents in which Muslims - or people who appeared to be Muslims were being targeted.
"Unfortunately, I think we're going to see more and more of this, he told The Independent. "I don't think its going to stop until we get push-back from elected officials and I am not seeing a lot of that."
Join our commenting forum
Join thought-provoking conversations, follow other Independent readers and see their replies