Fox News anchor asks 'what's to prevent' three people from marrying after same-sex marriage legalised
Martha MacCallum asked "We're three people, we love each other and we want to be married. What's to prevent that under this?" in her interview with fellow Fox News host Greta Van Susteren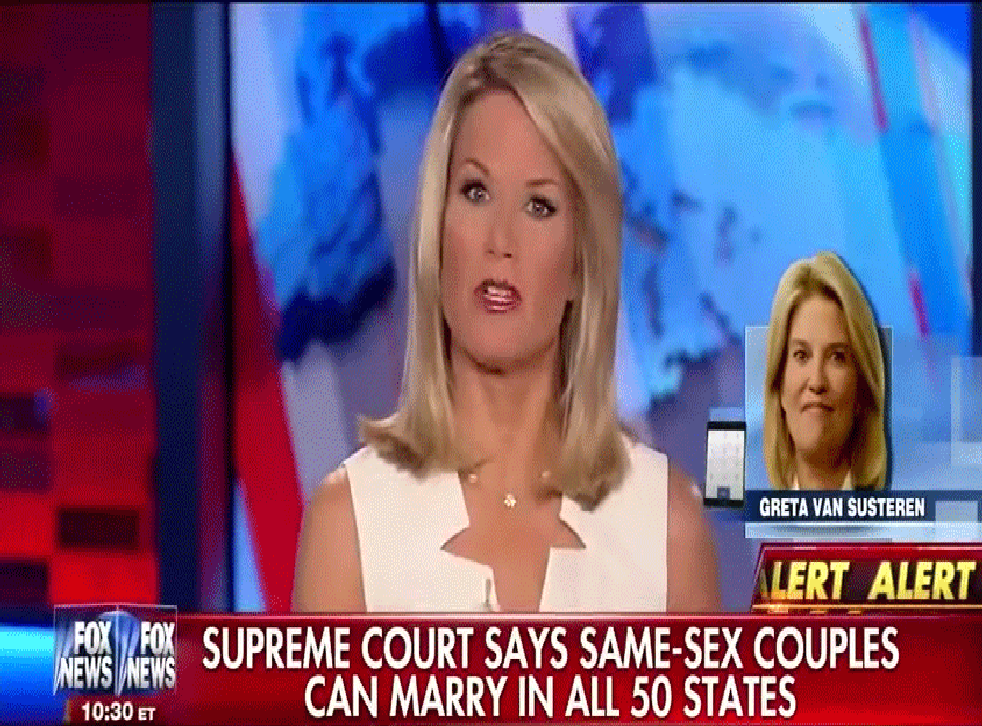 A Fox News anchor has asked whether the legalisation of same-sex marriage across the United States would now lead to polygamy.
Martha MacCallum's comments came after the Supreme Court ruled on Friday that same-sex marriage was a constitutional right across the country, following decades of campaigning and litigation.
In an interview with fellow Fox News host and legal analyst Greta Van Susteren, MacCallum said: "We're just trying to think about the ramifications when a precedent is set, what it means down the road, right?"
"So, suppose three people say, we want to be a marriage. We're three people, we love each other and we want to be married. What's to prevent that under this?"
"I don't know that there is," Van Susteren said. "I mean, that will have to wind up to the Supreme Court."
Van Susteren continued: "But, you know, a lot of things have changed. The culture is, you know, for whatever reason, they've changed. They have different views of things."
Same-sex marriage has divided opinion in the US, but as LGBT rights gain energy, majority public opinion favours the new ruling. A Pew Research Poll taken on June 8 revealed that 57 per cent of Americans support marriage equality.
Same-sex marriage legalised across the US

Show all 15
The ruling, which coincided with San Francisco's annual LGBT Pride festival, ignited celebration across the country. In Washinton DC hundreds of people waved rainbow flags and chanted "love has won" outside the supreme court and in Michigan roses were handed out to newlyweds as the first legal same-sex marriages took place nationwide.
Companies including Starbucks and Delta posted rainbow coloured flags and messages of equal love to social media and the internet exploded with millions tweeting the hashtags #LoveWins, #LoveIsLove and #MarriageEquality.
US landmarks were also illuminated in rainbow colours including the North Portico of the White House, Niagara Falls and the Empire State Building.
The 5-4 ruling in Obergefell v. Hodges does not mean three people can now get married and polygamy remains illegal.
Register for free to continue reading
Registration is a free and easy way to support our truly independent journalism
By registering, you will also enjoy limited access to Premium articles, exclusive newsletters, commenting, and virtual events with our leading journalists
Already have an account? sign in
Register for free to continue reading
Registration is a free and easy way to support our truly independent journalism
By registering, you will also enjoy limited access to Premium articles, exclusive newsletters, commenting, and virtual events with our leading journalists
Already have an account? sign in
Join our new commenting forum
Join thought-provoking conversations, follow other Independent readers and see their replies